When the owner is the one in the kitchen, you're in for a treat. La Tacopedia is no exception.
Chef and owner Mauricio Suvillaga was born in El Salvador but spent time living in Mexico before settling in Costa Rica. His mother is Mexican and she taught him how to cook authentic Mexican food.
Even the tortillas at Tacopedia are homemade, which is sadly surprisingly rare in Costa Rica. Suvillaga proudly told me that he makes all of their sauces, marinades and moles from scratch too. You can taste the difference, the love.
Their housemade tortilla chips and hot sauces are a great complimentary touch. The red one, as usual, packs more heat than the green one.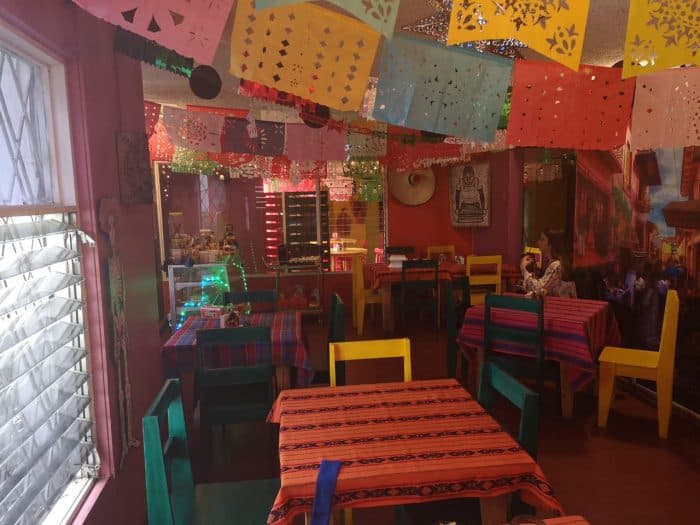 As the name would imply, tacos are the house specialty. But their one-page menu also includes a number of other traditional Mexican favorites. There are over forty options including chalupas, tortas, burritos and enchiladas. Additionally, there are several share plate options and sample platters that would be ideal for groups of up to 20 people.
On my visit, a friend and I tried the queso fundido appetizer, followed by an order of tacos and a torta del chavo. Queso fundido is a staple starter at any Mexican restaurant I have been to in Costa Rica and the version here was standard and enjoyable. It consisted of melted mozzarella cheese and ground chorizo served in a ramekin, with soft tortillas on the side.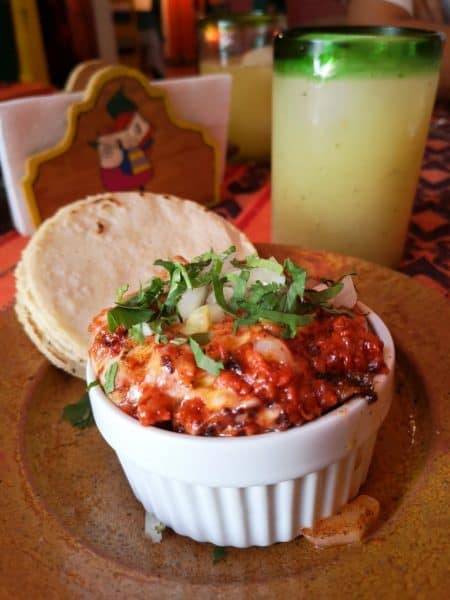 You really can't go wrong with this simple dish.
For our main course, we had tacos al pastor. You get five tacos per order and choose between four different types of meat: al pastor, cochinita, chicken or beef. I chose al pastor.
Al pastor is an achiote marinated pork mix that is cooked on a rotating spit, similar to shawarma in other parts of the world. The cooked pork is then sliced, served on soft tortillas and topped with fresh onion, cilantro and pineapple. It's an amazing combination of flavors. If you see it anywhere, try it.
Go here and try this one too.
According to their Facebook page, they often have promotions of taco plates that include 10 or more tacos. That might seem like a lot, but they are small tacos. One hungry person could probably take care of the whole serving. I'm sure I could if I tried.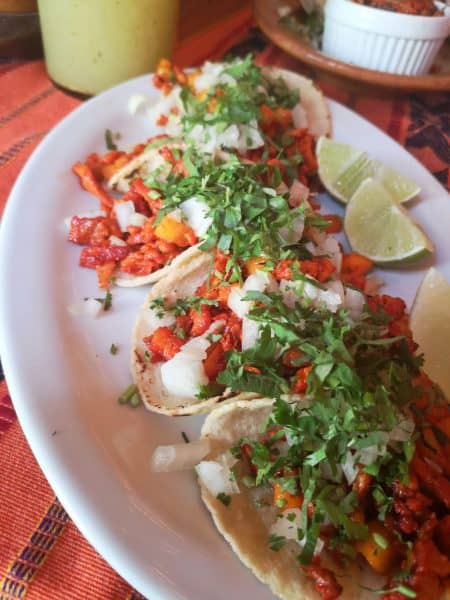 The torta de chavo was last. It's basically a Mexican sandwich. Again, you have the same four selections of meat. We decided to try something different and ordered the torta with cochinita. Cochinita is also pork based. The main difference between this and al pastor, is the marinade and the cooking process.
Cochinita is marinated in citrus juices and annatto seed that give it a strong orange color. Then it is slow cooked, resulting in something similar to pulled pork. This is served, in a generous portion, on a fresh bun with pickled onions, lettuce and guacamole.
I found it absolutely delicious, but a warning: it's greasy. This is the kind of food that you have to get your hands dirty to eat and you will probably run through all of the paper napkins at your table – but it is totally worth it.  
Maybe go somewhere else on a first date and come here after you're married.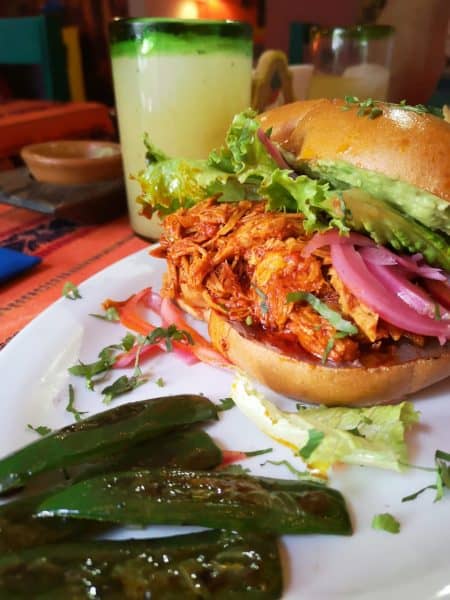 Sadly, La Tacopedia does not have their liquor license and we were unable to down this meal with a side of iced cold Coronas or XX. Their natural juices were tasty and refreshing though. I opted for cas fruit.
The waiter, in this case, Mauricio's wife Daniela, was kind enough to offer us dessert at the end of the meal. We were so full at that point that we declined, though.
On our way out we did, however, buy some Mexican candies. This is another cool aspect is that they are also importing candies from Mexico that they are selling at the counter.
These are candies you won't try anywhere else, and I suggest trying a few, even if they are totally foreign to you. Flavors like mango and chile, or tamarindo a chile, might seem strange but the combination of sweet and spicy works, somehow.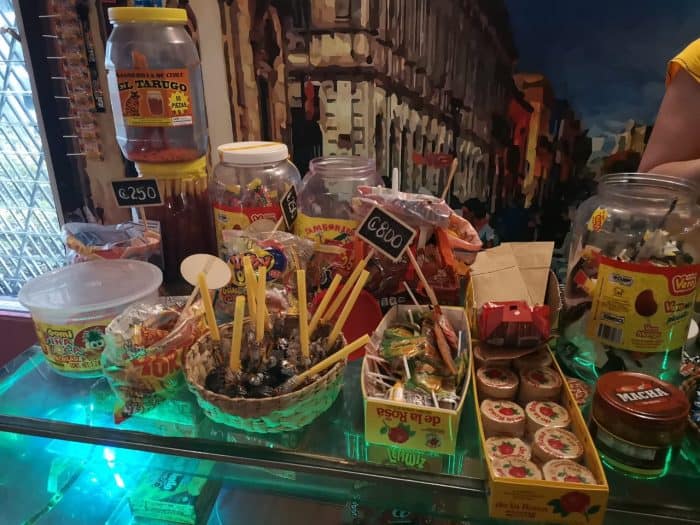 They offer a variety of lollipops and gummies – my favorites are the Pulparindo or the de la Rosa marzipan discs that fall apart in your mouth.
La Tacopedia is located on the west side of La Sabana, in the Mata Redonda district of San José. You'll find it tucked in along an unassuming street, with street parking readily available.
La Tacopedia is a casual, 50-seat restaurant, decorated with a colorful, Aztec theme, which is open every day except for Mondays. Their hours are from 12 p.m. to 3 p.m. and then again from 6 p.m. to 9:30 p.m. So be careful. On my first attempt to visit, I arrived at 3:30 p.m. and was disappointed to find them closed.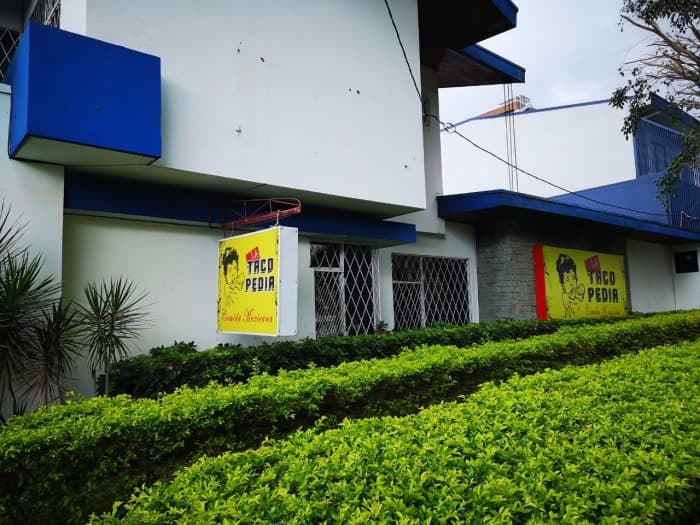 All major credit cards are accepted but vegetarians aren't. Well, they are, but they'll stay hungry. Vegetarian options are not readily available, though I am sure most things could be prepared without the addition of meat. It might not be the same experience, though.
Menu prices include tax and average around 5,000 colones (about $9) per main. Considering portion, quality and prices, for me, this is a great value restaurant where one can fill up the stomach without breaking the bank. Search "La Tacopedia" in Waze or Uber to arrive conveniently. And don't forget – tell them that The Tico Times sent you.
---
William Ayre is a Canadian born chef and restaurateur who has spent the last half of his life doing business in Costa Rica, where he now considers to be home. Inspired by Anthony Bourdain, Ayre's passion of experiencing different cultures through food has taken him to 35 different countries over five continents. Whether it's a 20-course meal at a fine dining restaurant in Toronto, or cantina hopping in search for the best chifrijo here in San José, he fits in just fine.