President Carlos Alvarado urged the Catholic Church and university presidents on Friday to serve as mediators in talks with the unions that have been protesting a tax-reform bill since Monday.
Alvarado said he seeks to open an "introductory space for dialogue" with the unions that have predominantly paralyzed schools and hospitals and blocked highways across the country.
"The Minister of Labor, Steven Núñez, and the Minister of the Presidency, Rodolfo Piza, sent a letter to the Episcopal Conference and the university presidents, who expressed their willingness to serve as mediators in the talks," Alvarado told reporters.
"In this letter we maintain that we are willing to establish a preliminary dialogue to determine what conditions would need to be met to reach an agreement."
The two parties have remained distant. The government attempted to sway the unions to end the strike, while the unions demanded that the government scrap the tax-reform bill.
The Catholic bishops and the presidents of the five public universities pushed for a dialogue in hopes of ending the strike and offered to mediate between the two parties in the dispute.
Several roadblocks were reported on Friday, including some along major roadways, according to the director of the Transit Police, Germán Marín.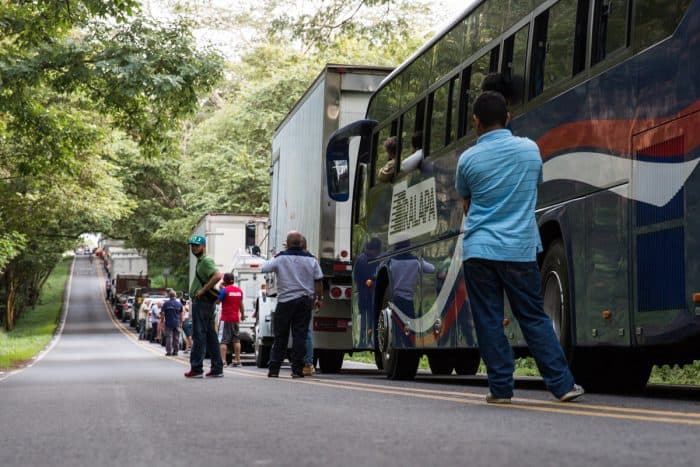 In a tense moment, the Minister of Finance, Rocío Aguilar, was surrounded by demonstrators after she arrived at a scheduled government meeting. Aguilar received support from the police and some public workers, who were participating in the protest, and entered without further incident.
Alvarado defended the tax reform, which lawmakers will discuss on Monday, and refuted criticisms that it excessively increases taxes on the underprivileged.
"It is not a pleasant subject, it's a tough pill to swallow, but it is necessary for the timely advancement of Costa Rica," he said.
"Many people have claimed that it burdens the poor, but for every 100 colones that this proposal would collect, 80 would come from the 20 percent of Costa Ricans with the highest income," Alvarado said.
The tax reform seeks to balance public finances, which project a deficit of 7.2 percent in this year's GDP.
The strike affected an Independence Day tradition, where students carry a torch of independence from Guatemala to Costa Rica.
The students who carried the torch in the northwestern city of Liberia were surrounded by protesters, preventing them from passing for several hours. In light of concerns, the torch was transported via helicopter to Cartago, the former colonial capital of Costa Rica.