In North America we like to use the phrase "Chinese food" quite broadly: it's a general term when discussing this kind of food, or foods that we perceive to be of a similar Asian influence. In reality, however, most of the Chinese food that is being served up there is actually not traditional to China at all. Nor is its Costa Rican counterpart, but I digress.
So here I am, once again, writing about a Chinese restaurant. The differentiator this week is that the focus here is on comfort foods originating in the Hong Kong region. At Coconut restaurant, located on Calle 11, in between Avenida 10 and 12, they are serving a menu based around Hong Kong-style casual dining. Familiar with the Arenas Skate Park in San José? Coconut is right across the street.
The name Coconut was inherited from a previous tenant who occupied this local, which was actually a Caribbean restaurant. To facilitate permits and other paperwork with local governments, the owners of Coconut decided it would be easier to just keep the name – and now, many years later, it has just stuck. There is not much signage, other than some photos of a few of their dishes in the window out front, as well as some Chinese characters that perhaps spell out Coconut above the door.
To enter the restaurant, you will walk across a mini bridge that I assume was once used to cross over a welcoming fishpond, but is now dried out and dirty. Most of the restaurant is dingy, as a matter of fact, including the walls and ceiling. But as you will come to predict of me, I ask you to please look past that.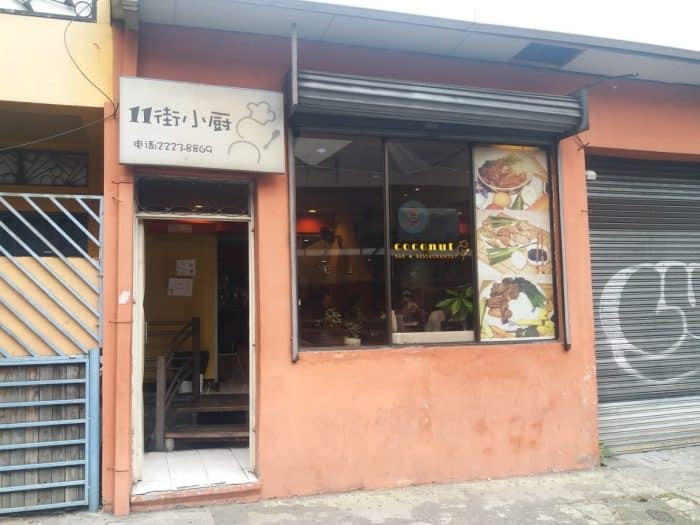 Once again, the owners here are the ones in the kitchen, guaranteeing authenticity. Actually, the owner was born in Costa Rica but with parents and other family from Hong Kong, the family is certainly doing their ancestry proud.
The food being served here is incredible.
It's so good that it has developed quite a loyal following. And with only 35 seats in the restaurant, it can fill up. For this reason, reservations are recommended (call 2223-8869), especially during peak hours. Walk-ins are welcomed, of course, but on a Friday night, for example, you might have to wait at the door for a table.
Those familiar with their menu are welcome to call ahead and place their orders in advance. This, as Coconut is famous for their exaggerated wait times.  When they are busy, you could easily wait more than an hour to be served – and don't expect drinks to be frequently refilled. Like the service, the kitchen here is slow, as everything is made fresh to order, one at a time. If you are in a rush, I would recommend you to go somewhere else. But if you have time to wait and are looking to enjoy some totally unique flavor, this is the spot.
Also be warned: do not expect everyone at your table to receive their plates of food at the same time. For this reason, it is better to order a few things and share between everyone in your group.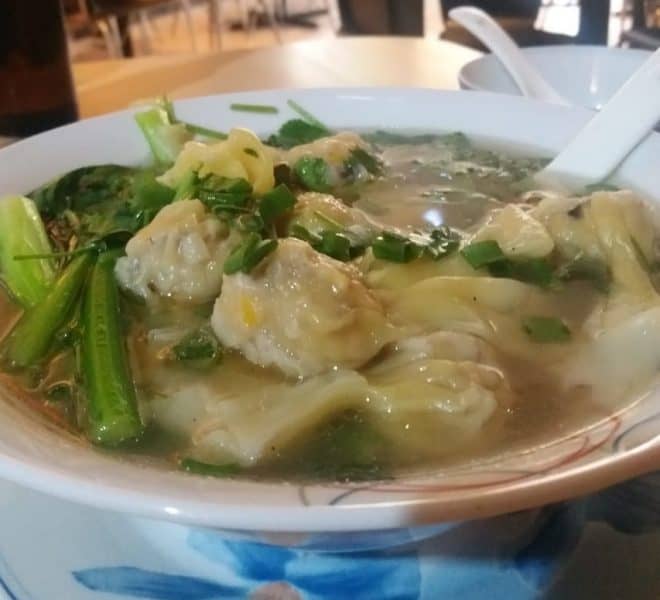 The 10-page menu here is split up into sections of appetizers, rice dishes, combination plates, soups, curry dishes and noodles. While there are plenty of options for vegetarians, many of the dishes in all of these categories are based around one common ingredient, which is really the star of the show here: the Hong Kong-style grilled pork with a honey glaze. You must get at least one dish with it. I recommend either #6 or #8, which are plates of steamed jasmine rice that has been cooked wrapped in a Lotus leaf, topped with steamed vegetables and of course, the grilled lechón pork as the "must orders" and then, for a third option, #21 with pork wonton soup, which has a rich broth flavored with Chinese five spice and is garnished with fresh cilantro.
The Chinese tacos (egg rolls) are supposed to be another one of the house specialties, but on every one of my visits, they have not been available. I have also been told that on especially busy days, they can run out of almost all ingredients and be forced to close early. Keep in mind that there are space restrictions in their kitchen here, and only one person cooking, it might not be realistically feasible for them to handle higher volumes. With that in mind, if this ever happens to be the case on your visit, give them a break.
(Pro tip: look back into the kitchen and check out the black, household-style BBQ grill that they use to cook. This really is a no-frills kind of spot.)
As with most of these kinds of places, litres of Tsingtao beer are the way to go. You will recognize these as the big, green, glass bottles with Chinese writing on them. If you are avoiding alcohol, definitely try one of their milk teas with tapioca pearls, aka bubble tea.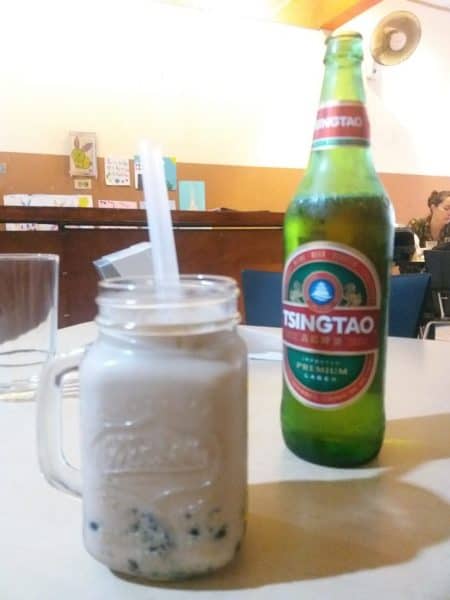 Prices at Coconut are very reasonable, with the most expensive plate on the menu costing ₡5,000 (about $9), and most averaging around ₡4,500. Menu prices include 13 percent sales tax but do not include 10 percent service. Considering generous portion size and seemingly high quality of ingredients, what you end up paying is more than acceptable. I have always left the restaurant with a full stomach and fully satisfied palate.
Coconut is open every day, except for Sunday, from 12:30 pm-9:30pm. All major credit cards are accepted. Street parking only. Search "Coconut Bar & Restaurante" in Waze or Uber to arrive.
William Ayre is a Canadian-born chef and restaurateur who has spent the last half of his life doing business in Costa Rica, which he now considers to be home. Inspired by Anthony Bourdain, Ayre's passion of experiencing different cultures through food has taken him to 35 different countries over five continents. Whether it's a 20-course meal at a fine dining restaurant in Toronto, or cantina hopping in search for the best chifrijo here in San José, he fits in just fine.