If you're constantly in search of heat, make your way to Avenida 2, between Calle 38 and 40 and you'll find the perfect spicy space, literally. Espacio Picante, Spanish for spicy space, serves traditional Sichuan cuisine that's world-famous for their namesake chili peppers that tingle your mouth with a numbing burn.
Here, for the last five years, a family of immigrants from the Sichuan region of China has
been satisfying and burning the palates of adventurous diners while staying true to their roots.
There is an a la carte menu, but the real reason to visit Espacio Picante is for their Sichuan hot pot. Each table in this restaurant has an electric hot plate where they place a large pot of broth (spicy/plain/or half-half) and bring it to a boil.
Guests then cook their own food in this pot. Imagine a steaming cauldron spicy of deliciousness with a different morsel every time you go fishing in it. It's sort of a choose your own culinary adventure. And by the way, definitely get the spicy broth, or at very least half and half. It's what we came to the spicy space for, isn't it?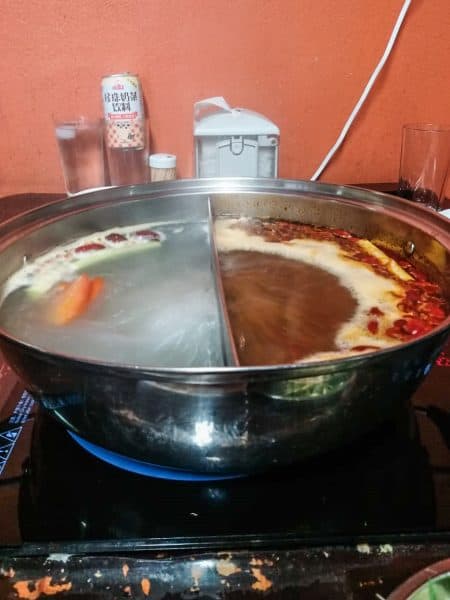 This format is ideal for family-style eating or plate sharing. I would recommend this restaurant for groups of four and up. They could easily accommodate large groups, too.
If you choose the hot pot, the waiter will bring a single page black-and-white menu. Each ingredient is listed in Spanish and Chinese, one of the many reminders that this place is legit. Then you mark down on the right side of each ingredient how many you want (ex. 1,2,3).
The hotpot menu has about 60 different items to choose from: meats, seafood, starches, vegetables, and noodles. Tofu is available, for vegetarians, too, and while I suspect the broth to be a vegetable stock, I was not able to get a straight answer and so can't confidently recommend to vegans.
All of these items are brought to the table raw, and some are frozen, so it is important to be
aware of the different cooking times, depending on temperature and size of the ingredient. If you have any doubts, the waiter will be happy to help specify.
As a Canadian, I cannot guarantee that this is the correct way to eat this meal, but I have made the greatest effort to understand proper practices. I always put everything that I order into the pot and let it all cook before starting the meal, but that could very well be incorrect. Maybe the traditional way is to go one at a time, item by item.
Regardless of how you cook your ingredients, everyone is served a plate of freshly grated ginger and green onions. It is customary to put a little of each into your small white porcelain bowl and top of with sesame oil and soy sauce. There is also a fermented fish paste that is supposed to be included in this mix. Be cautious with this since it has a powerful and extremely salty flavor that some might find offensive.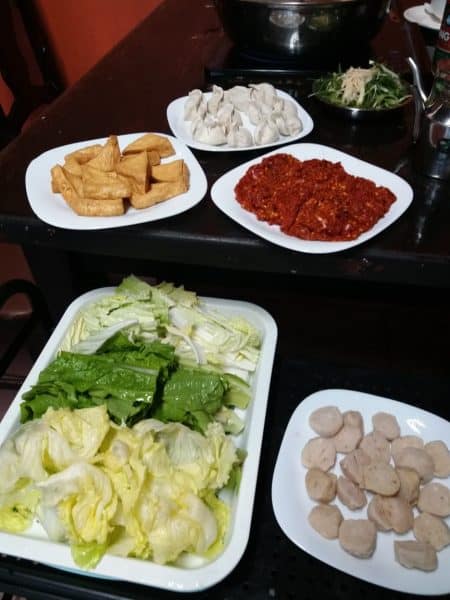 When you remove cooked proteins and vegetables from the hot pot, the idea is to dip them into this mix before eating.
Then, as you finish each plate, you put them on the cart they place next to your table. This keeps the table free so you can keep ordering more and more. This meal should be a feast that goes on for as long as you can stomach it.
My personal favorites here are the pork empanadas, thinly sliced beef, spicy beef, pork balls, and whole shrimp. Generally, the quality of ingredients strikes me as more than acceptable and I have always suspected them to be fresh. Quail eggs, lobster balls, tilapia heads, and bamboo were some of the more interesting items I noticed and will have to try next time.
The ideal complements to this feast are the 1-liter bottles of Tsingtao beer. When poured over a glass of ice, it is the perfect relief of the spicy Sichuan peppers that will have your nose running, face sweating, and eyes crying – it hurts so good. For those who would prefer something nonalcoholic to drink, try a can of their milk tea with tapioca pearls. It's equally refreshing under these circumstances.
Prices per plate range from 2,400 colones up to 8,500 colones, which would get you a whole chicken. I would say the average hot pot ingredient comes in around 3,600 colones and then the broth, to begin with, has a charge of 3,000 colones. (Prices here do not include the 13% tax.)
I am sure solo diners and couples are equally welcomed, but the portions here are never designed for less than four people, and the meal would come out more expensive per person, than with a group of eight people.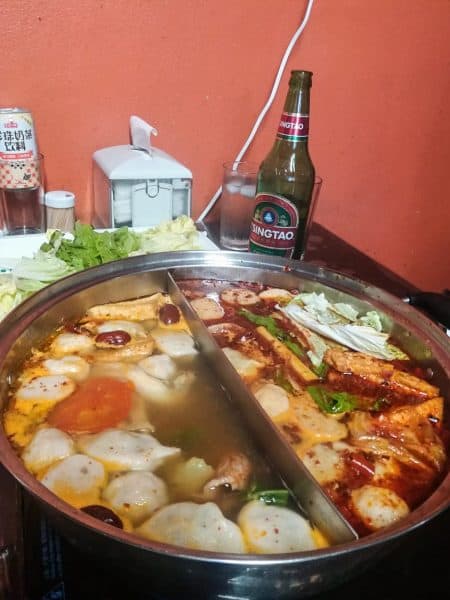 Actually, it could make the difference between this being an affordable meal or an expensive one. Either way, the price always feel justifiable, as there is no way you will leave hungry. Things can also get messy, so maybe it's not ideal for first dates. I recommend going here with people you are comfortable with to maximize the fun.
As with most of these kinds of restaurants, it appears to double as the family residence. Don't be surprised if you see an older woman walking around with her small white dog following at her feet. She's the owner. For me, this adds to the charm, but if you're the kind of person who gives out 1-star reviews on Facebook over these kinds of things, maybe stay away.
She also does not seem too interested in conversation and so the service can also be hit or miss, especially due to the occasional language barrier. My point is to please know, you are going here for the food, not the ambiance, not the service. It is an experience, and as long as you bring a good group of friends, it will be an enjoyable one. I guarantee it. The food here is good enough and unique enough to happily put up with whatever little hiccup.
Espacio Picante is open 7 days a week, from 12 p.m. until 1 a.m., with late night being their busiest hours. Of course they are. This kind of meal is best when shared with friends over loud conversation and the inebriating effects of ice-cold Chinese beers.
They accept all major credit cards. To arrive, look up "Restaurante Espacio Picante" in Waze or Uber.
---
William Ayre is a Canadian born chef and restaurateur who has spent the last half of his life doing business in Costa Rica, where he now considers to be home. Inspired by Anthony Bourdain, Ayre's passion of experiencing different cultures through food has taken him to 35 different countries over five continents. Whether it's a 20-course meal at a fine dining restaurant in Toronto, or cantina hopping in search for the best chifrijo here in San José, he fits in just fine.