JACÓ – The latest artist to unleash his professional talent through Artify Jacó, a project that promotes the arts in Costa Rica's Central Pacific, is Chilean muralist Diego Roa Castillo.
Artify Jacó is both a movement launched in 2016 as a collaboration between Stewart Invierno and Emily Easton Reyes. Wendy Greenwald joined the initiative and the three street art aficionados ignited a mission to beautify the Jacó community through murals painted on the walls of local businesses.
Successful installments by such renowned artists as Farid Rueda, Jade Rivera and Fio Silva have drawn extensive attention and praise on local, national and international levels.
Our Weekend Arts Spotlight is brought to you by the Jason Babchuk Gallery/W22 Galería.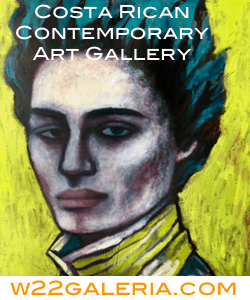 Roa Castlilo was commissioned through funds raised at the Artify Fundraiser held this past May at Grafitti Restro Café and Wine Bar in Jacó Walk. He completed the spectacular acrylic and spray mixed media piece entitled "Mujer Sagrada, Pura Vida Pura Sana" ("Sacred Woman, Pure Life, Pure Health") this past Friday.
The talented and humble artist sat down with The Tico Times to share part of his journey which led him to Costa Rica. Excerpts follow.
How would you describe the city where you grew up?
I am from Machali in Rancagua, a city south of Santiago in Chile. The city where I come from is surrounded by mountains with snow in winter and grape fields in the summer. In the mountain range there is copper mining and a lot of architecture in the fields.
Santiago is where I work on most of my projects and where I have lived for the majority of my career. A few years ago I made the transition to my other favorite city on the coast in Pichilemu, a quieter place with the best waves to surf.
Tell us a bit about your history as a muralist. Are you self-taught or did you study in an art academy?
I started painting when I was young, mostly graffiti and murals with my friends. Many of them were already in college and they showed me magazines, design and information software with topics related to street art. When I turned 18, I went to live in Santiago and started to study Design at the Faculty of Architecture and Urbanism at the University of Chile. I graduated as a designer.
Which artists have inspired you and influenced your style?
I like various artists from diverse disciplines. I enjoy photography very much as well as architecture, sculpture, cinema, music – and, of course, painting. I feel that I have a bit of influence from all the creative disciplines. Living in such a globalized world, we have access to so much human talent.
I favor teachers like DaVinci or Michaelangelo but also contemporaries like Mike Dargas, Eloy Morales, and Guillermo Lorca. Of course, all the contemporary artists and festivals that revolve around the world's street art circuit are also influential.
What does this mural mean to you?
"Mujer Sagrada" is very important since it marks a process of interal transformation to a life based on energy consciousness. The representation of sacred femininity and the symbology related to nature and love are part of the iconography integrated into the painting.
At a technical level, it represents the principle of my proposal at the chromatic level and the quality of execution of works on a large scale. It also reflects the handling of the human figure and the use of proportion and space on the canvas. The mural represents my first milestone in Central America and undoubtedly gives a boost to my international career as an artist by the hand of ArtifyJacó, uniting me with other world-class commissioned artists such as Farid Rueda and Jade Rivera.
Can you share some of your impressions of Costa Rica and the community of Jacó?
Costa Rica is a paradise on earth: beautiful people, delicious fresh food, abundant nature and a super positive energy. The more I know the country, the more I fall in love with it. Jacó has a privileged location with a community and people from all over the world full of culture, color, sport. I see and have met cheerful people always willing to share and have a good time. I am very grateful to Jacó and how I have been welcomed with open arms.
Describe the recent experience with the students from the local elementary school Ficus Tree who came to visit you on site.
Children are super cool, especially because they always want to paint freely. Expressing their ideas on large spaces makes them very happy. Art teacher Hannah was very kind and always present to guide her students throughout the experience. We all had a fun day.
What kind of music do you like to listen to while you paint and in general?
I love all kinds of music, especially if it adds to my concentration and gives me energy. This last time my playlist consisted of electronic music, deep house and techno. It puts my mind in a good state of trance while also being very present.
Being in Costa Rica connects me with Latin, acoustic and reggae music, but of course the sounds of nature are so present that it is impossible not to want to spend time listening to the sea or to the sounds of the forest.
How long have you been painting murals and why do you like this genre of painting?
I have been painting murals since 1998. I like to paint murals in public [spaces] because it gives me the chance to share and intervene in places where I can reach many people, giving life to spaces that seemed to have no purpose and injecting energy through the vibration of the colors to change the landscape. Being able to intervene in the city on a larger scale gives a sense of participation in the community and at the same time inspires others to create and see reality from the perspective of another human being. I believe that murals and public art open us to dialogue and participation in community where we give identity and value to our cities.
I want to thank Wendy and Stewart for opening a space for my work in the beautiful city of Jacó.
Diego Roa Castillo will be in Costa Rica until October 3, as he has received some commissioned work since starting of the mural in Jacó; he is interested in another large project while he is here. Upon his return to Chile he will begin work on a mural in Santiago located in the 13-story Plaza Italia, entitled "América." Follow him on instagram @diegoroacastillo where you can also contact him with inquiries.
Artify Jacó is a nonprofit volunteer group that offers many ways to donate and support visiting artists. They would love to hear from anyone interested in learning more about helping this artistic cause with a lot of heart and soul.
Kate Hanley is the owner of Pura Vida Board Gear and resides most of the year in Playa Jacó. She enjoys teaching and freelance writing and especially connecting with both residents and visitors of the beach town's diverse community. Connect with her on Instagram @puravidaboardgear.
"Weekend Arts Spotlight" presents Sunday interviews with artists who are from, working in, or inspired by Costa Rica, ranging from writers and actors to dancers and musicians. Do you know of an artist we should consider, whether a long-time favorite or an up-and-comer? Email us at alex@ticotimes.net.