MANAGUA, Nicaragua — Nicaragua's veteran leader Daniel Ortega defended brutal actions by his forces against anti-government protesters Monday, as the United States warned he and his wife were "ultimately responsible" for deaths and rights violations.
In the latest of a number of foreign media interviews the usually hermetic president has been giving since last week, Ortega told the Euronews television channel the unrest he was facing was fomented by the United States.
He said that armed and masked paramilitaries seen cooperating closely with his security forces against the protesters were "volunteer police."
And Ortega reaffirmed his rejection of opposition calls for early elections or his resignation. That "would open the doors to anarchy in the country," he asserted.
The interviews showed that the former left-wing guerrilla prone to anti-U.S. rhetoric, who has ruled Nicaragua for 22 of the past 39 years, was digging in despite growing international condemnation.
Three months of turmoil have killed more than 300 people, according to Nicaraguan human rights groups and the UN.
Ortega disputes that count as "not correct," giving his own death toll of 195, including two dozen police officers, as well as paramilitaries, sympathizers of his ruling Sandinista party and other civilians.
Ongoing protests
Although tensions have diminished somewhat in the past week and a half following intense armed operations against protest hubs, resentment against Ortega and his wife, Vice President Rosario Murillo, simmers unabated.
On Monday in León, a northwestern town that was formerly a bastion of Sandinista support before many turned against the party, demonstrations were held in front of state-run hospitals where some staff have been sacked for treating wounded protesters and expressing sympathy with their cause.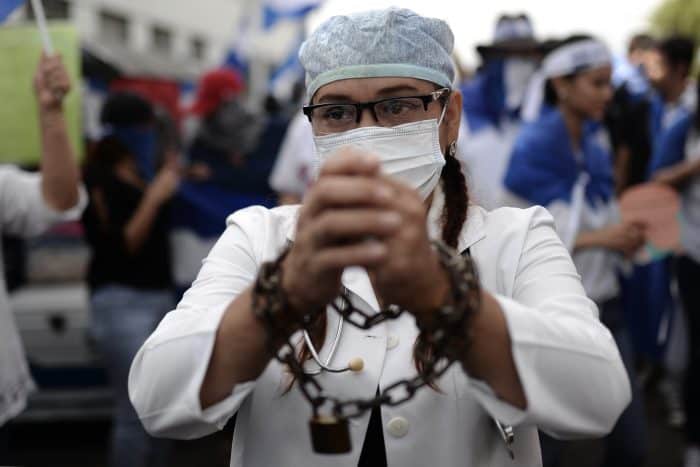 Over the weekend, thousands of people marched in Managua to show support for the Catholic Church, which has been mediating unsuccessful talks between Ortega's administration and the opposition. The president has accused the bishops taking part of siding with the "coup-mongers" seeking to topple him.
Ortega complains that foreign media coverage of the unrest falsely suggests most Nicaraguans wanted him gone.
"Not all the people" are against him, he told Euronews, only "part of the population."
The real root cause of the violence, he argued, was U.S. entities that for the past decade have been "allocating millions so that Nicaragua upholds 'democracy,' they say, but which are diverted to destabilize the country and encourage armed actions."
He said: "The truth is that we are facing a powerful enemy that has intervened militarily in Nicaragua, which is the United States."
The allegation echoed rhetoric advanced by Nicaragua's Latin American allies Bolivia, Cuba, and Venezuela, as well as Iran.
US condemnation
Ortega, 72, is a longtime bete noire of the U.S. government. He headed a left-wing Sandinista government during the Cold War, and returned to power in 2007.
The United States has been stepping up its scrutiny of the violence in Nicaragua and is said to be considering extra sanctions on top of those already applied to top officials and visa restrictions.
In a statement, the White House said it "strongly condemns the ongoing violence in Nicaragua and human rights abuses committed by the Ortega regime."
It added: "President Ortega and Vice President Murillo are ultimately responsible for the pro-government parapolice that have brutalized their own people."
The United States "stands with the people of Nicaragua," the White House said, demanding democratic reform and an end to the bloodshed.