Authorities from the Oscar Danilo Rosales Argüello Teaching Hospital (HEODRA) in Leon arbitrarily fired around 40 doctors, nurses, lab technicians and other workers this Friday.
Fired employees received a letter from Judith de Los Ángeles Lejarza Vargas, the hospital director, which states: "Through this medium, I inform you that as of now we are dispensing with your services at this hospital. I also inform you that we will conduct the final payment you're entitled to by law."
According to doctors, the firings are retaliation for having participated in protests against Daniel Ortega and for supporting students.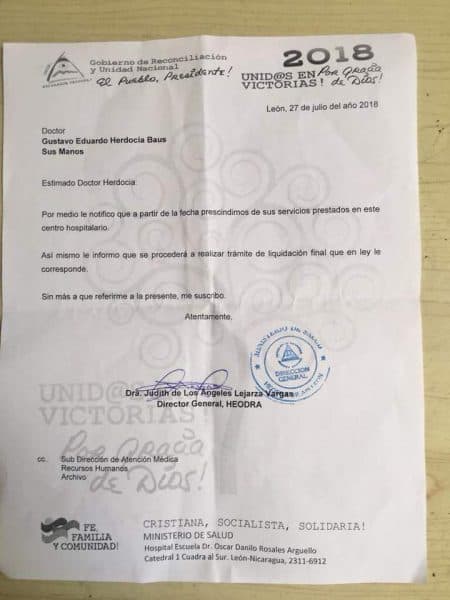 "They're firing us. The fired doctors include orthopedists, spine specialists, surgeons, gastroenterologists, pediatricians, infectious disease doctors, and other fields," one of the fired doctor said this Friday.
The doctors are now protesting by the hospital in Leon to denounce the arbitrary actions of the Ortega regime.
At the beginning of May, more than 40 doctors reaffirmed their support for students of the National Autonomous University of Nicaragua in Leon (UNAN-Leon), who are also asking for the removal of the hospital's director.
On April 18, when the protests started and there were dozens of wounded, the hospital director, Judith Lejarza Vargas, ordered security guards to close the doors and not allow the wounded in.
---
Read the original story in Spanish at La Prensa.
This story was translated into English and republished in The Tico Times as part of a partnership with La Prensa to help bring their coverage of the Nicaraguan crisis to an English-speaking audience.