With a homemade mortar on her shoulder, a blue-and-white flag as a cape, and a gas mask to protect her from tear gas, Nahomy Urbina, 21, fights for a free Nicaragua. She does it from the San José school barricade in Jinotepe, Carazo. She spent days there, sleeping, eating, making friends.
Nahomy could just be another protester, but something sets her apart: aside from fighting for her country, she's fighting cancer. Doctors diagnosed her with lymphoma last December, but that hasn't stopped her from taking to the streets since April 19, demanding that Daniel Ortega step down.
She's known as "Comandante Macha" or "La Macha." They call her that because she has more male friends than female friends. She's also one of the few women staying in the barricades.
Last year, when doctors told her she had cancer, she felt her world fall apart, that everything was over. But that's changed, she said, there are days when she doesn't even feel sick or feel any pain.
"A lot of people say, poor thing, you're going to die, but I don't like when they say that because I detest pity," Urbina said.
Mortars and chemotherapy
Nahomy is currently undergoing treatment. After surgery, she has to get 12 sessions of chemotherapy. She only had four to go as of June 22.
"It's been really hard and I want to thank everyone who's been sending me nice messages. They lift my spirits because you get depressed after the [chemotherapy] sessions and those messages of encouragement help keep me here in the barricades," Urbina said. There are days when she's more tired, but she doesn't give up the fight.
"Comandante Macha" is already a known face. She's from Diriamba, but everyone in Carazo knows who she is and now they know her throughout the country. Her story and pictures have done the rounds on social media. People have even made T-shirts with her likeness, carrying a homemade mortar. Aside from shooting mortars, something she learned how to do at protests in Managua, she leads demonstrations while shouting slogans into a megaphone.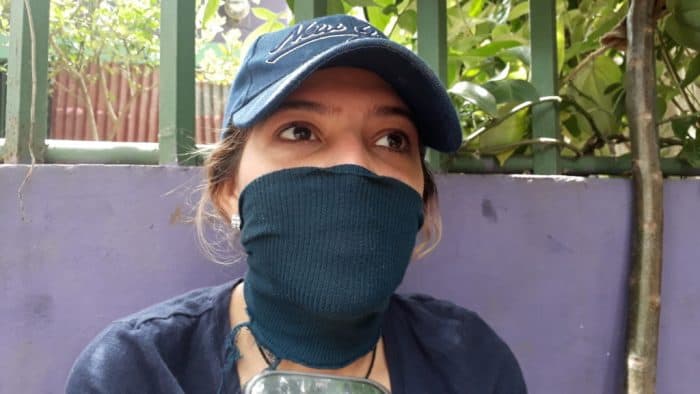 Losing fear
Urbina says the killings on behalf of the government made her lose all fear. In the beginning, she just participated in protests. Then she started going to the barricades. She went in the afternoons and would go home at midnight. But as the attacks on protesters by paramilitary forces and riot police grew, she felt she had to support the cause more and sleep there, in the barricades.
That's what she did for more than a dozen days.
In the beginning, her parents didn't agree with what she was doing, but they support her now.
"I understand that my parents worry about me, they even tried to punish me to protect me, but I rebelled and went back on the streets," Urbina said.
She's received death threats on social media, but she says they don't scare her because they just want her to give up the fight out of fear.
"I don't fear for myself, but I fear for my family and the guys, because they're just kids, I call them my little puppies," Urbina said.
Like the thousands of protesters in Nicaragua, Nahomy is convinced that Ortega needs to go.
"His ambition for power corrupted him and turned him into a murderer," Urbina said. Until he leaves power, she says she won't leave the barricades.
It's been 100 days since Nicaragua's heroic uprising started
---
Read the original story in Spanish at La Prensa, first published on June 22.
This story was translated into English and republished in The Tico Times as part of a partnership with La Prensa to help bring their coverage of the Nicaraguan crisis to an English-speaking audience.