MANAGUA, Nicaragua – Students marched through Nicaragua's capital Monday, chanting "GET OUT" to demand that President Daniel Ortega and his wife Vice President Rosario Murillo resign after a deadly weekend of clashes.
At least 10 people died on Sunday, a human rights group said, after pro-government forces launched an operation in the south to clear opposition barricades mounted in various towns to prevent police and armed forces from entering.
"We won't stop struggling until these criminals resign," the students chanted on Monday.
United Nations Secretary General Antonio Guterres, who was visiting Costa Rica for a meeting with President Carlos Alvarado, urged an end to the violence and a resumption of the stalled dialogue with the opposition.
"It's absolutely essential that the violence ceases immediately and that the national dialogue is revitalized, because the only acceptable solution in Nicaragua is a political one," Guterres said on Monday at Casa Presidencial alongside Alvarado.
Costa Rica was one of 13 Latin American countries that signed a declaration Monday calling for the Nicaraguan government to cease all "acts of violence and intimidation" and dismantle all paramilitary groups.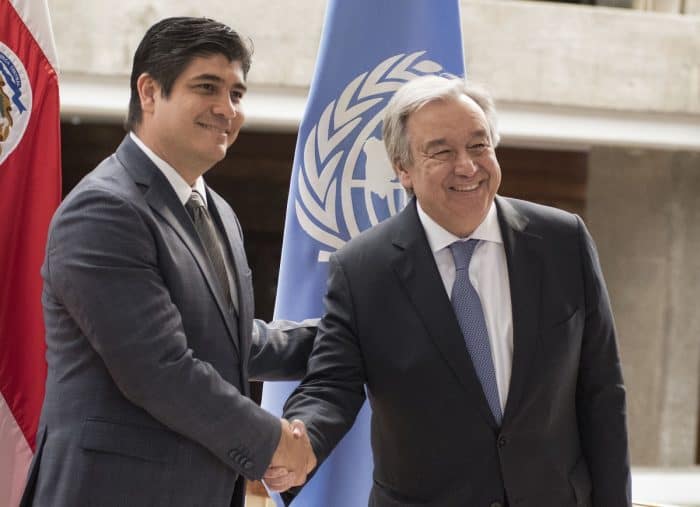 On Saturday, some 200 students were holed up in a parish church next to the National Autonomous University of Nicaragua in the capital, Managua, besieged by pro-government militias.
The ordeal, which saw students and journalists cowering on the floor of the church as bullets flew overhead, lasted 20 hours and left two people dead and 14 injured before the students were allowed to leave following the intercession of Catholic bishops. A Washington Post reporter who was trapped inside with the students detailed the siege.
https://www.washingtonpost.com/world/students-in-nicaragua-trapped-in-church-amid-gunfire-by-pro-government-militias/2018/07/14/c7f04512-86e3-11e8-9e06-4db52ac42e05_story.html?utm_term=.e90286a3b4fb
"Even if they kill us and suppress us, we're going to keep struggling until they go," chanted students at Monday's march, in which they also demanded justice for those killed on Saturday.
"I'm grieving for the death of my brothers. I couldn't do anything for them – they had us surrounded," a crying student, his face covered with a shirt and who survived Saturday's attack, told AFP. "We won't take even one step back. Their deaths won't be in vain!"
'No going back'
Some 280 Nicaraguans have been killed in clashes since protests – led mostly by students and young people – against Ortega and his government erupted on April 18, initially in opposition to a pension reform before mushrooming into wider civic discontent.
"There will be no going back; the struggle will go on. This government has to leave for there to be a better future," 22-year-old marketing student Harry Centeno told AFP.
Opposition protesters are demanding that former left-wing guerrilla leader Ortega and his wife resign, accusing the pair of establishing a repressive, despotic and nepotic regime.
Ortega, 72, was once the heroes of the Sandinista rebels fighting against the US-backed Somoza family dictatorship that ruled Nicaragua for 43 years.
Once Anastasio Somoza was toppled in 1979, Ortega assumed power until losing elections in 1990.
Since his reelection in 2007, Ortega has become increasingly unpopular amongst many of his former left-wing allies – now his staunchest critics.
Sunday's violence took place in and around the opposition stronghold of Masaya, where once Ortega himself was based while fighting against the Somoza dictatorship.
'Violent repression'
Inter-American Commission on Human Rights (IACHR) chief Paulo Abrao on Sunday denounced on Twitter "the violent repression of towns in Masaya," accusing the government of "ignoring the dialogue" with the opposition.
The United States on Monday reiterated calls for an end to repression, and for early elections to be held.
"The Nicaraguan government must heed the Nicaraguan people's call for democratic reforms immediately," State Department spokeswoman Heather Nauert said in a statement.
Students have taken on the protest baton following three days of anti-government action, including a strike last Friday, led by the opposition.
Monday's march ended in front of the El Chipote prison, where hundreds of young people have been detained since the protests began in April.
"No to repression. Murderer Ortega, you must go," read one sign held aloft while students chanted: "Justice! Freedom!"
Ortega's government has accused opposition protesters of being "criminals" and "putschists." The president has rejected an opposition call to have elections brought forward from 2021 to next year.