This is the story of Nicaraguan-based French artist Jean Marc Calvet: a man whose complex life, obscurities and misfortunes overwhelmed him while living in Costa Rica in 2001. This is also the story of a man who saw the light after many years of suffering by finding paint in Costa Rica and changed the course of his life into a positive, healthy and successful one through art. Part III of III. (Read Part I and Part II.)
As a recent arrival in Costa Rica in 2001 Jean Marc found himself constantly fighting against Marco – his fictional protective alter ego – until he unexpectedly found the light of his life: paint. Jean Marc found this light of hope when he came across buckets of paint underneath the stairs of his house in Piedades, Santa Ana, during a lengthy hallucination. However, his encounter with paint isn't as peaceful as you'd imagine.
For three straight hours, Jean Marc fought against the paint buckets, Marco and himself.
"I hit my fist into it. I'm curious. I do this and it splashes on my face. I get angry and there's a splash on the wall. I don't know what happened. [Something in] my brain clicks. I start placing paint on my face, on my hand and begin fighting with the wall. I break my teeth and my finger. It's a real fight," he recalled.
"There was a part in me that wanted to die, and another part that didn't want to. The part that didn't want to grabbed onto the paint as if it were a children's duck to avoid drowning. After three hours of fighting I step up. I'm covered with blood. I do remember this very well because I wasn't drugged during those three hours," Jean Marc told The Tico Times.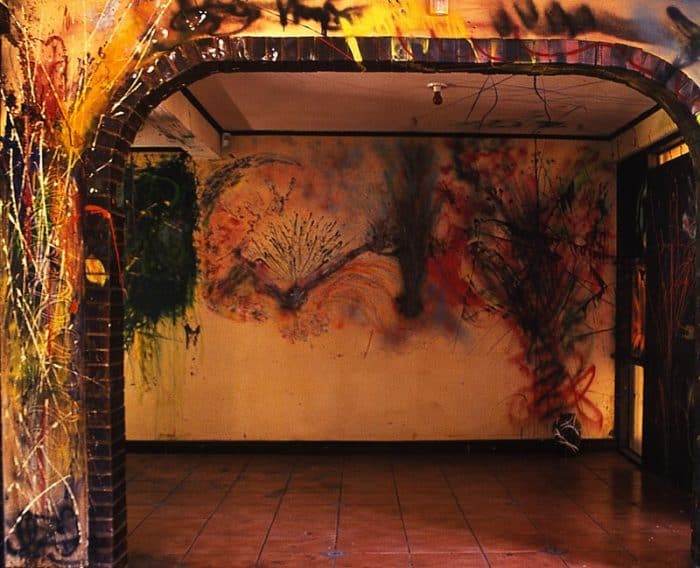 The fight with himself, the result of years of pain and suffering, was the first time in Calvet's life that he thought he might be capable of finding beauty through paint, of creating his own language.
"For the first time in life I look up and see a language that I understood. Everything that was killing me on the inside wasn't there anymore. At some moment everything was on the wall. I saw anger, intolerance, the rape, incomprehension, my childhood, my adolescence," Jean Marc said.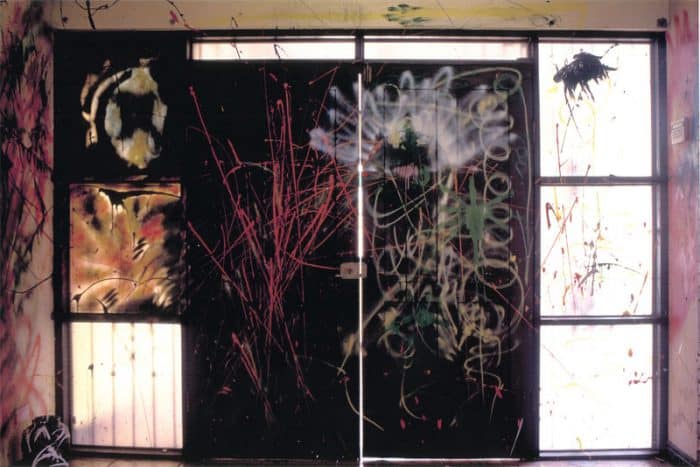 The renaissance Jean Marc had taken place in just that three-hour span. After that, Calvet began obsessively painting for nine months in Costa Rica. He stopped taking drugs and alcohol. He had killed the devil, as his neighbors would say, and his new life had just begun.
"When I left that house I said: I don't want to die. I want to paint, to be an artist," Jean Marc said.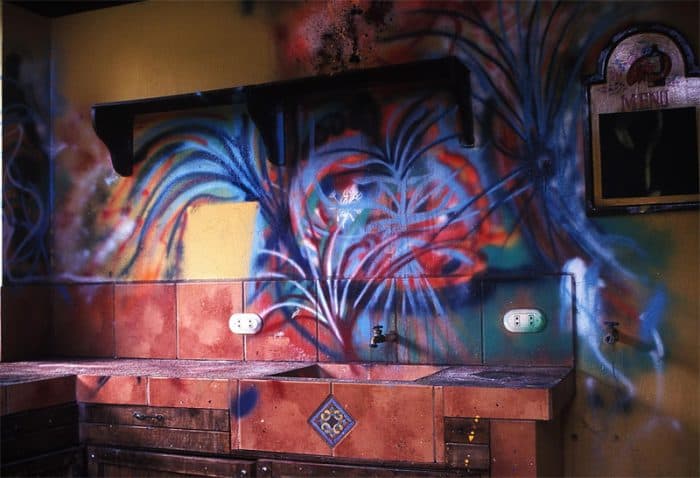 In 2002, Calvet decided to leave Marco behind, as well as the hell associated with his alter ego. He went to rehab and treatment in Guatemala, and then to Nicaragua.
"I started painting all day long after the clinic. At the same time I had to earn my living, so I opened a small restaurant in Granada, Nicaragua because I wanted to leave Costa Rica. Not because I didn't like it, but because I wanted to get out of the environment. I couldn't deal with it. I was fragile because of everything that had happened. In Guatemala people talked to me about Granada, so I went there and stayed because it was where everything began," Calvet said.
By 2003, his restaurant as well as his self-taught art career were well under way. His paintings, overwhelmingly colorful and full of vivacious characters, are hung inside the bathrooms of his restaurant, a place Jean Marc thought people would take a rapid glance at them. They garnered more attention than he expected, eventually leading to his first solo exhibit in New York City in 2005.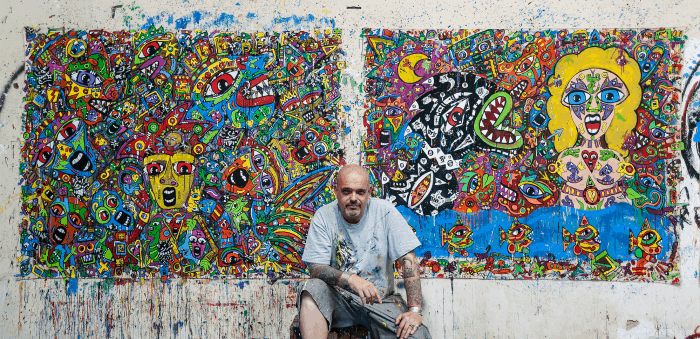 "It's crazy because I didn't look for anything," Calvet recalled. By chance, he met renownedNicaraguan painter Armando Morales, who believed in Jean Marc and encouraged him to continue with his work.
"He was the first one to look at my paintings in the restaurant. People would laugh at me and tell me, 'What a horrendous thing,' but he told me: 'Go on, because you'll do great,'" Calvet, still visibly surprised by Morales' faith in his work, told The Tico Times.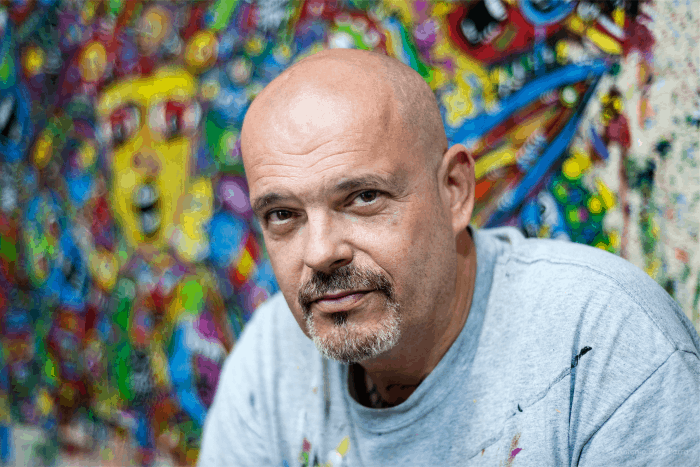 This prophecy about Calvet became a reality. In 2008, English filmmaker Dominic Allan became intrigued by Calvet's story and produced a 100-minute documentary ("Calvet," 2011) about the artist.
It was in the film that Calvet first spoke openly about his rape, taking another step toward healing his wounds through his connection to art.
"Before it was bleeding. Now it's closed," he told The Tico Times. "I don't cut myself. I can drink a beer or a glass of wine and there's no problem with that as well as no mental problems, in the sense of depression or euphoria. Bye, bye. It was all done with painting, but with a lot of work."
Watch Dominic Allan's trailer for 'Calvet':
https://www.youtube.com/watch?v=Wwoy3oocw9c
This empowerment Calvet experienced has encouraged him to spread the word to those who have suffered just like him.
"A message I understood and can pass on thanks to art is that [if trauma] happens to a woman, a man or a child, you have to talk about it. You have to speak up. If you don't speak about it, one day you'll die on the inside and you'll become a zombie. You have to speak up," Jean Marc mentioned.
Art saved Jean Marc's life. It has now has become a lifestyle in which he's constantly on the lookout for beauty through details, colors, painting and mindfulness.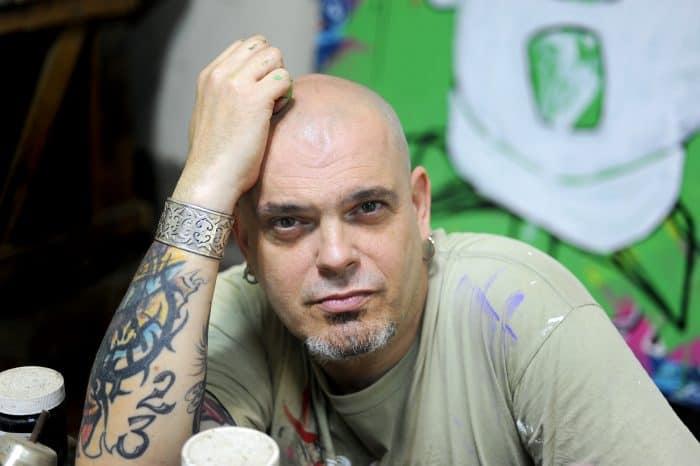 "Painting is not only about art. It's a philosophy. Creativity is a philosophy for me. As a child I always had a lot of imagination, but I never thought I could paint or create things… but if you work the creative part of your brain, we can all be creative. I don't mean that we all have to paint, but we all have creativity in many things. Paint is just the medium that allows me to be the man I am today," he said.
After years of battling Marco, making bad decisions, and suffering with drugs, alcohol, self-harm, sexual abuse, and violence, Jean Marc Calvet, now 53 years old, has proudly escaped a world of darkness. Through his paintings, he became the light.
Jean Marc Calvet's artistic career has taken him to the United States, Costa Rica, Nicaragua, Singapore, Hong Kong, New Zeland, England, and France. He has spoken at the National Fine Arts School in Nicaragua. In Costa Rica, his work can be found at the Klaus Steinmetz Contemporary Art Gallery in Escazú.