Violent protests against a proposed change to Nicaragua's pension system have left at least 10 people dead over two days, the government said Friday.
In the biggest protests in President Daniel Ortega's 11 years in office in this poor Central American country, people are angry over the plan because workers and employers would have to chip in more toward the retirement system.
The government is willing to hold a dialogue and Ortega will issue a formal call on Saturday, Vice President Rosario Murillo said, adding: "At least 10 compatriots have died." Demonstrations rocked the capital Managua, as well as cities and towns such as León, Masaya, Granada, Matagalpa, Rivas and Chinandega, for a third day.
The new law, besides increasing employer and employee contributions, would cut the overall pension amount by five percent.
"We are against these reforms, which means we're against this government taking from the pockets of Nicaraguans," said Juan Bautista. He said riot police brutally attacked demonstrators like him because "the dictator does not like people to protest."
A woman nearby shouted: "The people are tired of this repression!"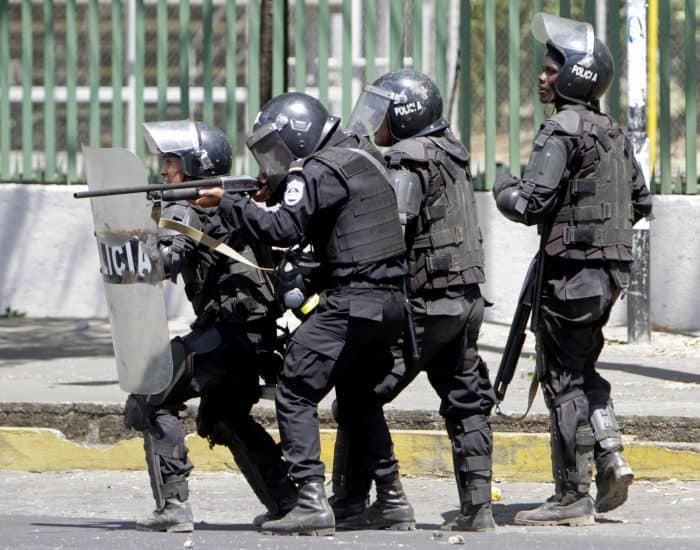 Students from Polytechnic University have been holed up on their campus since Thursday evading police. Other students took refuge in nearby buildings or residences. In Las Colinas, south of the capital, demonstrators raised small barricades and with their hands raised asked the riot police not to target them.
Four independent television outlets were taken off the air after they broadcast the demonstrations on Thursday, and two were still blocked on Friday.
Murillo compared the protesters to "vampires demanding blood to feed their political agenda."
The opposition said more than 20 people were wounded, while the writers group Pen Nicaragua said that at least 11 journalists were attacked while covering the demonstrations.
"We call on the Nicaraguan authorities to act to prevent further attacks on demonstrators and on the media," said Liz Throssell, spokeswoman for the Office of the United Nations High Commissioner for Human Rights."
She urged the government to let people "exercise their right to freedom of expression and to peaceful assembly and association," and urged protesters to demonstrate "peacefully."
She also said demonstrators were attacked by government supporters in the city of Masaya.
Miguel Mora, director of the private television channel 100% Noticias, which the government blocked, accused Ortega of applying the same censorship he imposed in the 1980s during the Sandinista Revolution.
When Ortega returned to power in 2007 he promised to "never censor a media outlet, and today he is doing just that," Mora told Channel 14.
Here's a look at what's happening in Nicaragua. Read more: Nicaragua's primal scream