See photos and video from around the country.
A tropical storm churning north through Central America killed at least eight people in Costa Rica Thursday, with approximately 17 more people reported missing. The storm also caused flooding and drinking water shortages around the country, leaving thousands of people in shelters.
Tropical Storm Nate followed weeks of unusually heavy rains that had already caused chaos in many Costa Rica communities, from overflowing rivers to infrastructure damage. In general, the intense rainy season throughout the region has devastated many Central American families.
Thursday's intensified rains killed at least 22 people in Costa Rica, Nicaragua, and Honduras, with forecasters predicting Nate could strengthen into a hurricane as it heads for Mexico and the United States.
Costa Rica declared a national emergency, closing schools and government offices. Six people had been reported dead as of Thursday evening: four Costa Ricans  – including a three-year-old girl – hit by falling trees and mudslides, and two young Nicaraguan farm workers. At least another 15 people were missing, including the crew of two swamped fishing boats, police said.
Rains were diminishing in most areas of the country on Thursday evening and are expected to lessen further on Friday, according to the CNE.
"This is a critical situation, the likes of which Costa Rica has not faced for many years," President Luis Guillermo Solís said in a video message.
Watch the message the president recorded for concerned Ticos living abroad:
The Institute of Aqueducts and Sewers (AyA) indicated in a statement that 509,628 people had lost access to potable water throughout Costa Rica. According to the statement, AyA water trucks will distribute water Friday in the Central Valley communities of Alajuelita, Ciudad Colon, Coronado, Escazú and Santa Ana, as well as Coto Brus and Pérez Zeledón in the Southern Zone and various towns in Guanacaste.
More than 5,000 people are in shelters around the nation after having to abandon their homes because of flooding and the risk of unstable ground giving way, said Iván Brenes, the director of the National Emergency Commission.
More than a dozen main roads were closed, while others were only partially open. In the province of Guanacaste, which has been particularly hard-hit by the heavy rains in recent days, many roads were impassable to all but four-wheel-drive vehicles and horses. (Read more about the ongoing rain's impact on the northwestern province in La Voz de Guanacaste.)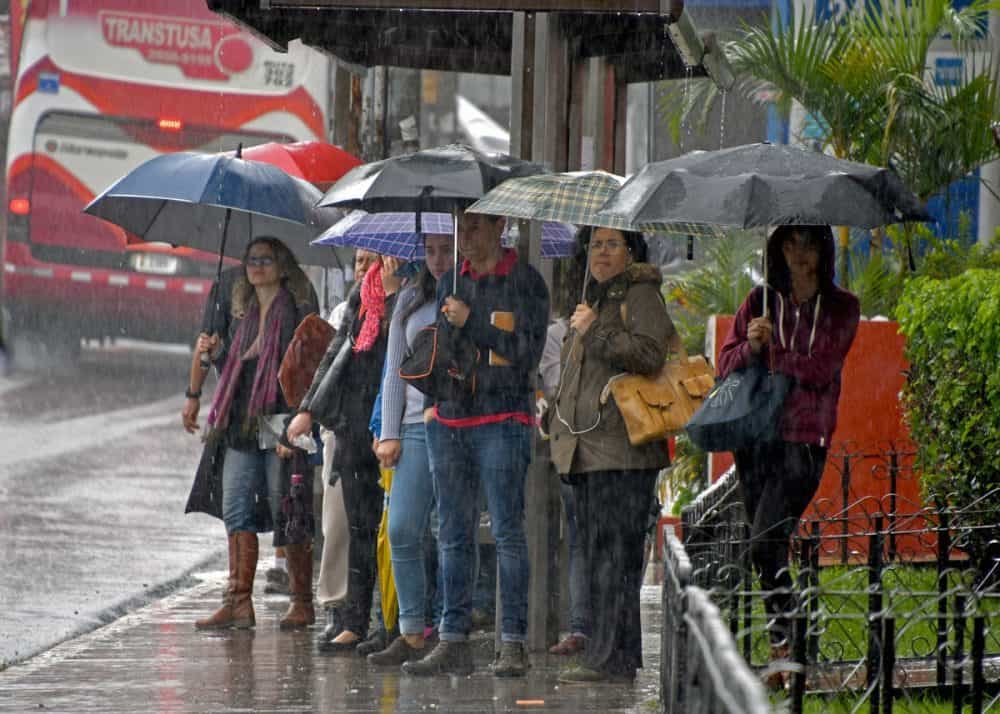 Regional consequences
Both Costa Rica and Nicaragua struggled with mudslides, washed-out roads, and communities cut off my surging waters. In Honduras, officials said three people had died as a result of the rains. Tropical Storm Nate was located over eastern Honduras late Thursday.
The state of Louisiana and the city of New Orleans are preparing for a weekend impact from the storm, which could become the fourth hurricane to hit the southern United States in less than two months.
The U.S. National Hurricane Center said it expected the storm to keep tracking north, weakening a bit over land and regaining force as it went back over water.  The center indicated that Tropical Storm Nate would be "near hurricane intensity" by the time it hit Mexico's southern Yucatán Peninsula late Friday, then strengthen over the weekend into a hurricane as it crossed the Gulf of Mexico to hit the southern United States somewhere between the states of Louisiana and Florida.
"We do anticipate a direct hit," Louisiana Governor John Bel Edwards told a news conference.
The mayor of flood-prone New Orleans declared a state of emergency, as did the governor, who said he would ask President Donald Trump for a federal disaster declaration ahead of the storm's arrival. Officials called for a voluntary evacuation of some low-lying areas northwest of New Orleans.
The United States is recovering from three major hurricanes: Hurricane Harvey, which tore through Texas in August; Hurricane Irma, which hit Florida in September; and Hurricane Maria, which ripped through the Caribbean in late September, wreaking destruction on several islands, including Puerto Rico.
Watch Casa Presidencial's video showing response to storm-related emergencies:
Crocodile alert
In Costa Rica, an alert was issued for people to be wary of crocodiles that might be roaming after rivers and estuaries overflowed. A World Cup qualifying match between Costa Rica and Honduras scheduled for Friday night at the National Stadium in San José was postponed to Saturday.
Juan Santamaría International Airport remained open, but with multiple flight cancellations and delays.
The annual rainy season is currently underway in Central America, a five-month period typically ending in November in which the risk of flooding and mudslides rise. This year, some areas in the region, including Costa Rica, have gotten up to 50 percent more rain than average for September and October.
This story includes reporting Blanca Morel with Marc Burleigh for AFP, and Katherine Stanley for The Tico Times.