Costa Rican researchers have confirmed they found one specimen of Craugastor escoces, a native frog species known here as the Rana Vientre Rojo (red-bellied frog), last seen here in 1986.
Gilbert Alvarado Barboza, a researcher with the University of Costa Rica's (UCR) School of Biology, and Randall Jiménez Quirós, a student at the University of Ulm, Germany, found the frog on September 19, 2016. They were conducting an amphibian count at the Juan Castro Blanco National Park, in the province of Alajuela, when they made their discovery.
The specimen is an adult female and measures just over 6 centimeters (2.3 inches) long, researchers confirmed Tuesday at a press conference as part of the UCR's Environmental Week.
Alvarado explained that they found the frog hiding in a small cave near a creek.
"It was a completely clear night, no rain, full moon and full of stars. That is, with all the conditions in which you don't expect to see a frog," he recalled.
The International Union for Conservation of Nature (IUCN) had officially declared the amphibian extinct in 2004.
The finding now leads Tico researchers to believe that there might be a population of the frog within the national park.
Native species
The amphibian species was first described in 1975. It is an endemic species that formerly inhabited the surroundings of the Barva, Irazú, and Turrialba Volcanoes, all in Costa Rica's Cordillera Volcánica Central. It mostly inhabited areas located at elevations ranging from 1,100-2,100 meters (3,600-6,900 feet).
Juan Castro Blanco National Park is located outside of that area, but at the right height: researchers found the specimen in an area whose elevation is 1,820 meters (5,971 ft).
The frog is nocturnal, and its main predators are herons and snakes. Its body is primarily brown and its main feature is its red belly, a characteristic that is unique among the amphibian group to which it belongs.
The specimen is currently living at a UCR terrarium under permanent monitoring and aseptic conditions that are controlled for temperature and humidity. Researchers are preparing her for an amphibian conservation program at a special habitat under construction at the UCR's Alfredo Volio Mata Experimental Station in Ochomogo, Cartago.
Alvarado noted the importance of the find, reminding his audience that each animal on the planet is a product of millions of years of evolution necessary to create its particular genetic material.
"When a species is lost, it leaves an empty niche. The function that it fulfills, as well as its biological design, disappears," Alvarado said.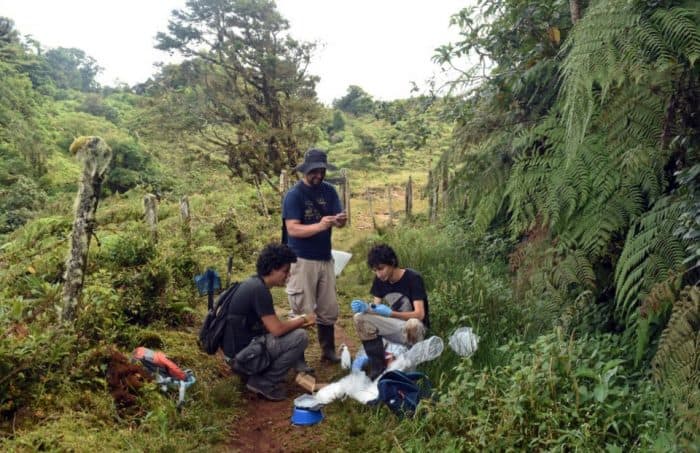 Extinct amphibians
Various species of Costa Rican native amphibians disappeared during the 1990s, and there are some that are currently considered to be possibly extinct.
Local researchers say the main cause of their extinction is the destruction of their habitats, in addition to climate change and the proliferation of a fungus that adheres to their skin and makes them sick.
The IUCN declared three Costa Rican frog species as officially extinct in 2004, but the finding of a red-bellied frog represents the second case of one of those three species to reappear. Local researchers have also found specimens of the Deaf Toad or Holdridge's Toad, which used to inhabit the Cerro Chompipe, a mountain in the province of Heredia.
The third and still extinct species is the Golden Toad or Monteverde Golden Toad. The tiny toad became the global symbol of amphibian decline, and many considered it the first victim of global warming.
The Sapo Dorado was last seen here in 1989. Several attempts to find a living specimen have failed.