The passion to empower others is what has driven the Costa Rican rapper Nakury to share her work with the world.
Nakury, who was born in Turrialba as Natasha Campos, grew up with a strong conviction that culture could be sued as a medium of communication and education for her audience. Her passion for the arts began when she got immersed in graffiti at the age of 15; she then began to combine that with break dancing and rap.
Her passion for communication grew when she studied journalism at the San Judas University. She eventually chose an artistic name of Nakury – a word from the language of one of Costa Rica's indigenous populations, the Maleku – and launched herself into exploring the struggle for gender equality throughout Central America. In 2016, along with the rappers Nativa (Costa Rica), Audry Funk (Mexico), and Rebeca Lane (Guatemala), Nakury filmed a documentary on the role of women in each country.
"The reason for the trip was to film interviews for the documentary that we're doing in the Somos Guerreras (We're Warriors) Collective, which would not only reflect women's work in hip-hop, but also the ways in which they relate to each other," Nakury told The Tico Times. "We also found that many women speak a lot about the social issues in the documentary. There are a lot of women strongly committed to social change through art, and specifically through hip-hop."
This drive led Nakury, 27, to release her new album, Vía (Pathway), on April 20. The album includes collaborations with artists including Barzo, Kumary Sawyers, YOGI beatbox, Nacho Páez, Rebeca Lane and Guadalupe Urbina.
The Tico Times visited Nakury's home on a warm morning in San Pedro, just east of San José. Surrounded by a bountiful garden, her dog Eva and some delicious fruit and coffee, we spoke with Nakury about her life and work. Excerpts follow.
Why did you choose the name Nakury?
Some time ago, a Maleku friend told me that Nakury is a name in which Na means "my" and Kury means "woman." Another [Maleku] friend had told me that Nakury meant love, because it was what his father called his mother, but he's a Maleku who learned few things about his native language and grew up in Chepe [San José]… I told myself that Nakury meant love, and that I'm my own woman.
In the Maleku cosmovision, the preservation of our earth is very important. [It's about] achieving the perfect equilibrium. [The name choice] was also a gesture towards women.
I though of the power that words have. Each time that someone says it, and each time a man says it, they're recognizing the woman they have inside because in the end we're a duality… The idea is also for them to be able to get into women's shoes so that they can know how many things have been denied to them because of gender.
What's the relationship between journalism and your music? 
I think [of myself as a journalist] because of the way I use rhyme.  "Despierto" ("Awake") is a song that speaks about depression or how to come out from an awakening and that's a story we all live. It's nothing new. The new thing is how we're telling the story, but it's something that can be lost because of the immediacy. We're living in a world were everything is fast. Everything gets published and in three or four months people aren't visiting the site because it's not new. I also think that it's good for journalism works to be always appreciated, such as documentaries and interviews, because in the end it's what's creating our culture, what we say, and what we think as a collective.
Listen to Nakury sing an extract of her new song "Esencia," exclusively for The Tico Times :
https://soundcloud.com/the-tico-times/esencia-by-nakury
How is your work a social critique that raises awareness at the same time?
Since I work on things that often make me feel confused, uncomfortable and things that I want to resolve, I think that this critique is born. If the critique hurts you, it's an indicator that there's something there. I also feel that it's good to criticize myself inside the letters or to speak about things that I've experienced and felt.
[The critique] can go from that to criticizing our passivity as Costa Ricans, in our actions as a community…. Listening to those confrontations through music allows us to unite.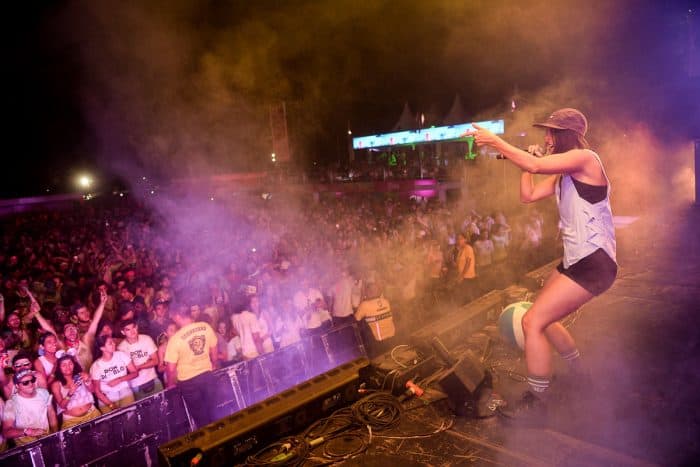 How did you create your new album, Vía?
The album is a sound journey. The first songs, "Aunque Quieras" ("Even if You Want It") and "Despierto" ("Awake") are about conflict or a breaking point. They're songs that are important for me to sing because I believe music mustn't always be about happiness… we underestimate those feelings we have of sadness and pain that we need in order to heal. A song such as "Fuego Sagrado" ("Sacred Fire") is a healing song.
There's also "Evolución" ("Evolution"), which is a song with Kumary Sawyers and speaks about this Vía (Pathway) we're traveling.
There's another song called "Al Otro Lado" ("On the Other Side"), which is a disruptive song that seeks to create that electric shock in people's vibration… It speaks a lot about fear because it's one of the things that can easily control our body.
What's the overall story and ambiance of Vía?
The story is the pathway: constant learning, and how to live the present and not the past or the future, because the past causes depression and living in the future causes anxiety. It's about being in the present and knowing that we always learn more. Creating is part of learning.
As for the ambiance, in the song "El Viaje" ("The Journey,") there are references on how we're cosmic beings from the universe and how the perspective has a lot to do with the plane  we are in. At this moment, we're a big star that goes around the universe and the universe is enormous. We really don't know what's out there and there are many things that are unknown… If this world ends, the world won't end. We'll end as a species, and a lot of other species have become extinct [because of us]. The impact that human beings is having on the world can be irreversible. I think this album has that: we won't resign ourselves to the end of the world.
Learn more about Nakury's new album here.
https://soundcloud.com/nakurymc/oscuridad
Our "Weekend Arts Spotlight" presents Sunday interviews with artists who are from, working in, or inspired by Costa Rica, ranging from writers and actors to dancers and musicians. Do you know of an artist we should consider, whether a long-time favorite or an up-and-comer? Email us at [email protected].