Holy Week is approaching, and for those planning to enjoy some time off at the beach, new recommendations await: the Costa Rica Tourism Board (ICT) this week disclosed the list of those certified as the cleanest and most sustainable in the country.
Starting this week, a total of 105 beaches are displaying a blue flag that certifies that they met the minimum requirements of the "Blue Flag Ecological Program" (PBAE).
The quality certification program awards blue flags each year, displaying one to five stars. The number of stars depends on the points obtained in three separate evaluations conducted annually by a group of inspectors from various ministries and public agencies.
Getting a blue flag with at least one star requires a minimum compliance of 90 percent during each evaluation.
Top qualified
Three beaches will display blue flags with five stars for the next 12 months. All three are on the Pacific coast: Playa Blanca in Puntarenas, and Matapalo and El Madero in northern Guanacaste. Playitas beach in the Central Pacific earned four stars.
Puerto Vargas, Playa Blanca (Cahuita) and Pacuare Sur are the top-ranked Caribbean beaches with three stars each.
Tourism Minister Mauricio Ventura said that any recognition of the efforts to improve sustainability of the country's tourist destinations are always of great importance, "especially when the United Nations World Tourism Organization designated 2017 as the International Year of Sustainable Tourism for Development."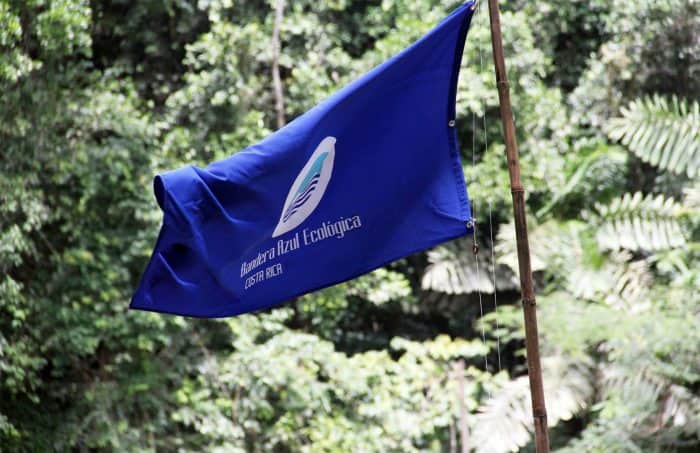 Evaluation
Inspection teams visit each beach three times throughout a year to evaluate the annual plan proposed by each of the local Blue Flag committees that submit their beach for the certification program.
Among other parameters, they inspect beaches for trash-free sands, clean ocean and drinking water, access to showers and restrooms, and waste disposal programs.
The certification program also takes into account the existance of safety aspects such as the existence of appropriate information about strong waves or riptides and the availability of lifesaving and emergency staff throughout the year.
In addition to evaluations, inspectors also advise local committee members on administrative and technical issues and provide recommendations for improvements they will look for on their next visit.
Minister Ventura stressed that the Blue Flag Ecological Program is an example to be followed in the implementation of initiatives that promote sustainable tourism.
"These efforts strengthen our country's image as a destination that generates authentic travel experiences," he said.
The Blue Flag Program began 20 years ago. In addition to beaches, it awards flags for environmental awareness to communities, schools, protected natural areas and hydrological watersheds. It also offers awards for climate change mitigation, community health promotion and sustainable homes.
Awards in all categories will be announced in coming weeks.
Hover over the map to see the beaches awarded a blue flag this year: