Recommended: Costa Rica, fake news and the 'Trump effect' – we are unprepared
I love talking to Costa Rican friends who live abroad and come back from time to time, because they bring a fresh perspective: they have become unaccustomed, and notice things that here we might think have been the same our whole lives.
When it comes to Costa Rica's traffic problems, we know that the problem is one that exploded in 20th century Costa Rica, but various expatriate friends of mine tell me that they think it was in the past two years when it really reached apocalyptic levels.
They might be right. The years 2015 and 2016 saw the highest levels of new car registries in the history of the country. The year before last, the total exceeded 130,000 vehicles, and last year it was 178,700, according to my colleague Diego Arguedas in Ojo al Clima. He dared to compare car importation figures to the country's birth rate and found that the number of chineados that consume fuel is beating out, by quite a lot, the number who consume milk. A friend tells me that maybe the problem is that we spend too much time driving and not enough having sex.
See also: Road safety in Costa Rica – the law of the jungle must rule no more
What do cars have to do with our birth rate? Plenty.  For every 100 Costa Ricans in 1990, there were nine cars. Now there are 30, and we've got the same streets.
If you don't think that comparison is useful, let's look at fuel consumption, because we don't buy cars to leave them in a parking lot. The consumption of hydrocarbons for vehicles increase by 7% in 2015 and again in 2016. This increase is double our economic growth, and that's the problem: as a society, we're burning more fuel – and time, and patience, and mental peace – in an unproductive way, without seeing the results anywhere.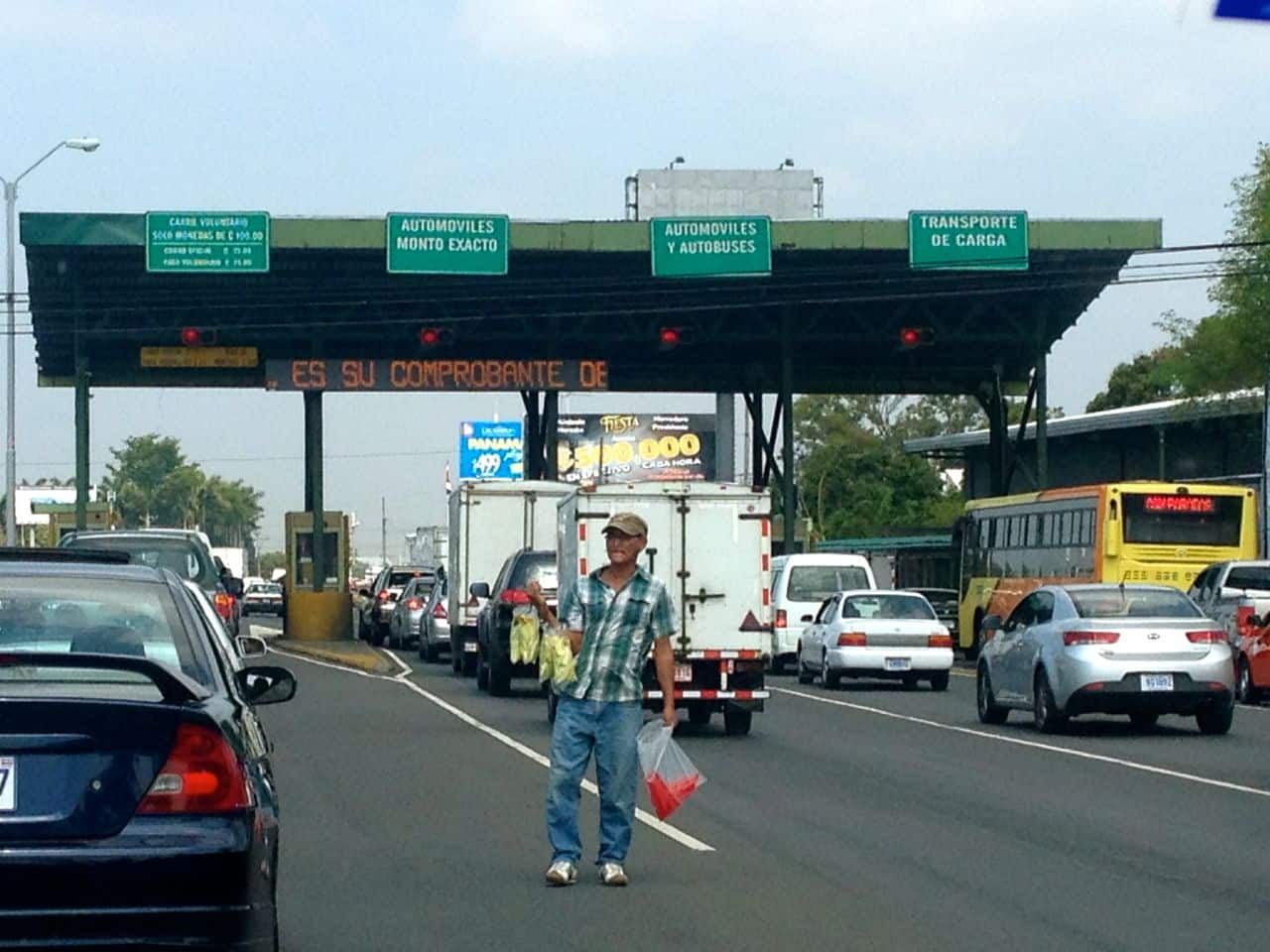 Of course, there are those who see results. Besides the great business this gives to agencies that import cars, the tax revenue that the Tax Administration receives, and the permanent benefit to banks that finance car purchases, there are others who win, too.
That's what my friends from abroad have noticed. "Mae, there's a car wash on every corner," they say, and it seems to be true. Battery shops, gas stations, tire stores, car decoration stores. If we look a little more carefully, we can see all those who have decided to take advantage of our special relationship with vehicles.
And there are others: street salesmen. One of them told me last year that his "boss" (provider of fried plantains and coconut sweets) used to use Waze to figure out where the worst traffic jams where and take one of his salesmen there on a motorcycle. That reminded me of the methods of a group of guachimanes, those who watch over parked cars on the street for a fee: they would check the paper for obituaries to figure out where funerals of wealthy people were taking place, knowing that those who attende would be willing to give more than a coin or two.
Others who win out are the organizers of car fairs. We had Expomóvil this month, and one news story announced that it was still going to take place despite the traffic jams caused by the repairs to "La Platina" bridge on the General Cañas Highway. These are the ironies of our times: the number of cars on the street proves bothersome to a fair whose objective is to increase the number of cars on the street, but don't worry, that won't stop anyone! Let's not be surprised if 2017 breaks records once again for car registries.

In that case, Waze might worsen Costa Rica's ranking on the list of the world's worst countries to drive in. In 2016, we are already among the 10 worst. And if Waze says this, I believe it, because it's our inseparable companion even for routes we've traveled our whole lives – it can tell us what to expect along the way. It'd be perfect if it could tell us which streets has the fewest potholes, or which area is the least unsafe at night.
Because the security factor is another key element in our love affair with cars. I know women who prefer to get in the car to travel just one kilometer in order to avoid harassment on the street, or to avoid walking through areas they consider dangerous. "I'll take 15 minutes on foot or 20 in a car," one of them said to me.
So things get worse and worse, with the contribution of each person. Nothing promises a change in the near future. Restricting the days we can circulate according to our license plate number? It's just a Band-Aid solution that has caused many families to buy an additional car to face their restriction day. It backfired: el tiro por la culata.
"We have to get rid of the cars," President Luis Guillermo Solís told me in an interview. And we all agree with him – just as long as the cars they take out of circulation are other people's. Never our own.
(Don't feel strange if you just read this column without moving even a meter in a San José traffic jam. It's the reality of the 21st century.)
Read more of Alvaro Murillo's "No Sugar, Please" columns here.
Álvaro Murillo is an experienced journalist who specializes in political coverage and has written for La Nación, Semanario Universidad and El País. In "No Sugar, Please," his twice-monthly column, he explores politics in its broadest terms, from the halls of government to community life. Connect with him on Twitter.