My three friends and I loaded up my Galloper in Monteverde and headed down to the Gulf of Nicoya. Our destination was the boat of the Tico fisherman who drives up to Monteverde each week and sells fish out of the back of his truck. (I'll call him El Capitán). El Capitán lives and works in the sleepy community of Costa de Pájaros.
For those who reside atop the mountain the lure of Costa de Pájaros is its proximity. The Nicoya peninsula juts out of the west side of Costa Rica like a strong, bronzed arm. The Gulf of Nicoya comprises the area between this arm and the mainland. In anatomical terms, Costa de Pájaros is the armpit.
None of us wanted to tack on the extra couple of hours each direction to make it all the way to the Pacific coast, dodging tourists and paying ridiculous amounts for a boat. No, we wanted an outing with a local fisherman to see how he managed to collect the fish he brought up the mountain each week. This was to be a night trip, which added a touch of mystery sorely lacking from this sausage party — or "solo bates" as they say.
We met up with El Capitán and his extremely sad, extremely loud hound dog. I neglected to ask the dog's name, but I call him Old Faithful as he emitted a piercing howl every three to four minutes regardless of the activity around him.
As is my affliction, we arrived early and I was put to work documenting the morning catch as El Capitán weighed and sorted fish. I gave myself a passing grade for my translation, as El Capitán's accent is thick and viscous.
A good couple of hours later, optimistically carrying two coolers, we followed El Capitán to the back side of the house, past the empty pool, and into the smoky air created by his neighbor's three burn piles.
In our largely confused conversations leading up to this moment, El Capitán said he could take out up to 10 people. We arrived at his boat and found it to be one of the standard, wooden long boats used by all local fisherman. The middle section was entirely taken up by a fishing net.
"Huh," uttered one of my companions.
"Um," I sagely replied.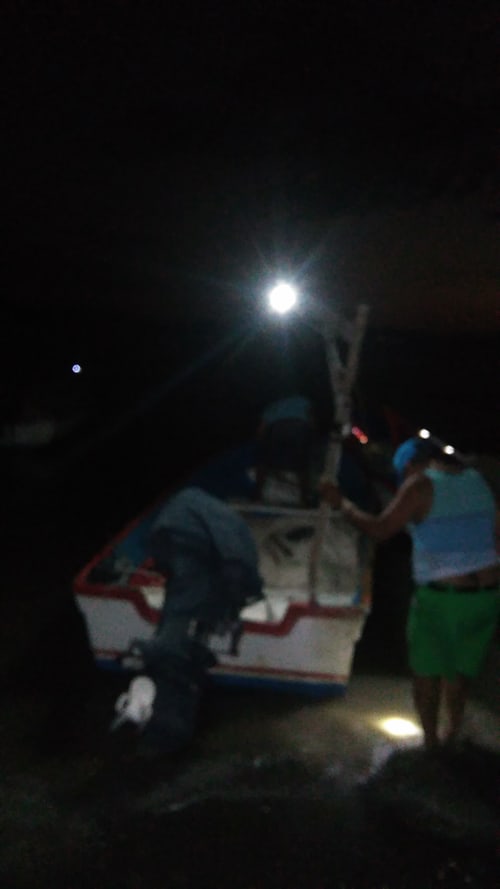 While we tried to figure the seating chart, El Capitán checked the gas can and found that it was empty. A discussion ensued between El Capitán and some of the other locals that had followed us to the water. El Capitán's answer to every question I'd ever posed had been a steady, consistent, "Tranquilo, amigo." I was almost happy to see that even he had his limits. The lightly heated conversation ended with one of the other locals taking the can to fill it (not at a gas station, as there is none).
After a significant wait the gas arrived and we loaded ourselves and our gear into the boat. Two of us shared the flat spot in the bow, facing backwards, trying to keep our feet and legs away from the large rebar anchor in front of us. Our third sat in the bench in front of us and tried to carve out a spot between the net and our coolers. Our fourth sat next to El Capitán, wedged between the battery that powered the light and the now full gas can.
I had fished this same spot the prior July and had come away convinced that a worthwhile trip in this overfished area would involve the deeper waters past Puntarenas. I discussed this desire with El Capitán over the phone and had been told, "Tranquilo."
It was therefore a bit of a shock when we stopped about 75 meters out into the shallow water and tried, mostly unsuccessfully, to catch bait. The meager amount of bait was then pinned to the hooks on our hand lines, and we drifting around in the dark, drowning our bait, for an hour.
The sole excitement came when we moved to another spot and our outboard was kicked out of the water due to an unmarked, unlit net that hung just below the surface. As soon as we untangled the outboard we dropped our lines and were all immediately tangled on yet another unmarked net.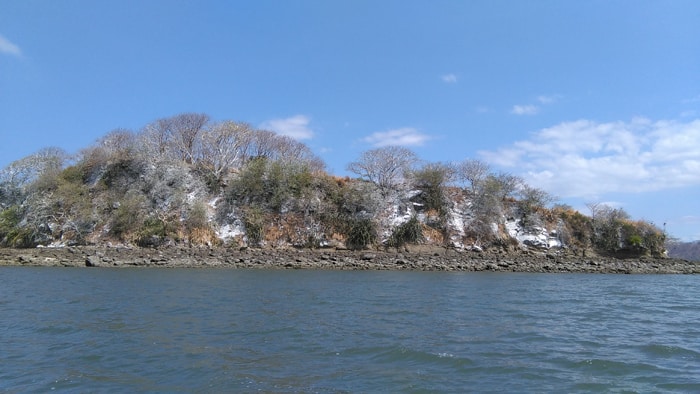 El Capitán encouraged us to pull in the top line of the net and cut our lines free. Per El Capitán, a net marked only by a black, empty plastic bottles was fair game.
My line was hopelessly entangled in the upper line of rope that held the floats for the net. As the others shared a knife to cut their lines free I called out in lousy Spanish that my line was a lost cause. Should I cut my line, or should I instead cut all the way through the rope?
El Capitán waived dismissively from his perch. "Cut through the net."
"All the way through?"
"Sí!"
I took the knife my buddy handed me and cut the net from the middle, where my weights were tangled in the mesh, all the way through the top rope — careful to not cut my own line as I untangled it. After I was done we pushed the net back in to the water and El Capitán looked at it under the light.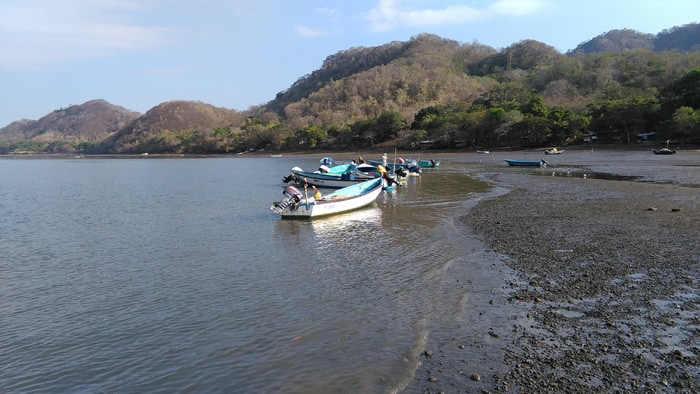 "Marcial, usted cortó el mecate también?"
Yes, I replied, I cut the rope. I asked you if I should cut all of it.
El Capitán showed real emotion for the first time as he ducked his head, looked from side to side, and whispered that I should have only cut the net, not the rope. He doused our light and tried to start our motor just as the lights from another boat began to draw near. Our motor decided that this would a good moment to play hard to get. All of us sat in the dark, watching the other boat draw closer.
"I wonder if that's the owner of the net?" asked one of my friends helpfully.
I thought that I'd felt truly exposed previously in my life. I was wrong. I thought back through all of the mistakes I had made in my life. This took a while, and I wasn't nearly done before El Capitán inspired his outboard back to life and we chugged away from our potential pursuer.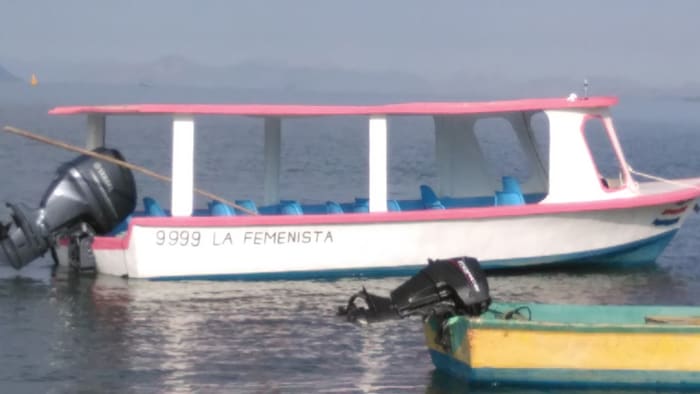 I assumed we would put a good distance between us and the mangled net before we stopped but El Capitán soon powered down and told us to drop our lines. Our concentration was devoted not to our bait, which nothing wanted, but instead solely to the other boat, which again drew closer.
Some time later El Capitán pointed us back across the gulf. We chugged along, dodging nets, until we came to spot where fifteen other well-lit boats busily worked nets in the water. El Capitán turned off the motor and we sat, watching. After a good ten minutes my friend nudged me. "I thought we were going further out for big fish?"
I repeated the question to El Capitán. He replied, "Tranquilo."
I turned back to my friend. "There you have it."
We continued to drift behind the pack of boats when another member of our group asked, "What's that smell?"
There was indeed a smell. It grew stronger by the second. I wrinkled my nose at El Capitán and pointed at the smelly darkness.
He too wrinkled his nose and replied, "Sardinas."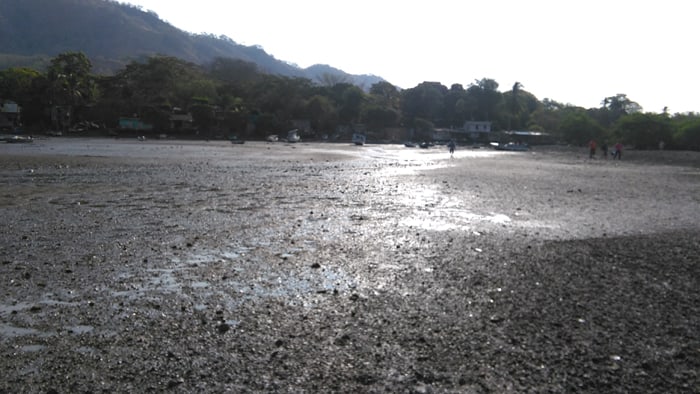 I remembered that a few days ago this coastline had experienced and unexplained massive die-off of sardines. We were smelling their rank remains.
I related this story to my friends, some of whom remembered reading about it. "So we're fishing in the same spot where millions of sardines just died?"
In defense I pointed out the fact that we weren't really fishing. We were just sitting in the dark, drifting through a wave of stink.
After another 30 to 40 minutes of telling us to seek tranquility, El Capitán fired up the motor and chugged over to a nearby boat. We bumped alongside and watched the crew pull in their net and sort through the various small fish, putting some into the foot of water sloshing around the middle of their boat. El Capitán chatted them up until they finally dumped 60 to 70 sardines into our blue barrel, filled with seawater.
El Capitán then roared back in the direction of our original fishing spot, continuing to dodge nets that appeared in the beam of his flashlight. We stopped several times to change out the water in our barrel. Each time our anticipation grew.
At long last, nearly five hours after we'd launched, we dropped lines holding live, wriggling sardines into the water. My friend sitting next to El Capitán shifted and the gas can in front of him made an odd, hollow sound. He lifted it and shook it. El Capitán grunted in acknowledgement.
All of us exchanged long looks. Eventually we embraced tranquility and settled down for several hours of fishing that yielded three extremely creepy, angry eels and two actual keepers (both caught by El Capitán).
We finally gave up, promising El Capitán we'd return during the annual prohibition of nets each June to August (purportedly to help the extremely challenged fish population). He asked me to pull up the anchor, and then, as we drifted out to sea, he formally announced that we were out of gas. He also used the time to explain that many fishermen do not honor the ban and use nets year-round.
El Capitán fumbled with his phone and sent a text, which the recipient didn't want to read at 1 a.m. He eventually stowed his phone and began using a homemade paddle with little effect.
The second fishing boat we eventually encountered grudgingly gave us about a quart of gasoline, which they poured out of their five-gallon can into a chunk of a gallon jug that El Capitán had been using to bail out the boat. Our journey back was long and fretful, filled with predictions of when the gas would give out and which of us was best suited to pull the boat to shore swimming.
To everyone's surprise we made it back. After a lengthy process of divesting the boat of anything valuable and carrying it back up past the now simmering fires of his neighbor, I made an executive decision. We graciously declined El Capitán's very generous offer to spend the rest of the night in his house and, instead, I drove us all back up the mountain, away from the nets, the dead sardines and the few fish that remain free to swim those dark, smelly waters.
Marshall Cobb and his family moved to the Monteverde area in 2015. He takes breaks from working on his novel by posting blogs on his website and can be reached at: marshall@marshall-cobb.com.