Recommended: Costa Rica is for lovers – the affectionate language of daily life
Thanks so much to all the readers who shared their Costa Rican love stories with us this month, and congratulations to Alexandra Arce, our raffle winner, who will receive a copy of our book "Love in Translation: Letters from My Costa Rican Daughter." Happy Valentine's Day, Alexandra!
Here are excerpts from a few of the stories we received: a Peace Corps rendezvous, a couple brought together by nuclear disarmament efforts, a lucky Tico Bingo ticket and a trip that changed a life.
'It may have been the Costa Rican air'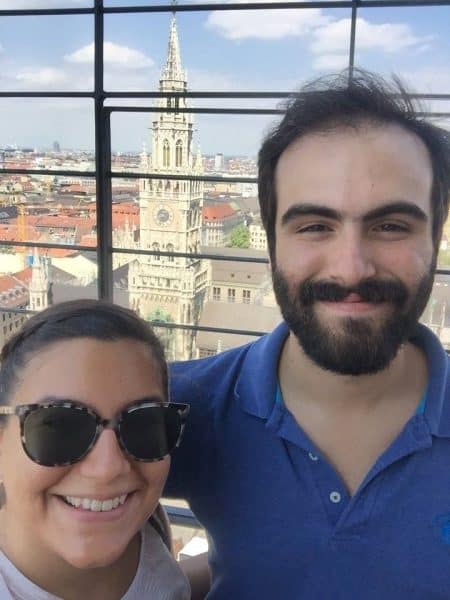 I try to actively block out all memories of high school gym class – but I'll never forget the first time I met this skateboard-riding, long-haired, drum-playing guy named Marty. I thought, 'This might be the strangest person I've ever met.'
Fast-forward about 10 years, and I've invited this same guy to come visit me in Costa Rica during my Peace Corps service. It wasn't an exclusive invitation; at that point most of my family and good friends had visited me or had plans to visit. I had one concern: how many packets of Reese's would he bring me?
He was flying stand-by, so I wasn't quite sure what time he would arrive, what airport he would fly into, or even what day he would arrive. I couldn't very well leave my town for an unspecified amount of time to wait for him in San José – he might not even arrive in San José! So I sent him detailed instructions on getting from Chepe to my site, Guayabo de Bagaces. Almost miraculously, given his minimal Spanish and the general confusion of Costa Rican public transportation, he hopped off the bus at the right stop ("It's a blue and white sign that says Super Gerardo"), and my Costa Rican dog and I greeted him.
To this day, we still don't really know what happened. We hypothesize it may have been the Costa Rican air, or perhaps my little house's tin roof was alluring? Maybe Costa Rica was just the right place, and he visited me at the right time. Whatever the reason, we unexpectedly started to fall in love… It's been three years since he visited me in Costa Rica, and I can say with almost complete certainty that if it weren't for Costa Rica, we wouldn't be together today. Thanks, Costa Rica, for my love story!
-Alicia Potes
See also: What to do this Valentine's Day
'We are always a team'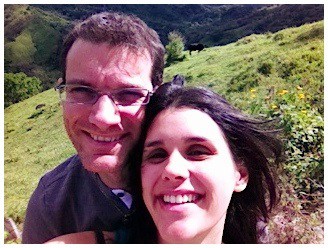 Four and a half years ago I met Jean-Marie at a nuclear disarmament conference in Kazakhstan. He's French, I'm Costa Rican. France has nuclear weapons and Costa Rica doesn't have an army. He liked French gourmet, I was a vegetarian (he's now a vegetarian too!). He has four kids and I don't want any of my own. He's a defense expert and I'm a psychiatrist. But what can I say, we fell in love.
I have been to Paris, Nice, Marseille and Lyon, and he has gotten to know Costa Rica, I think, even more than the average Costa Rican. He's even learning Costa Rican Spanish with the mae, pura vida, ¿me regala un cafecito, por favor? and so on. I always remind him that he can't say these things in other Spanish-speaking countries!
On nuclear disarmament topics we are always a team. We support and help each other and it has taught us very valuable lessons, has opened our minds, and has helped us to understand the world a little more.
-Alexandra Arce
'We hope to move back to Costa Rica'
I met my wife Nindy, a Tica, on August 2, 2003 in Costa Rica… on returning the car from that trip, in front of the rental car agency in San Jose, we purchased a Red Cross Tico Bingo card and then I returned to Florida to close on my home which I had just sold so I could move to Costa Rica.
I remember getting a call from her about a week after I returned home: "I won! I won! I won a car in Tico Bingo!" I of course returned to Costa Rica shortly after that and we were interviewed on Teletica, Channel 7, when she received it. They asked me in Spanish how I felt about winning the car. I didn't know a lot of Spanish, so, I said what I always would say when I met someone for the first time in Costa Rica: "Con mucho gusto!" There were 50 other people that won cars on that day from the Red Cross.
We searched for property for a year and purchased a lot in 2004, then built a house in Esterillos in 2005. It was a series of experiences we would never forget – good and bad. We lived on the property in a large shed, or bodega, with 12 Nicaraguans and two Ticos who worked with us to build a beautiful home.
During the construction, we got married in San José and went to Monteverde for our honeymoon for a couple of days. Not two weeks later, Nindy got dengue. Having just had pneumonia, she had a low resistance to diseases so things were bad. Some neighbors allowed her to stay in a vacant home across the street for about a week; she eventually recovered and it was about that time the house was done enough that we could move in.
We moved to Florida in late 2009. Nindy received her citizenship and has been working here for seven years. I work currently as webmaster for Palm Beach County's tourism website. We hope to retire soon and move back to Costa Rica later this year.
-James Baldwin
'My closest Tico friend'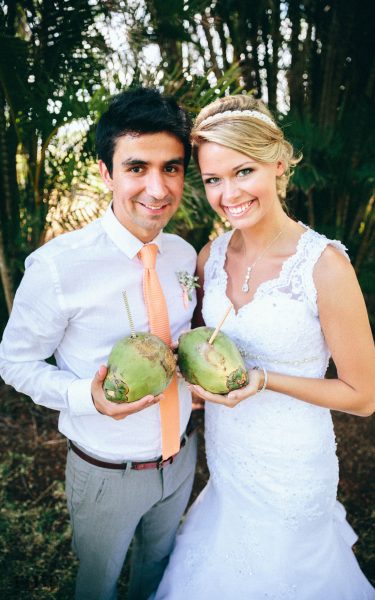 Little did I know my first full day in Costa Rica would include meeting the man I would one day call my husband.
I first visited Costa Rica between my junior and senior year of college with a group of university students. That short five-week trip changed everything for me, and I fell in love with the beautiful and incredible country of Costa Rica, its people, language, and culture. My post-graduation plans quickly changed and I found myself back in the land of pura vida.
That guy I mentioned who I met my first day in Costa Rica? Well, he was the one who actually connected me with a language school to obtain my certificate in the Teaching of English as a Foreign Language (TEFL). He also happened to be the one who put me in contact with a company that hired me to teach English at businesses across San José.
My closest Tico friend, he was always there for me, teaching me how to dominate the sometimes tricky bus routes, explaining the best local foods to get at the grocery stores and neighborhood farmer's market, and even getting me a local cell phone plan — tasks that were not easy as a foreigner.
When I decided to actually move to Costa Rica to teach English, though not expected, things naturally progressed from friendship to more. After our first date at Café Mundo, I knew there was no turning back. We shared many amazing memories during our two or so years of dating, including a trip to meet my family for the first time in Florida. He proposed shortly thereafter, and I will never forget dancing to Juan Luis Guerra's "La Bendición" with my new fiancé in front of a crowd of people at Balcón de Europa in downtown San José. We were married about a year later in La Garita de Alajuela and were blessed to have friends and family from both Costa Rica and the United States in attendance.  It was easily the best day of our lives!
I never could have imagined that going abroad would lead to my own story of finding true love. My idea of spending six months abroad teaching English turned into five years of not only romantic love, but also a love for a country that I will always consider home.
After about a year of married life in Costa Rica, we moved to St. Paul, Minnesota (my hometown), exchanging the beach for the slopes! I brought the biggest souvenir home with me – Andrey.
-Emma Rojas
Do you have a love story you'd like to share with us? Send it to us and we will collect them for a second edition. Also, next up: Would you like to share the story of your Costa Rican wedding for an upcoming feature? Contact us at kstanley@ticotimes.net with your tale of beachfront bliss, logistical stress, crazy mishaps or unforgettable moments.