The late-season tropical storm Otto is expected to hit Costa Rica as a hurricane as soon as Wednesday night, and officials have urged local residents and tourists to take precautions and not underestimate its possible effects.
With both the Atlantic and the Northern Zone under red alert, the U.S. embassy released an emergency message for U.S. citizens and travelers on Tuesday:
The U.S. Embassy in San Jose alerts U.S. citizens living or traveling in Costa Rica of the possibility of heavy rains, strong winds, flooding, and mudslides throughout Costa Rica as a result of Hurricane Otto. Otto is currently located east of Puerto Limon in the Caribbean Sea and is approaching Costa Rica and Nicaragua…

U.S. citizens are also advised to exercise caution wherever they are in Costa Rica, as the hurricane may affect the entire country for several days as road, visibility, and river conditions may worsen.  The U.S. Embassy in San Jose has advised its personnel to limit their travel to the Central Valley area as of Wednesday, November 23 and through the weekend.
Embassy officials further advised travelers to monitor media updates and follow the storm's path. Anyone who must travel during this time should always look out for possible landslides and swift moving water over roads and river crossings, the embassy's note read. If a U.S. citizen needs to call the embassy, they can reach the offices locally at 2519 2590. The embassy will be closed Thursday for the Thanksgiving holiday, but the emergency number 2519-2000 will be online.
The Costa Rican Red Cross released a similar precautionary warning in case of strong rains and winds. In a Facebook post, the group warned people to stay away from open spaces where flooding is likely to occur, avoid driving in areas where rain and winds are heavy, and stay away from large communication powers or light posts that may attract lightning.
CNE's suggested materials to stock up on before the storm makes landfall are: bottled water; medicines; clothes; non-perishable food items; flashlights; and a battery-powered radio for updates. Anyone affected can also call CNE officials at 2210 2801 for more information.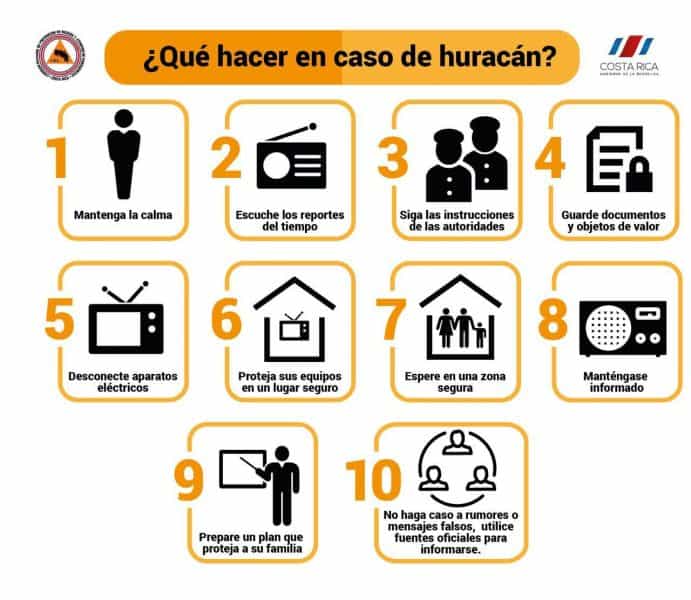 The CNE also advised for people to disconnect all electronics, keep all valuables in a protected space, and wait out the storm in a safe space if you are in an affected area.
Donations
The Red Cross, along with CNE, will begin collecting donations Friday for those affected by the storm. In-kind and monetary donations can be made until Sunday at a location set up in Barrio Naciones Unidas, 200 meters south of Colegio Semanario and near Parque de La Paz. The location will be marked with Red Cross flags and banners.
Acceptable items to donate are: canned goods; grains (rice, sugar, beans); pastas; soups; bottled water; oil; personal hygiene products (soap, toothpaste, toilet paper, etc.). The Red Cross will not be accepting electronics or clothes. There are also ways to make direct monetary donations from your bank to accounts set up by the Red Cross, which you can find on the organization's Facebook page.
In a Facebook message, non-profit Casa Milagro also asked for donations for those caught in the storm's path:
Casa Milagro Foundation are going out this evening (Wednesday) to distribute blankets, warm clothes and food to those living on the streets in San Jose in advance of the hurricane predicted tomorrow. If anyone has any donations at of warm clothes/blankets/hats/etc or food at all and/or would like to join us on the streets, please PM me/us or meet us at the AM/PM in Barrio California (corner of Parque Nacional in San Jose) at 8pm this evening. Muchas gracias!
Another local non-profit, Yo Me Uno, is calling for similar charitable donations. The group has begun a campaign to raise 10 million colones, or just over $18,000, to help those in the areas hit hardest by Otto. Donations can be made to the fundraiser link, where Yo Me Uno is planning to use the money to provide food, hygiene products, and even investments into repair of damaged infrastructures if the storm takes a big toll.
UPDATE 12:25 p.m.
Ride-sharing company Uber announced it will be collecting food and clothes for those affected by Otto until 3 p.m. Wednesday. To donate through Uber, users can open the app and select the UberAyuda option at the bottom of the main map screen. When the car arrives, users can then give any applicable items to the driver collecting goods on behalf of the company.
All items should be in good condition and packed inside a box or bag. UberAyuda is only picking up donations and is not available for trips, the company's news release said.