A quick look around Tamarindo Beach on Saturday and you'd have thought you were seeing a professional, national surf competition. After all, there were tents, sponsor signage, judges and colored jerseys for the surfers in the contest.
But what actually took place in the Guanacaste town was Surf the Tide, an entry-level event organized by Chelsea Lisaius. Lisaius is the founder of an area school, Tide Academy, and one of the main coordinators of the Circuito Guanacasteco de Surf – the annual providence-wide surf tournament that begins its fourth year on November 26 and 27, also in Tamarindo.
Surf the Tide, which featured three contests over a six-week span – two in Tamarindo and one in nearby Avellanas – is unique in many ways. Entrants under 12 can enter the contest for free, as can at-risk kids from the community organizations CEPIA and Surf for Youth.  Lisaius said this fee policy allows those children with financial constraints to be able to compete.
The categories are Tadpoles (6 and under), Dolphins (12 and under and pushed into waves), Groms (12 and under), Boys (16 and under), Juniors (18 and under), Girl's and Open.
"The reason I started Surf the Tide was that kids need more opportunities to compete and to practice," explained Lisaius. "We have some of the most amazing surfers here in Costa Rica; however, we continue to focus on the same top surfers instead of creating a learning platform for the younger and less experienced to grow. Hosting monthly amateur events allows these less experienced surfers to gain the knowledge and confidence to compete at a more professional level."
One of the stars of Surf the Tide was 6-year-old Nico Boos, who won Tadpoles and Dolphins at all three events. Boos said his goal is to be like John John Florence, the youngster from Hawaii who is now the world champion surfer, having won the top spot on the Championship Tour (CT).
"I wanted to be different from the rest of the kids by catching the bigger waves of the heats," Boos said. "But I think the coolest part of winning are the prizes."
These included donated sports apparel and inscriptions, as appropriate, for the Circuito Guanacasteco de Surf.
Another standout in the series was Ruby Brownell, who won all three dates in the Girls, and also made the rankings in Juniors and Boys. Surf for Youth's Francisco Coronado, who secured first place in the Junior division at all three contests, has already made the transition into the Circuito Nacional de Surf, where he placed third overall in the Boys last year.
"I see a bright surfing future for many of the young Surf the Tide competitors," concluded Lisaius.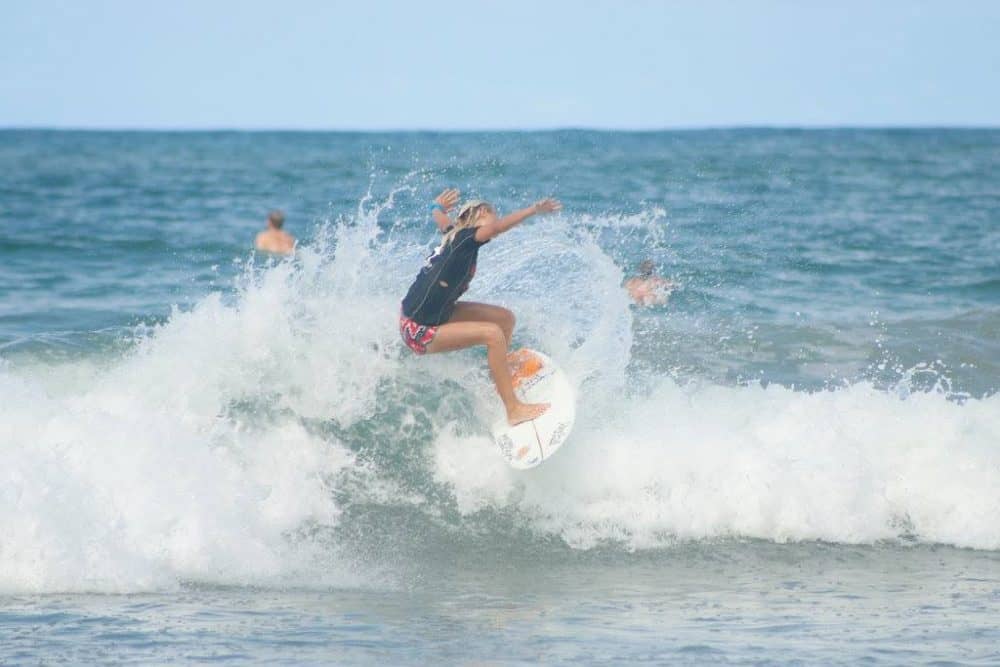 Surf the Tide Final Rankings for 2016
Open
Indy Brownell
Jorge Quedo
Jose Barrantes
Francesco Coronado
Juniors
Francisco Coronado
Kalani Abrahao
Ruby Brownell
Ben Cohen
Women's
Ruby Brownell
Lia Diaz
Rachel Aguero
Abby Sampson
Boys
Kalani Abrahao
Ben Cohen
Ruby Brownell
Odin Rodriguez
Groms
Kalani Abrahao
Jacob Sampson
Isaiah Dawson
Odin Rodriguez
Dolphins
Nico Boos
Alan Dranker
Kira Roman
Parker Bogan
Tadpoles
Nico Boos
Phoenix Vander
Ella Keidel
Archer Bratton