SANTA ROSA NATIONAL PARK, Guanacaste — Arturo Sánchez-Azofeifa shuffles into the administrative dining hall at Santa Rosa National Park, sweating in the early afternoon heat. He needs a machete, he tells a park employee.
The recent rains have multiplied the vines and ground cover in this dry tropical forest, and he's having trouble getting to his research towers.
Sánchez, 50, is a Costa Rican climate researcher who teaches at the University of Alberta in Canada.
Over the last few years, Sánchez has turned Santa Rosa National Park in the northern Costa Rica province of Guanacaste into what he calls a research "supersite" — the only one of its kind in a tropical dry forest — for studying the effects of climate change and developing new ways to monitor it.
Sánchez and colleagues have four towers set up in Santa Rosa that measure everything from wind speed to changes in leaf cover to the exchange of carbon between the atmosphere and the forest. There are also hundreds of wireless sensors scattered around the forest floor that deliver data to the tower, which then delivers the data to Sánchez via satellite.
Sánchez can monitor all of that data — in real time — from his office in Canada.
"People would not be able to comprehend how well we understand Santa Rosa," he said. "It's really kickass."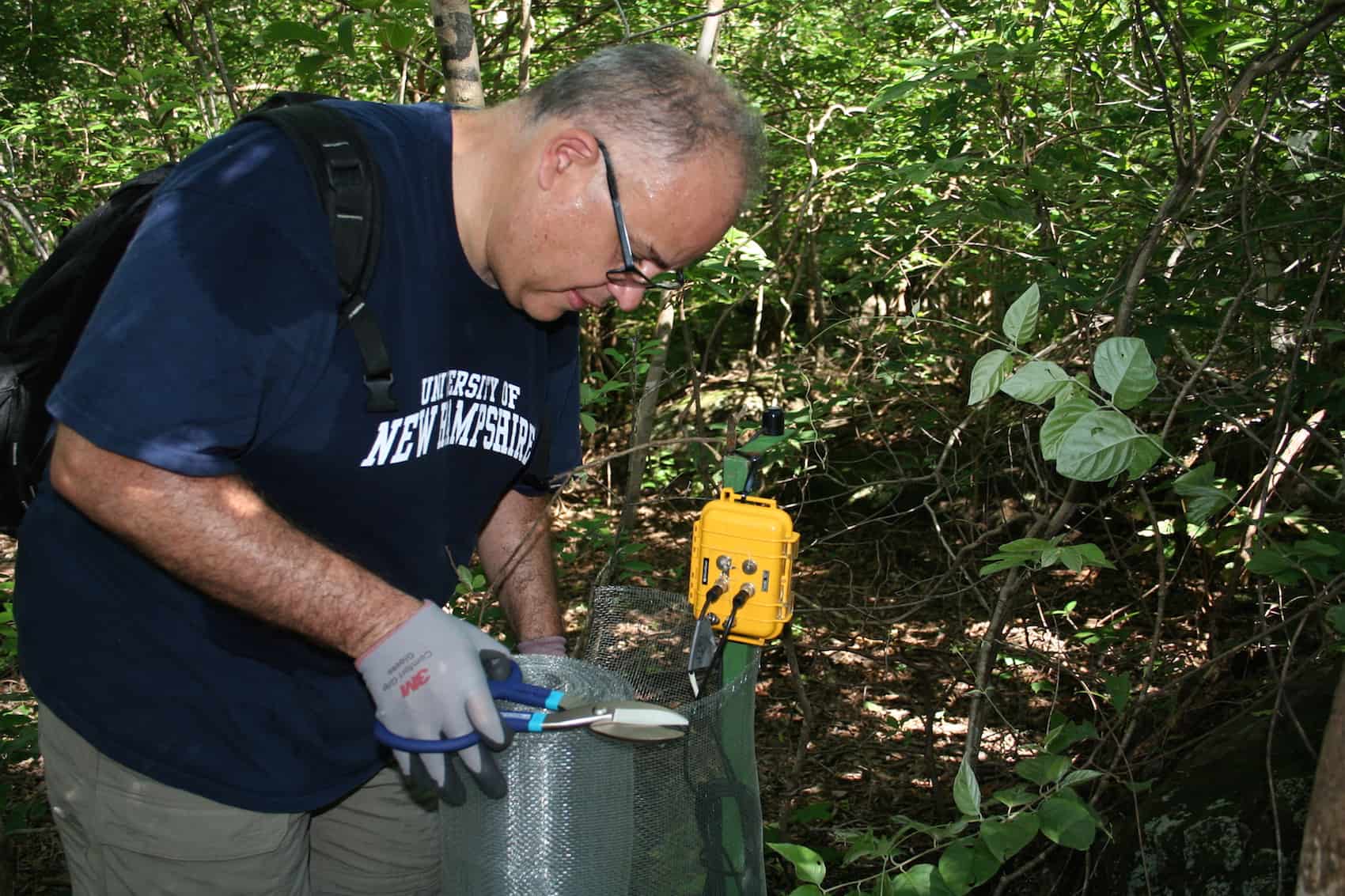 Thanks, Hollywood
The 50-year-old, bespectacled researcher said he got the idea for the sensor network from the 1996 disaster film "Twister." The film's plot, and the flimsy love story that runs through it, centers on a ragtag group of tornado researchers and their attempt to send hundreds of sensors up into a funnel to get realtime measurements from the inside.
Spoiler alert: They eventually succeed. Seconds after the firefly-like sensors get sucked up into the funnel, the computer screens in the nearby research van start registering digital reams of data.
How the storm chasers in "Twister" planned to analyze the data they collected — in 1996, practically the dinosaur age of modern computing — is left to the viewers' imagination.
Sánchez was intrigued. "I remember the next day [after seeing the film], I came back to my office and I called one of my main tech providers and asked, 'Can you do this?' He told me I was watching too much TV."
Two decades later, Sánchez's fleet of sensors and, most importantly, the system that collects data from the sensors and delivers it, is up and running, 365 days a year.
Computer giant IBM stepped in to help with processing the data. IBM Alberta Centre for Advanced Studies helped develop a platform that allows Sánchez and other researchers to analyze the data, for example to detect anomalies and make predictions, as it flows in from Santa Rosa.
Normally, scientists collect a bunch of data first, then analyze it to see "what happened," as Sánchez put it. With his system, "You go from what happened to what is happening in real time," he said.
"This is shifting the paradigm in the way we look at environmental data."
In "Twister," the researchers hope to be able to give people more advanced warning of a natural disaster, in that case, tornadoes.
Sánchez has the same goal, at least in part. The sensors at Santa Rosa collected data during the most recent El Niño weather phenomenon, which is considered responsible for the 2014-2016 drought in Guanacaste. Sánchez also now has data from before and after El Niño.
He hopes that by better understanding the signs of pending drought and how Santa Rosa's tropical dry forest responds to it, he can help governments and individuals better prepare for and adapt to drought, and in the long run, to climate change.
"Someone in a government office might take a hundred days to declare a drought. If you have the tools, you can influence policy and decision-making — if the decision-makers are willing to listen," he said.
Watch a video from IBM Canada about Sánchez's research:
https://www.youtube.com/watch?v=LZ6YoWxQvrU
Climate change sirens
Sánchez is a bit of a renegade in studying Santa Rosa in the first place.
Santa Rosa is a tropical dry forest unlike the tropical wet forest or rain forest of, say, the Osa Peninsula or the cloud forest of Monteverde. Dry forests are made up primarily of deciduous trees that lose their leaves annually during the dry season.
Dry forest once occupied more land area than rain forest — more than 40 percent of all vegetation across the tropics.
Much of human settlement in Central and South America has been built on land cleared of tropical dry forest.
"In the Americas, we have cut 60 percent of all dry tropical forest that existed," Sánchez said.
Despite its importance to humans and its dire need for protection, the lion's share of modern research is done in rain forests. Sánchez said that for every 300 scientific publications on rain forests, there is one on tropical dry forests.
"The pool of knowledge is really small," he said.
Tropical wet forests likely attract more researchers because of their greater biodiversity and superior ability to sequester carbon dioxide.
But dry forests also sequester large amounts of carbon. And they're great for researching climate change, Sánchez said, because their seasonal nature makes them very susceptible to changes, especially in rainfall.
The dry forest sends out a strong environmental signal when things are out of whack.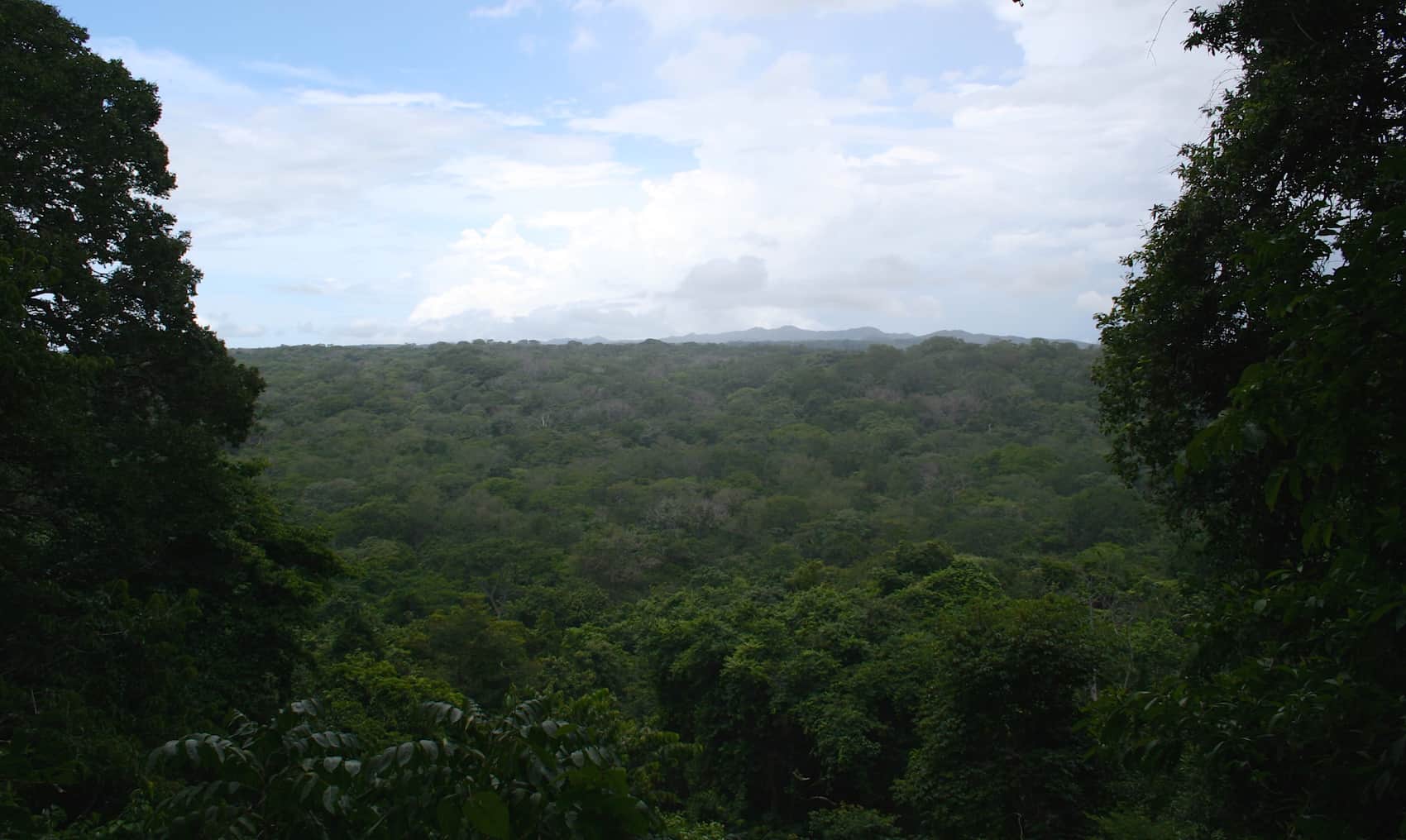 From Guanacaste to Alberta and beyond
Armed now with a machete, Sánchez hacks away at the vegetation covering a barely-visible path to one of his research towers. Soon, the buzz of insects gives way to the low hum of the tower.
The sensors at the top of the tower measure the movement of carbon between the forest and the atmosphere. If the forest is under a lot of stress, it will release carbon.
The Santa Rosa forest released carbon for 120 days last year during the height of the drought, Sánchez said. "That was so shocking for us."
Now, Sánchez said, the green, rain-fed forest is back to sequestering carbon, but tree mortality is high, likely because of the stressful last few years.
Because Sánchez can monitor the forest from his desk in Alberta, he comes to Costa Rica only a few times a year, mostly to do maintenance work on his sensor system. Students from the University of Alberta and Costa Rica's National University (UNA) also help with maintenance and monitoring.
Mauricio Vega, an expert in remote sensing and a professor at UNA, is Sánchez's main collaborator on the ground. Vega is experimenting with using drones mounted with special cameras to measure changes in the forest.
Sánchez, Vega and colleagues will present their findings from Santa Rosa at this year's global climate conference — the follow-up to the historic 2015 talks in Paris that ended with an agreement to limit global warming to well below 2 degrees Celsius.
The talks start Nov. 7 in Marrakech, Morocco.
There, Sánchez and other members of the Tropi-Dry research network will also launch a Massive Open Online Course, or MOOC, on climate change in the Americas, in conjunction with the Inter-American Institute for Global Change Research.
The course, which will be in Spanish, will feature lectures from 21 Latin American climate change researchers, Sánchez said.
You can pre-register for the MOOC here.
https://www.facebook.com/TropiDry/videos/1771537083085307/