I love how history can instantly be rewritten by the insertion of an individual narrative. I have always wondered about Afro-Costa Rican lives that start in San José rather than the Caribbean city of Limón. Where are those stories?
The ones we hear are the usual linear narratives of "Leave Limón and 'arrive' in San José, mimicking the same migratory patterns (and dreams?) of those landing in the "land of milk and honey" – the United States. But what was life like as an Afro-Costa Rican who was raised in San José without a familial Limón base? Were there differences in the ways that black identity played out in each regional space?
In order to figure this out, I decided to speak to one of the elders in my family: my cousin's grandmother. Jeannette (Jenny) Boyd Rodríguez was born in the late 1930s in San José and raised in Paquera, on the Nicoya Peninsula, home to her wealthy, landowning paternal grandparents. Jenny and her twin brother grew up as the only black children in the community, without any memory of racial distinctions.
Once her parents divorced at the age of six, Jenny and her brother and mother moved to San José with her maternal grandparents. Jenny does remember that though she lived in a multi-racial San José, her mother maintained friendships with the several other black families in Puntarenas. Jenny grew up in Barrio Luján, attending the public school known as the Escuela Metálica. A native Spanish speaker, Jenny learned English later in life.
Jenny tells me that there were three black families in San José when she grew up and they forged an informal community, mostly based within the church setting: the Beckles, the Curlings and her family, the Rodríguez. Curious about our family connection, I asked Jenny how she met my maternal grandmother, Leonora Robotham (Gourzong) in Limón's Barrio Roosevelt. Her story testified to an entire patchwork of friendships that shifted the patterns of migration which were assumed to go one way only: Limón to San José.
Reversing that order, Jenny explained to me it was in my grandmother's house that she spent many of her school holidays from San José. This became the summer address for Jenny and her brother as they forged friendships within Limón. Jenny remembers fondly that my grandfather, Stephen Robotham, would start singing and playing his violin and his "saw," signaling bedtime for all kids: my mom and her three sisters lived there and eventually, Jenny would become best friends with my Tía Sylvia, the eldest of my grandparent's children.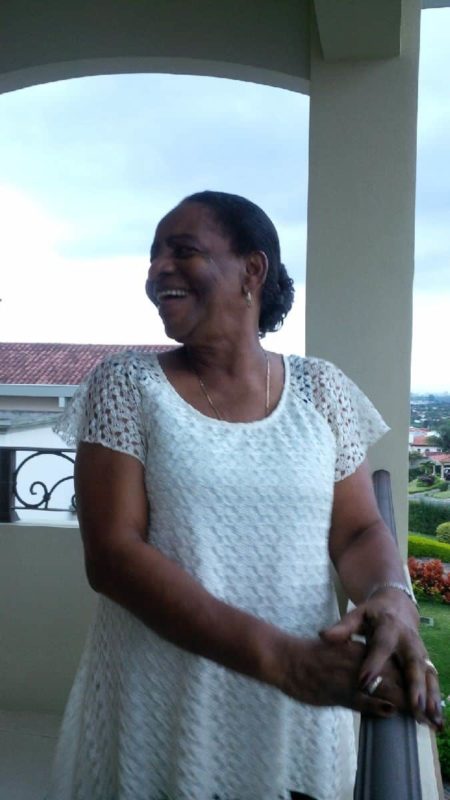 By the 1960s, the migration of Limón youth to San José became a steady stream that included my mother's family. Socially, they gravitated to the Good Shepard Episcopal Church in San José because of the English-language service. There, social dances and Bible study groups became a natural outcome of friendships that have lasted over five decades.
In San José, much of Jenny's life centered on her family's business, Soda La Venta near Avenida 10 in San Jose. It was celebrated for its pasteles and fresco de frutas. Jenny's job was to carry dinner from the family home to the Soda every day after school.
In Barrio Luján, the teenage focus soon became baseball for the boys. As her brother and cousins went to practice, there was one outstanding young man from Limón playing as well: Florencio "Lorenzo" Levi Christie Douglas, handsome, determined and a young man with a dream, was interested in Jenny right from the start and asked her brother, Bradley, for an introduction.  It was only after beginning the Escuela Normal de Costa Rica, now the Universidad Nacional, at the age of 17 to study to become a teacher, that Jenny begin to take Lorenzo's interest seriously. Novios for four years, it was only once Jenny graduated that she agreed to marry Lorenzo in 1958. She went on to a teaching career spanned 30 years of dedicated teaching and mentoring.
Lorenzo's story is an "American Dream" narrative of the 1930s. Born in Puerto Viejo to cacao farmers, Lorenzo had singular ideas about making a better life for himself. He moved to Limón to study and worked at the dock at night to make extra money.  My great-Uncle, Charles Gourzong, who ran the payroll for the Northern Railway Company, began advising young Lorenzo in this way: at the end of the pay week, Lorenzo came to collect a rather large paycheck for all his overtime work on the docks. Uncle Charlie was astonished at such a large sum of money, so he advised Lorenzo to invest it while saving a portion for further education.
That lesson was forever etched in Lorenzo's head when he moved to San José. A wizard with numbers, Lorenzo completed a certificate in accounting and auditing. The perks of being completely bilingual in English and Spanish included the ability to secure a job at an U.S.-owned company where he would eventually work his way up from accountant to CEO and General Manager.
Theirs was a marriage of elegance and grace. They have two children, Carol and Lorenzo, Jr. and seven grandchildren. Lorenzo, a proud Black man, looked to Nelson Mandela as a role model and always dreamed of visiting South Africa. He was legendary for keeping a map in his home office so that his grandchildren would love to travel. Lorenzo and Jenny invested in property; though they were initially told they could not purchase the land because they were black, they finally built their dream house in Rohrmoser, which was an exclusive mostly-Jewish enclave in San Jose. The home stands 100 meters from the home of former President Oscar Arias.
An avid reader and softball player, Lorenzo gathered the black male elites in San José and began the Tropical Club, an Afro-Costa Rican association which lasted about ten years. The wives of these influential men also started their own club, The Association of Women of the Caribbean (Damas Del Caribe) and they are still going strong, ready to celebrate their upcoming 50th anniversary. Jenny is one of eighteen founding members whose mission is completely philanthropic: their work is centred on helping Afro-Costa Ricans in San José and Limón. They raise money to support students who come to study in San José and organizations in Limón such as the city's nursing home, or Asilo de Ancianos.
In ending our talk, Jenny shares what life has been like in the last four years since Lorenzo passed: 54 years of marriage to such a powerful and proud Afro-Costa Rican man made Jenny realize that her job is to encourage the next generation of her grandchildren and their children to continue the legacy of their grandfather's work and vision.
Hard work, education, voracious reading, travel, firm spirituality, and a loving family and extended community are the magic ingredients to a life of grace. I continue to learn about the diversity of Costa Rica, one which ruptures stereotypes about the presence of Afro-Costa Ricans. I am so honored to have Jenny in my life as a role model.  Her story traces an unusual arc on the pages of 20th century Costa Rican history that many do not envision. Blackness was never a burden for Jenny, but rather a celebration of one aspect of who she is: Afro-Costa Rican, wife, mother, grandmother, and visionary.
Read more from Natasha Gordon-Chipembere here.
Natasha Gordon-Chipembere holds a PhD in English. She is a writer, professor and founder of the Tengo Sed Writers Retreats. In June 2014, she moved to Heredia, Costa Rica with her family from New York. She may be reached at indisunflower@gmail.com. Her column "Musings from an Afro-Costa Rican" is published monthly.