Roma and Luda Gimelfarb are in Costa Rica this week for what's become a tragic, annual ritual: searching for information about their son, David, who went missing in Rincón de la Vieja National Park in Guanacaste seven years ago today.
David Gimelfarb came to Costa Rica in 2009 on a break before starting on a doctoral degree in psychology in Chicago. He left for a hike in the park on Aug. 11 of that year, leaving his passport and money at his hotel in the northwestern province of Guanacaste.
He drove his rental car to the park, signed in and then disappeared. He was 28 at the time.
A three-week search of the park – which spans 14,000 hectares of rugged rain forest terrain – by Costa Rican Red Cross, National Police, foreign volunteers and even U.S. Blackhawk helicopters turned up no sign of David in 2009.
Except for last year, when Roma was recovering from surgery, David's parents have come to Costa Rica every year since to remind people that they still want answers. They meet with the U.S. Embassy, Costa Rican authorities and people with knowledge of the case in Guanacaste.
The Gimelfarbs said they've spent a good chunk of their retirement fund looking for David, who was their only child.
Over the years, hope has occasionally cropped up. A few years ago, a psychic contacted the U.S. Embassy and claimed to know where David's remains were. The Gimelfarbs told The Tico Times that the psychic took U.S. Embassy staff to a river in Guanacaste, where they searched and dug but found nothing.
The Gimelfarbs say they've been cheated and extorted along the way. Several years ago, after the couple offered a $100,000 award for anyone with information about their son's disappearance, they began receiving menacing calls from someone claiming that David had been kidnapped. As proof of life, the caller emailed a dark photo of a man holding the current edition of the daily Costa Rican newspaper La Teja.
The Gimelfarbs couldn't be sure it was their son, and investigators later traced the call to Costa Rica's La Reforma prison.
Luda Gimelfarb said she's convinced someone knows what happened to her son. "We think someone knows," she said.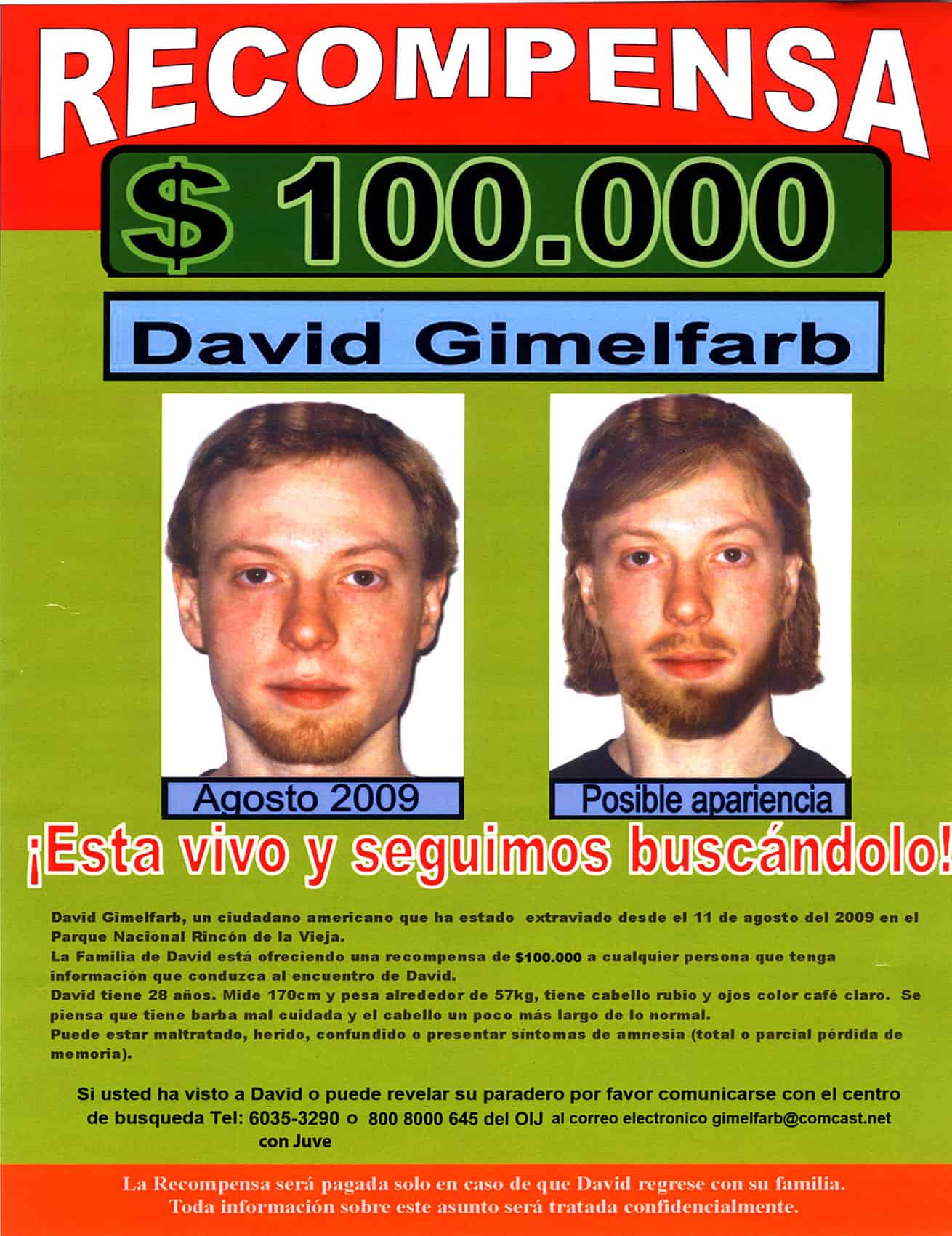 If some tragedy did befall David Gimelfarb in Rincón de la Vieja National Park, or neighboring Santa Rosa National Park, a recent discovery in a similar case may offer some hope to his parents.
Two years after U.S. hiker Cody Dial went missing in Corcovado National Park, in southwestern Costa Rica, park rangers stumbled upon his backpack and passport, along with his likely remains, in May. Several extensive searches had been carried out for Dial in the months after his disappearance with no results.
The Gimelfarbs hope to establish a foundation to help U.S. families searching for loved ones who have disappeared in Costa Rica and elsewhere around the world. The Gimelfarbs say their search has been especially difficult because they don't speak Spanish and had never been to Costa Rica before their son's disappearance, and because there is little official guidance available on how to go about searching for missing persons.
They want to help other families avoid their mistakes.
The $100,000 reward for information about David Gimelfarb still stands.
Please report any tips to the family by emailing gimelfarb@comcast.net or calling the Judicial Investigation Police (OIJ) at 800-8000-645.