The massive International Design Festival (FID) has been taking place in San José since 2009 to showcase Costa Rica as a creative hub. However, the FID's organizers, Alfredo Enciso and Paco Cervilla, decided this year to increase the frequency of offerings, and on June 30 launched a special edition of the FID at the Parque La Libertad in Desamparados with guest speakers Ji Lee, Fernanda 'Fefa' Romano and Luciano Goizueta.
Goizueta kicked off the event with an unusual session that combined visual and audio presentations. The artist described his recent research, in which he combines Albert Einstein's unified field theory and the work of scientist Nassim Haramein with his artistic production.
"It takes the sun 226 million years to completely rotate around the galaxy," he told the audience. "This means that the last time the sun was where it currently is, dinosaurs were just beginning to appear. Time is space. Time is equal to movement… I created a snail-shaped staircase with 12 steps. Each step corresponds to one month. January is the first step, February the second one, and so on. There's always a twelfth and last step that's connected to a new snail shaped staircase, which is a new year."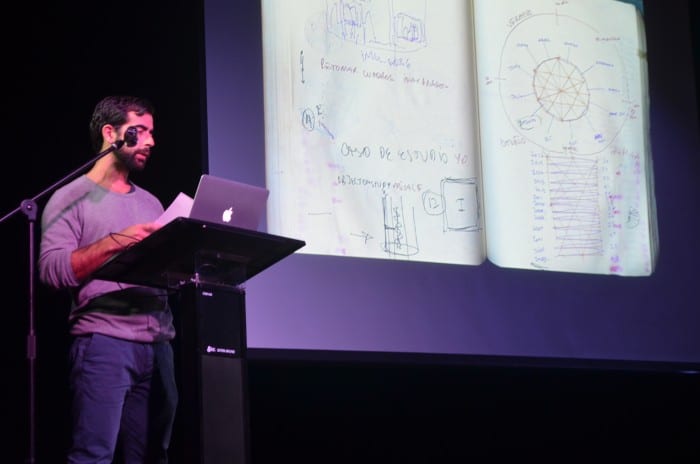 Goizueta plans to structure his life story with four chapters. Each chapter is equivalent to twelve years, so in total it would be 48 years in the making of a personal process through an artistic medium.
Marketing and advertising specialist Fernanda Romano, of Brazil, who was named one of the 100 Most Influential Women in Advertising by Advertising Age, spoke about technology and social media. She described inspiration she drew from a speech that U.S. President Barack Obama delivered at the South by Southwest Festival in Austin, Texas, earlier this year.
"He talked about citizen action and how tech is the new government," Romano recalled, adding that Obama "recruited" his audience to address social problems through technology. "That's not what your government can do for you, that's what you can do for your government, and now we have the tools."
She pointed to Code for America as examples of the kind of change technology can create, or the use of virtual reality in the United States to help sidestep the stigma of post-combat therapy.
"VR is the newest, most important medicine, so there's a whole new program at the U.S. army were you're treating returning fighters from Iraq and Afghanistan with post-traumatic stress disorder," she said. "They're the American heroes. They don't want to go to a shrink. They don't want to talk to a therapist. So the U.S. army develops an artificial intelligence psychiatrist, so these guys put on a headset and talk to an imaginary person and they do therapy because they think that's not a person, so it's okay to show my weakness."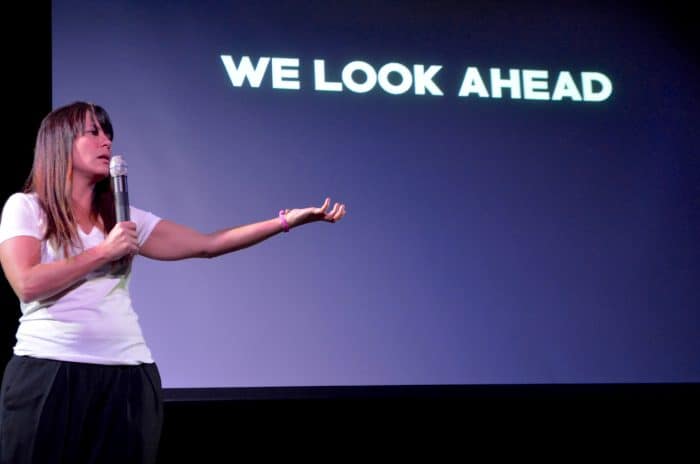 The last speaker for the evening was Ji Lee, creative director for Facebook and Instagram.
"For me creativity is a myth," Lee said. "Creativity is something that everyone has. Everybody here has it. We just don't know how to express creativity.  People think creatives are artists, but creative people are just people who think differently. Going to work everyday, the same road, the same street and just choosing a different road just to see how it is, that is being creative. Everybody can do that."
Lee explained how he applied this out-of-the-box thinking to creating a fun new typography: he deconstructed the linear structure of the alphabet to create the Universal Revolved 3D alphabet, whose letters are rotated around their vertical axis.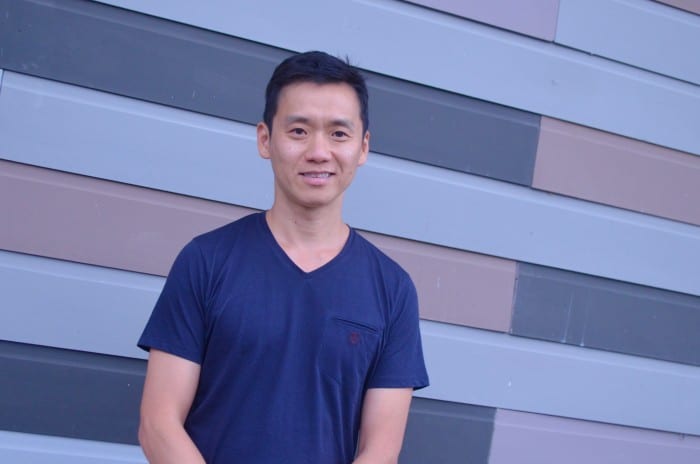 Lee said the key, for him, is to always have fun when working.
"What I realized is that when I do personal projects, when I have fun with what I do, great things happen," he said. "Not only doing, but sharing them with the world. Inspiration is always everywhere, especially in mundane things. I just try to observe wherever I go, whomever I talk to, even if I'm on the subway. I just observe things, and I have funny thoughts about it and I try to express them in a visual way."
One of his simplest projects came about through just such a focus on everyday fun. The Bubble Project began as a simple sticker in the shape of a speech bubble, which Lee pasted all over New York's advertisements. The idea, according to the project webiste, was to allow people to write on the bubble and create a whole new message, thus "transforming these annoying corporate monologues into open public dialogues."
The project struck a nerve and has become an international sensation, with participants in 12 cities around the world listed on the site thus far.
"An empowering thing I learned doing The Bubble Project was that I can do anything I want. I don't need a lot of money. I don't need a lot of resources around me to make a project happen. That was for me the biggest lesson," he said. "If I have an idea and a passion, I can make that happen by myself."
For Costa Ricans seeking more ideas and more passion like those displayed at the Parque La Libertad stage, we'll keep our eyes on the FID, in all its incarnations.