PLAYA ESPADILLA, Puntarenas – It took about 10 minutes to run through the safety instructions and sign a waiver before my friends and I were thrust up into the air over Costa Rica's iconic Manuel Antonio National Park. Islands of rock once seen only from afar were now close below our feet and lavish buildings sprang up from the green hills back on the coast.
When I met two friends recently at the nearby Playa Espadilla, we decided to go parasailing after they noticed a company on the beach taking a revolving door of customers up into the air all day long. The company, Aguas Azules, is co-owned by husband and wife Melanie Moss and Miguel Mena López, who have decades of experience in parasailing and agree that their goal is to give passengers a hands-on thrill without having to worry about safety.
"It gives you that sensation of being involved, even though we take care of everything," Moss said. "Where else do you get the sensation of walking on the ground and then go directly into flight?"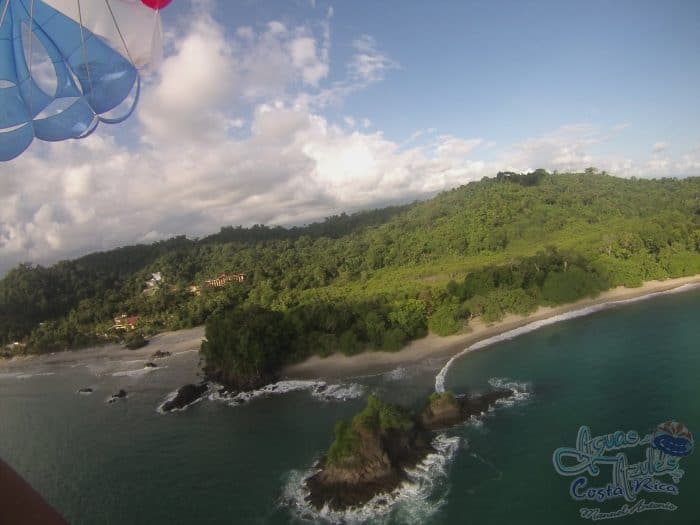 Since it's technically prohibited in some places, like the United States, to take off on a parasail from the beach, Moss has a good point that the immediate beach-to-air transition is unique and more thrilling than taking off from a boat.
My friends and I were all first-timers who didn't know what to expect from the tour. But after a quick yet informative safety briefing, we were amazed by how quickly the takeoff puts you into flight from the sand to the sky.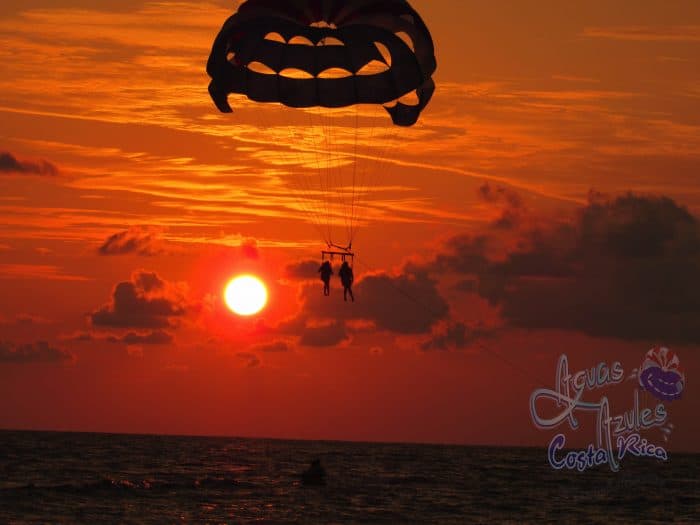 Moss said the other advantage of the beach takeoff is that the tours can last longer because it lets Aguas Azules focus on one person or group at a time. On a standard parasailing takeoff from a platform boat, riders will have shorter rides because there are normally more people on the boat to accommodate.
Aguas Azules offers 15- or 30-minute rides, depending on what the customer prefers. After all, Moss said, the best part of the job is giving travelers a parasailing experience unlike any they've had before.
"For me it's such a rewarding job," Moss said. "It sounds cheesy, but it's great making people happy and seeing their faces afterwards."
The one-time corporate lawyer in New York City decided to leave it all for Costa Rica after meeting Mena, who is originally from Quepos and learned the art of parasailing from a Gringo on Playa Espadilla when he was 16. Ever since then he's done parasailing tours on and off in Guanacaste, the United States, and now back home in Manuel Antonio.
"So you've got the lawyer and the experienced waterman," Moss said. "That's why one of the things we're most proud of is safety."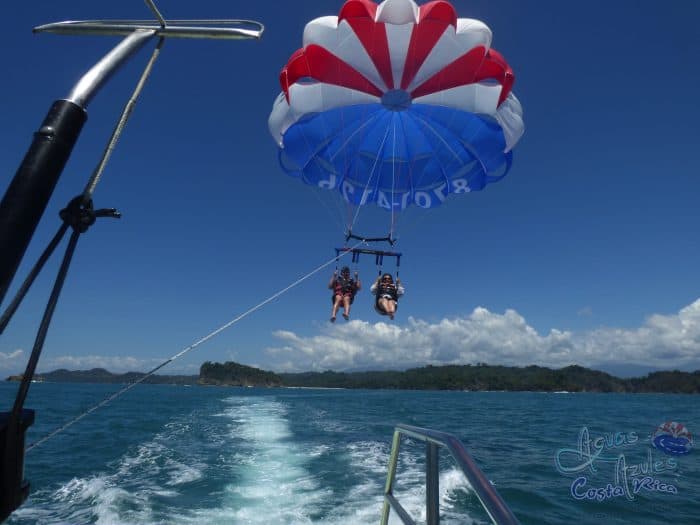 The growth of Manuel Antonio into one of Costa Rica's most popular destinations has allowed the couple to work 11 months of the year – closed only for October – and attract up to 50 customers per day in the high season. They said Playa Espadilla was relatively empty just 10 years ago.
"Manuel Antonio is a special place," said Mena. "And it's great for us because in the last five years we have started to have people coming year-round."
Contact Michael Krumholtz at mkrumholtz@ticotimes.net