The town of Tamarindo, best known for its beaches and nightlife, is inviting the world to see its artsy side for a change.
For years, there have been worthwhile efforts to engage the community in a cultural lifestyle. Tamarindo has nurtured local artists and there's been a gallery or two where they've shown their wares. But now, on June 16-18, some of these creative locals will join national and international artists in producing new works and exhibiting existing pieces at various businesses around town.
Tamarindo Art Wave will take place along a "Blue Line" from the Garden Plaza near the entrance to town all the way to the Barceló Langosta Hotel at the southernmost tip of the community, with a map directing participants to the various artworks. Organizers chose the concept of the Blue Line to best represent Tamarindo as the "line for the path our lives take here between sea and sky as well as the path leading through the installation spaces of the festival."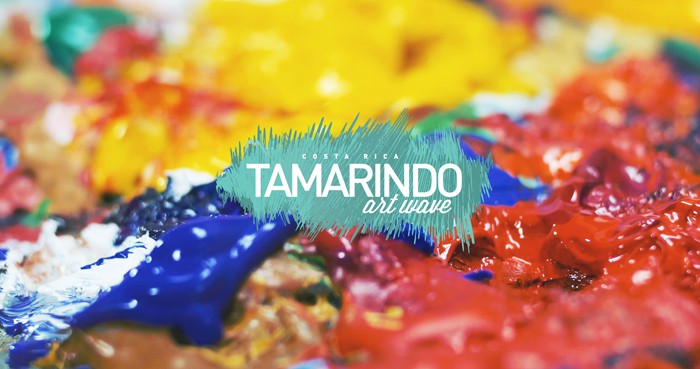 Along the route, 41 businesses will host 77 artists from Belgium, France, the United States, Switzerland, Australia, Germany, Argentina and, of course, Costa Rica. Among them: Helga Denoth, Hollie Heller, Mario Maffioli, Peter Sarkisian, Victorie Cathalan, Aimée Joaristi, Brad Payne, Carlos Hiller, Muriel Haerens and many more.
The aim of the organizers is to bolster the town's image from being merely a popular beach area to a cultural and artistic destination as well. At the same time, they want to show that art is more than paint on a canvas, a sculpture, a song or a dance.
"We are a group of 12 people who started the Tamarindo Arts Foundation, which are now the driving force behind this huge adventure," said Griet Depypere. "We are all art-loving people and all want to give another image to Tamarindo besides surf and party. We also want to embellish the town with permanent artworks."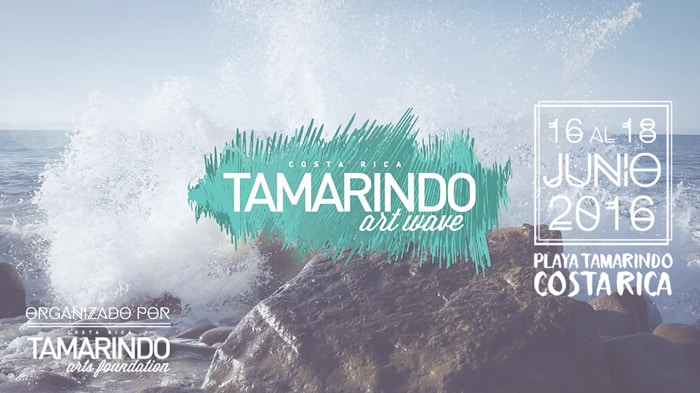 One of those organizing this event is curator Emmanuel Javogue. He is the person in charge of selecting all the participating artists and is quite suited for the task, as he has 27 years in the art business, curating larger shows and events around the world, including in Belize and Shanghai. Hailing from France, he's been living and raising a family in Flamingo the last nine years and was honored to work with the Tamarindo Arts Foundation in putting together these activities.
The seed of the Tamarindo Arts Foundation germinated from Depypere, and when she was looking around for people to fill the roles necessary to put on such an ambitious event, she learned of Javogue. He had helped present the 20th Anniversary of La Galería Nacional in San José. That show was the first time Costa Rica presented art from '60s pop artist Andy Warhol and French post-impressionist Paul Gauguin. Depypere, Javogue and a group of local townsfolk drew on their various experience to work diligently on this festival for six months.
"The beauty of this thing is the people who put everything together. The community believes that the event is worth much more than ourselves," said Javogue.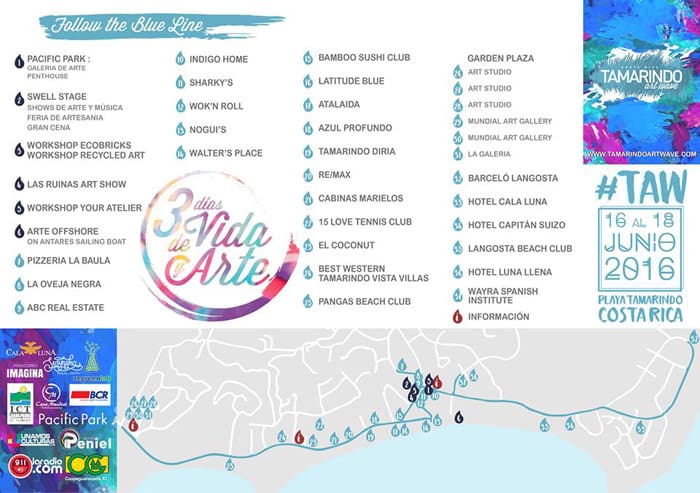 The 41 businesses that are directly involved will host artists doing live exhibitions and will pay for their food, transportation and lodging. Tamarindo Art Wave will also have three free shuttles in service to transport festival-goers from location to location.
Banking on his reputation, Javogue was able to secure artists from all around the world, both near and far. Painter Victoire Cathalan and sculptor Eric Le Maire will have traveled the furthest, from France. Le Maire will appear at Hotel Luna Llena and Pangas Restaurant. Cathalan will paint at Hotel Cala Luna, and join the work of many at the event's official gallery, located on the first floor of the Pacific Park Condominiums. (A second exhibition of other artists will be featured in the condominiums' penthouse in a more intimate atmosphere; here will be displays of glass art, ceramics and a little more decorative art than shown on the first floor.)
Le Maire shared his thoughts on making the trip to Tamarindo for the unique event: "The benefit of participating in an art show in Tamarindo is to see the artistic scene of Costa Rica in all its diversity. Tamarindo Art Wave offers a unique exposure to many artists with whom I am looking forward to interacting."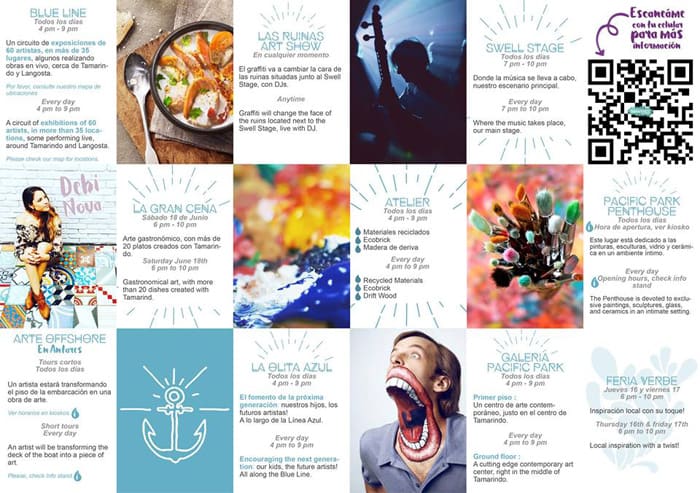 One of those locals is Costa Rican painter André Bazan, who lives in Villareal, the predominately Tico town right next to Tamarindo. His is an exciting task: guests will shuttle by panga boat offshore to watch him paint the deck of the Antares, an 80-foot schooner sailboat built in 1947 and refurbished by Captain Hermes Quijada and his wife, Candy Lagesen.
Bazan got wind of the festival and contacted Javogue asking if he could be involved. The curator went to see his work in Villareal, driving down a muddy trail to the artist's small house, and was sure he was heading in the right direction when he saw the paintings decorating the other houses on the way to Bazan's home.
The Costa Rican artist is thrilled about the possibilities that may end up happening as a result of the Tamarindo Art Festival. "I am sure that it will be the start of an individual awakening," he said. "Our community needs to refresh itself with art which bridges reality and the imagination. Art Wave is free expression, like the sunsets we all love."
For their part, Lagesen and Quijada have no idea what Bazan will create on their boat, but they have full faith the end product will be beautiful.
"Art in Tamarindo is super-important," said Lagesen. "We are honored to be a part of it. I know he will be painting the deck, but we have no idea what he has in mind. We trust him."
Over at the Best Western Tamarindo Vista Villas, Adrián Gómez will paint the wall leading from the street up the stairs to the Crazy Monkey Bar and Restaurant. Gómez is arguably the most popular artist in Costa Rica, his collages, etchings and paintings boasting the brilliant colors of the Caribbean. Graffiti artist Mush from San Jose is going to be working on a 6×5-meter panel just inside the entrance of Sharky's Bar. In addition, an Andy Warhol painting will be on display there.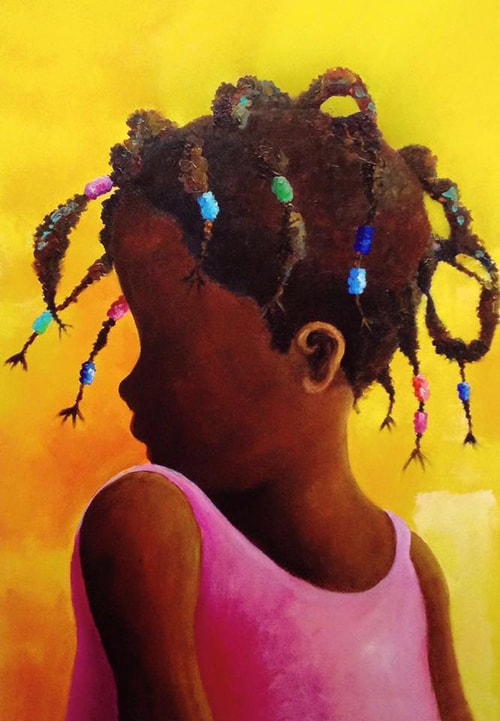 Across the street from Sharky's, Mush will join four other graffiti artists — PM, Kien Mas, Negus and Indio — to create an installation in the ruins of the fire where the former Patagonia del Mar Restaurant was located. Through the three days of Tamarindo Art Wave, a hiphop DJ will inspire the artists as well as the crowd.
In order to embrace a new generation of potential artists, various members of the Tamarindo Arts Foundation reached out to 10 different schools, from Villareal, Huacas and beyond. Surf artist Robb Havassy, who will be painting live at La Galería in Garden Plaza, took recycled materials like driftwood, along with blue paint, and asked the children of the Waldorf School in the town of Cañafustula, located about 10 minutes outside of Tamarindo, to go wild. These pieces, and those from the other schools, will be used as markers along the Blue Line, helping guide the path to the artists and exhibitions.
"I love painting on wood and incorporating the grain into the art as a whole," Havassy said of his techniques. "I wanted to introduce the kids to this type of art. Often they paint or draw on paper, usually white. It's always the same and they put little thought into what they paint or draw. To look at the beauty in the piece of wood they choose, and then let it inspire them or influence them in how and what they paint awakens this whole other level of their creativity and perception. In short, they dug it as much as I did."
Organizers hope that with the kids' art being an integral part of Tamarindo Art Wave, their parents will be motivated to come, especially prompting native Costa Ricans who are not usually exposed to these types of activities.
"Guanacastecos have not been exposed to culture outside of typical fiestas, and it is a major problem to get the culture out of San José," said Javogue. "This fact changed the way we chose artists; we got those who are more didactic. We wanted all forms of art being created. And we asked them to please show us how you do the art you do."
In the ABC Realty building parking lot, there will be Swell Stage, three nights of music and demonstrations from dance troupes, not only traditional Guanacastecan, but also some urban dancers. On the last night, a ballerina will move to the piano sounds of Manuel Obregón, Costa Rica's ex-minister of culture, who will, at the same time, be joined by noted Tica singer Debi Nova, while Carlos Hillel paints.
"I believe it will have a huge effect on the community by bringing together all sectors," said Obregon. "Art always integrates, it is something which unifies us."
Added Javogue: "We want to help everyone realize that art is not a formal thing, it's a way of life. Art is singing, art is dancing, art is living, art is growing. That is what this is, a big mix. This is our common language. It needs to be developed."
Tamarindo Art Wave is entirely free and open to all. The art is not for sale because, Javogue said, a commercial aspect makes a different show and is not in the same spirit as an exhibition.
Contact Ellen Zoe Golden at ellenzoe@aol.com