ANTIGUA, Guatemala — First there was light. The candles interrupted what would otherwise be total darkness at Café No Sé's speakeasy-style bar. They sweated with wax that ran towards the wood, their blurred shine reflected by the mezcal bottles lining the shelf.
Then there was the sound of staggering footsteps clattering against the cobblestone road. One foreigner told a story about the time he got deported from Mexico while two drunken Welshmen screamed and sang, their shirts totally unbuttoned to bare their pale bellies.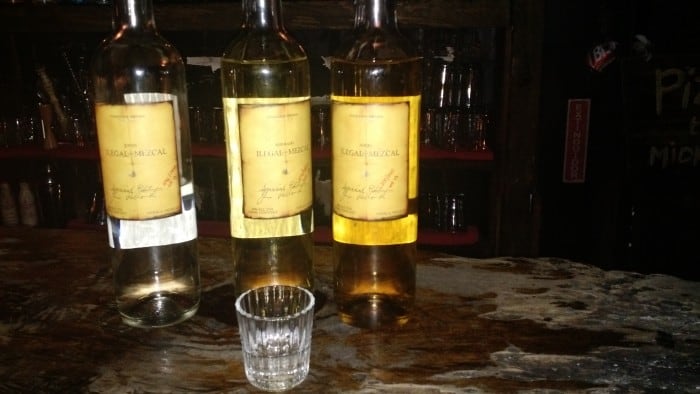 It was silent for close to a minute as a line formed beside the closed door in the stained yellow colonial building frame. A short man at the door was charging a fee of 20 quetzales, or roughly $3.
"Why does all of this money look the same?" I yelled to no one in particular. The man took a bill that maybe could have been a 20-quetzal note from my hand and pushed me inside the tiny, high-ceiling Chaplin's Gastropub.
"It's not really a cover so much as it is a bribe to pay the cops when they come," someone behind me said.
Almost at once, the entire line was in the bar for the post-last call afterparty. In Antigua's municipal code, technically bars must close by midnight, but some businesses have agreements with the municipality to close at 1 a.m. But after 1 a.m. everything must shut down, unless of course you've been invited to a clandestine afterparty that seems to happen every night at a rotation of close-doored bars and discotheques.
However, within five minutes of our being there, police busted the party, apparently not impressed with the bribe, and made the 50 or so people jammed inside leave.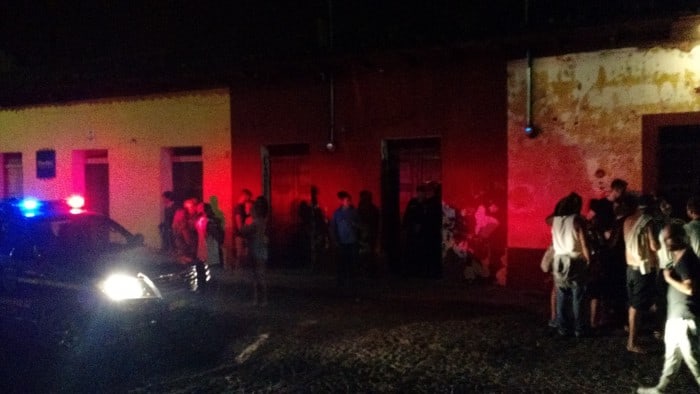 There are hundreds of bars, restaurants and cafes in Antigua, the former capital of Guatemala and current hotbed for tourists from all over the world. Every block in town treats the wandering traveler with quality places to eat and drink.
This kind of density gives credence to words echoed by literary giant and hopeless drunk Malcolm Lowry, who wrote in his magnum opus "Under the Volcano," set in a small Mexican pueblo, "Far above him a few white clouds were racing windily after a pale gibbous moon. Drink all morning, they said to him, drink all day. This is life!"
There are a few simple parallels to draw between the Oaxaca that Lowry inhabited and the Antigua of today. The two are colonial-style pueblos surrounded by towering volcanos and drowned in mezcal, the agave-based liquor native to the southern Mexican state that has become popular in Guatemala's tourist hub.
Before a recent trip to Antigua, I planned to be more industrious during my stay and hike nearby Acatenango Volcano, an active, smoldering, 13,000-foot beauty southwest of town. But when my hiking boots were stolen out of my car a day before I left for Guatemala, I took it as a sign that instead I should just party.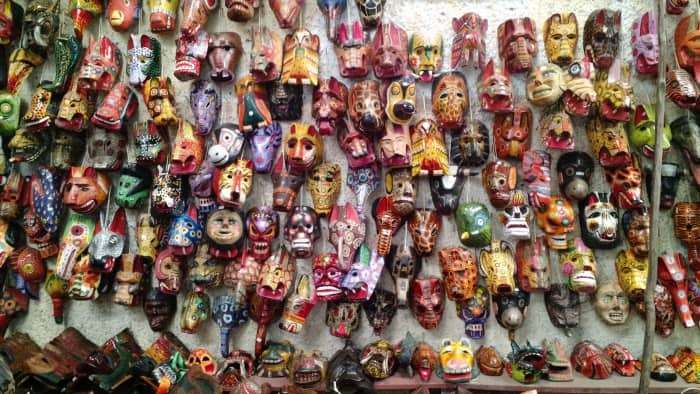 So, in doing my due diligence, I toured the best restaurants and bars that Antigua has to offer.
I began my first night at Café No Sé, a popular and dimly lit bar, where I lost the time under a haze of mezcal. As legend goes, U.S.-born bar owner John Rexer would smuggle in his brand, Ilegal Mezcal, from Oaxaca while dressed in a priest's robe because no one would expect a priest to be illegally bringing booze to Guatemala.
While a solo musician with a guitar played on a stool in the front room, a very tall, very blonde bartender from Estonia served me the añejo, or aged, mezcal in the back bar.
"You know mezcal is for sipping, right?" she asked after I took a straight shot of my first pour.
"Oh yeah?" I said. "I mean, oh yeah, I know."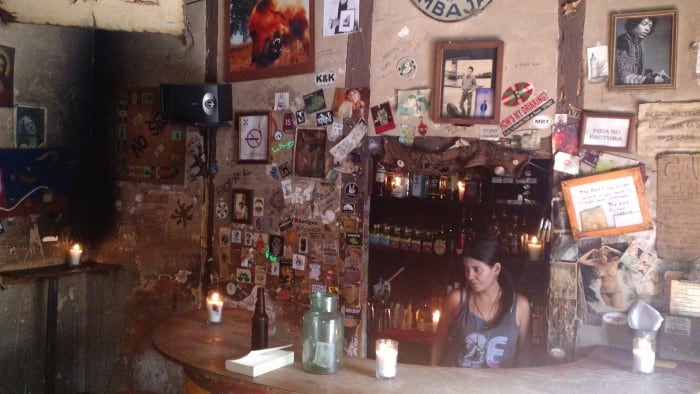 The bar is an institution in Antigua, and has as much character as it does mezcal. Adorning the walls in the front are a list of no-play artists and songs sure to tick someone off, as well as a framed grilled cheese sandwich with the image of Jesus accompanied by the words: "The best way to get Jesus in your heart is through your stomach. Try our grilled cheese!"
Café No Sé is also attached to Dyslexia bookstore, where readers can buy a book and get a voucher for a free beer next door.
The night turned into a rather lucid haze, as I remembered that to be able to think clearly, I had to focus my attention on just one thing, as if looking into a lens where all the periphery was in waves yet the center point was completely focused. I learned the worst possible Estonian curse word in the book and tried to slur its pronunciation. I fell in love with a cute Mexican girl that I had known for all of an hour.
In the corner, surrounded by mezcal bottles and candles, was the effigy of San Simón, also known as Maximón, who is Guatemala's patron saint of booze. To be fair, he's praised for more than just the bacchanal, but for purposes of this article we'll just focus on the booze. His name and likeness can be found all around Antigua, whether it's on the names of bars or in party packs that include candles and liquor.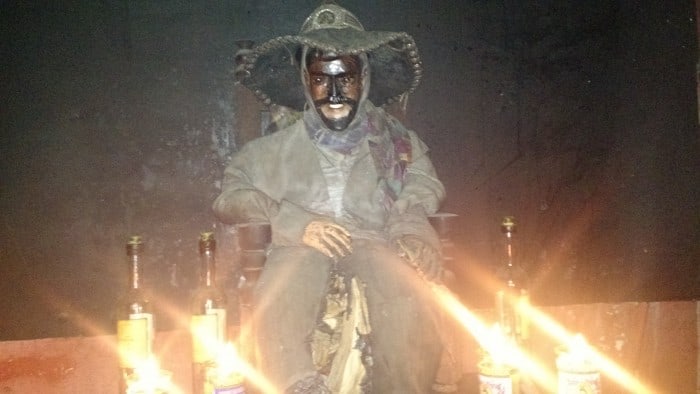 The next night, continuing my research, I began at Fridas, where a smiling Salvadorian bartender served me the quality house mezcal. Then in my marathon pursuit of hedonism, I left to join up with people I had met earlier while at Café No Sé. I found them in a tucked-away, shoebox-sized bar inside a courtyard with the innocent name Coffee Shop San Simón.
If the tiny bar is known for anything, it's the ingenious cocktails made on a whim by resident mixologists like Pato Suárez. I went in and said I wanted something with rum that would be nice and bitter, and within five minutes Suárez gave me an excellent drink whose ingredients included ginger ale, thyme and lemon. After one more drink we went to the Lucky Rabbit discotheque, where sweat-drenched, liquored-up tourists danced from the balcony to the huge ballroom, where a massive projector screen rotated through pictures from parties past.
After being forced out at 1 a.m., we headed for Chaplin's in a herd of 30 or more drunken people from all over the world. It was like a melting pot of cultures, if the only thing you had thrown into the pot was cheap vodka with a sprinkle of good mezcal.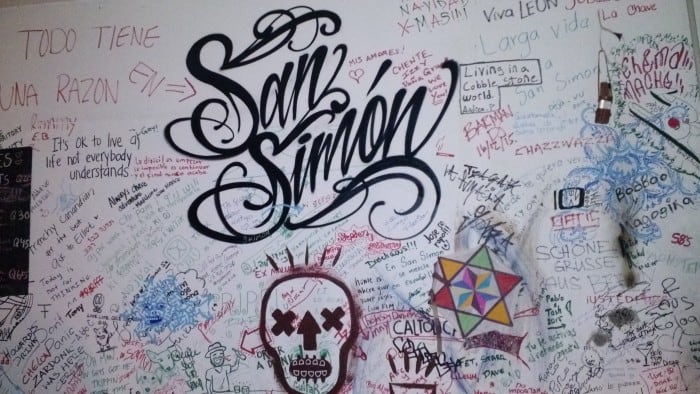 Not to be discouraged after having the police called on us at the afterparty, we made our way to a street food vendor who was selling chicken and beef sandwiches off an open grill, along with cheap beer from a family-size cooler. Packs of neighborhood dogs ran in circles waiting for scraps as a huge crowd gathered around the grill at 2 a.m. People sat around talking and trying to get the last bit of substance out of the night.
"Life is like a match," chef friend Nathan said to me in his thick New Zealand accent, pointing to a tattoo on his arm of a lit match coming out of a slide-out box. "You can use it to burn down a building or to light a fire that could feed your family. Or you can let it run out."
It appeared to me that everything was a little darker than before. After all the storefronts and bars had long been closed, and most everyone else had gone to bed, it was only the iconic streetlamps of Antigua that remained to light up the early morning. Each one of them, as if starting with a match's flame, grew brighter as the night turned darker, lighting the way home for yesterday's partiers, who would surely be feeling the burn tomorrow.
Contact Michael Krumholtz at mkrumholtz@ticotimes.net.