ISLA DEL CAÑO, Puntarenas — If the whitetip reef shark is "near-threatened," the Central American squirrel monkey is "threatened," and the hawksbill sea turtle is "critically endangered," it's pretty remarkable that a boatload of tourists saw all three on a snorkeling trip from Sierpe to Isla del Caño last week.
Yet we got most excited when a pod of false killer whales (dolphins whose conservation status is unknown) started breaching right next to our boat, and even swimming with us for a while.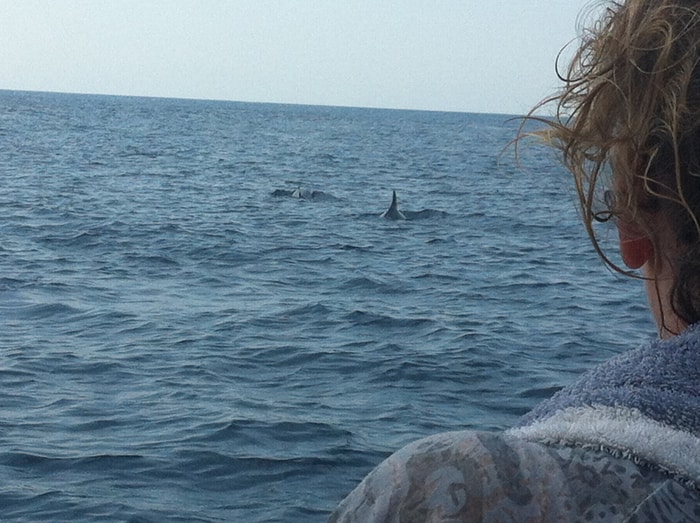 A sturdy crew of four Ticos recently escorted 11 visitors from five countries on an eight-hour tour of the Sierpe River and Isla del Caño, where we snorkeled and visited the pristine island before heading to a mainland beach for lunch and motoring home.
Sierpe is one of those end-of-the-road places in Costa Rica where the road literally ends because it runs into a river with no bridges. But the river is the economic lifeline of this little town, which provides boat tours to Corcovado, mangrove tours focused on birds and animals, the excellent Isla del Caño tour, and boat-taxi service to the ecolodges at Drake Bay.
There are two big restaurants on the water where you can book tours. The king of the hill is La Perla del Sur, run by a guy named Jorge, and nipping at his heels is the Las Vegas and a guy named Johnny. The latter accepted my money and booked my tour but ended up sending me to La Perla in the morning because the customers he was expecting had car trouble.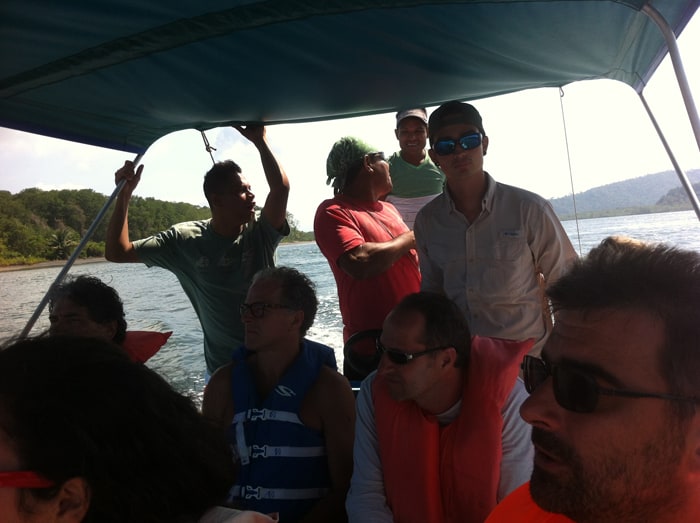 I spent two nights at the Margarita Hotel, three blocks away, where the price for a clean, colorful, air-conditioned room with good Wi-Fi was an amazingly low $30. I would recommend this hotel to anyone, and I wish there were one like it in every town in this country.
Johnny told me to be on the dock for the 8 a.m. boat ride by 7:30, 7:45 at the latest. But I couldn't sleep, so I showed up at 7:15. Naturally the boat left at 8:30.
A big, blustery man came through the dining room at the La Perla announcing that everyone should be wearing the swimsuits they were going to snorkel in, as there were no changing facilities beyond this point.
There was a lot of hullaballoo in the La Perla as multiple groups prepared for multiple tours — paying their money, changing clothes, eating breakfast, buying bottled water, rubbing sunscreen on each other.
I was happy to be matched with a chill, bilingual, 20-year-old guide named Boanerges Gamboa, or Boa for short (yes, Boa Gamboa). I recognized his name from my Bible-study days as meaning "sons of thunder," the name given by Jesus to his disciples James and John. Boa was flabbergasted that I knew this.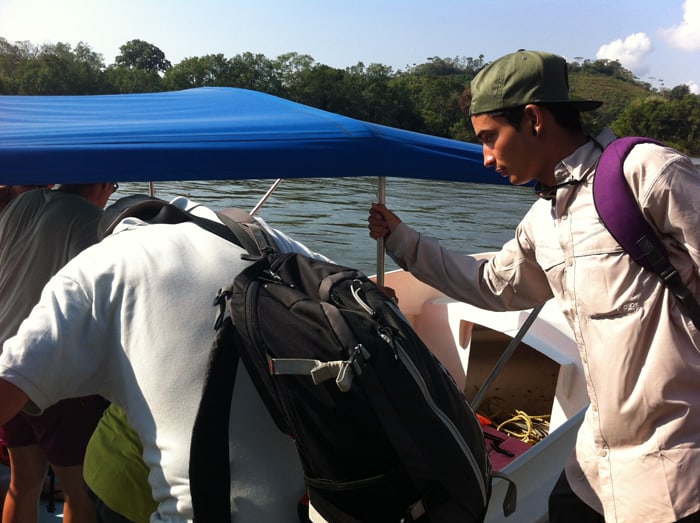 As we launched, Boa introduced our captain, Elver; the first officer, Carlos; and an assistant, Jose.
"I speak English," he said, "and Carlos speaks English when he's drunk." It was the first obligatory tour guide joke.
Our polyglot boat had couples from the Netherlands, Germany, France and Spain, and one person from the U.S. (yours truly). English was our best hope of finding a common language, though I'm not sure how much the Spaniards understood.
We pulled over to watch a big troop of little squirrel monkeys leaping through the trees. The most threatened of Costa Rica's four monkey species, it's surprisingly abundant between Manuel Antonio and Corcovado National Park.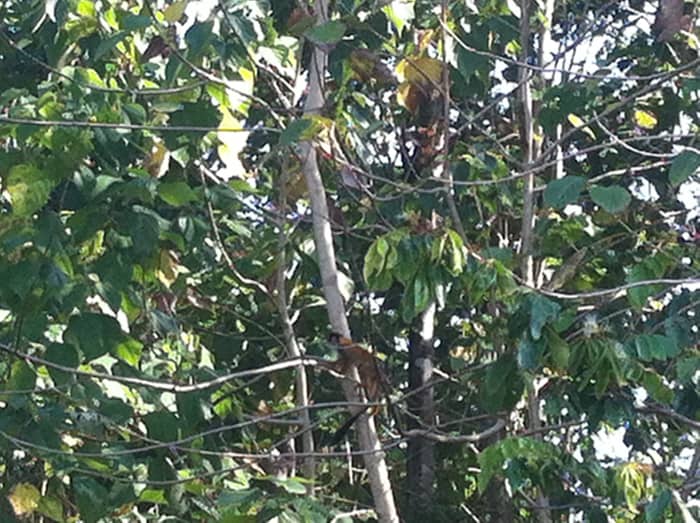 Boa said that to drink the squirrel monkey goes down to the water, wets its tail, and then drinks water from the tail. That's to avoid crocodiles and caimans, because it would rather lose its tail than its head. The squirrel is the only monkey in Costa Rica that lacks a prehensile tail, meaning it cannot use it to hang from a branch.
We took a detour into the mangroves, trees that have adapted to live between fresh and saltwater, and Boa explained why they have so many roots protruding from the oxygen-poor mud. He said that for the tree to excrete salt, certain leaves absorb the salt, turn yellow, die and fall off. That's why all the leaves floating in the water were yellow, not green.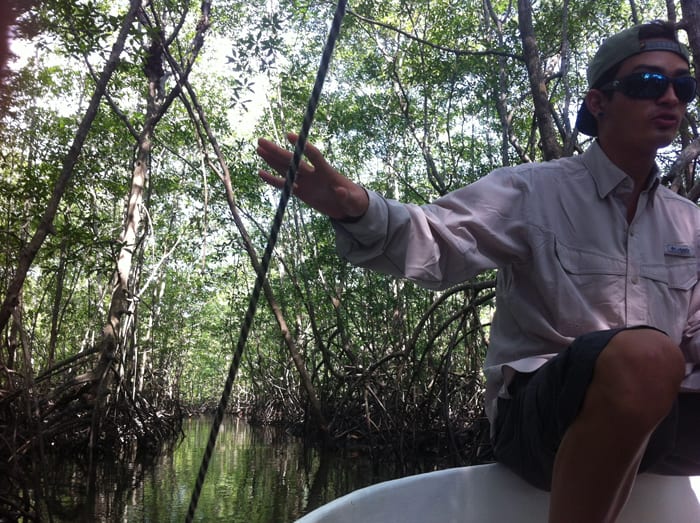 We proceeded to the broad river mouth that emptied into the ocean, where we had to put on life jackets because our boat was about to brave big waves.
Elver was an excellent captain — he actually did a full circle, waiting for the calm between the waves, and then powered out into the open water. (Later I ran into a sweaty Elver coming out of the La Esquina Bar with a Powerade, and he gave me a meaty handshake and said he was playing fútbol — and had just scored two goals. Work hard, play hard.)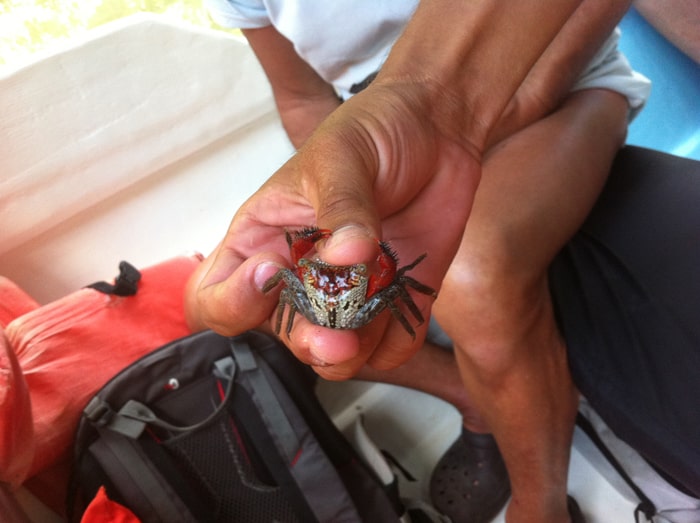 We powered down when someone spotted a couple of hawksbill turtles. One of them waved a flipper at us before diving under the surface.
Isla del Caño, 17km from shore, reminded me of Treasure Island — wild, uninhabited and steeped in mystery. A protected biological reserve, it measures 300 hectares and rises to 100m above sea level. Boa said it's forbidden to eat, drink or smoke there, though you can fill a water bottle from the potable water in the outdoor shower next to the ranger station.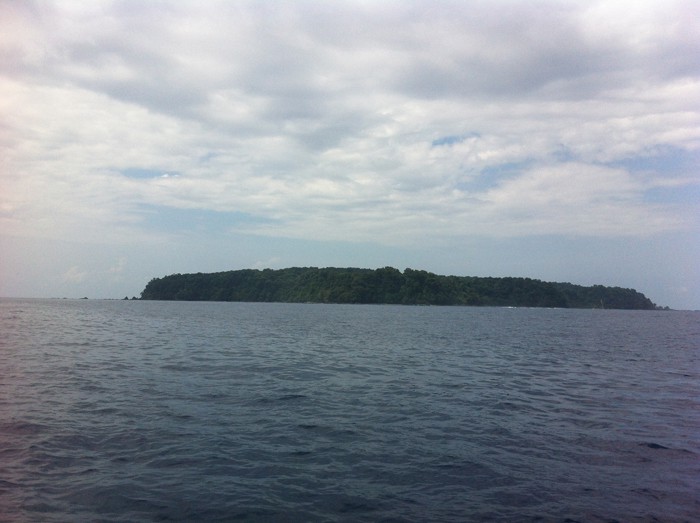 The island has very few animal species because of its distance from the mainland. A sign on the island says there are only four amphibians, nine reptiles and five mammals.
We were told to get ready for snorkeling, using the kits under our seats, and I stored my electronics, stripped off my shirt and put on my mask and fins.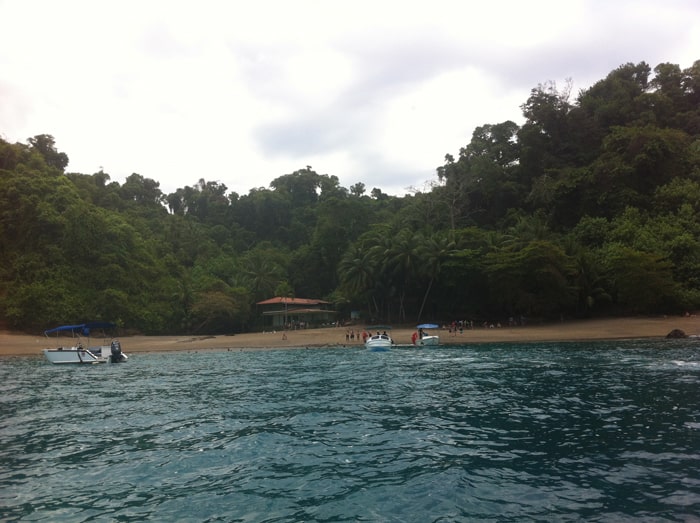 (One mistake: Though I had slathered the exposed parts of my body with sunscreen earlier, I forgot all about my back, which would be exposed to the sun for close to two hours while snorkeling and walking around. My back was duly sunburned for the next two days.)
The underwater vistas were stunning: Everywhere I looked I saw brilliantly colored fish, small, medium and large, swimming around the coral. The fish studiously ignored me unless I tried to chase them, in which case they blew me off with a flip of their tails.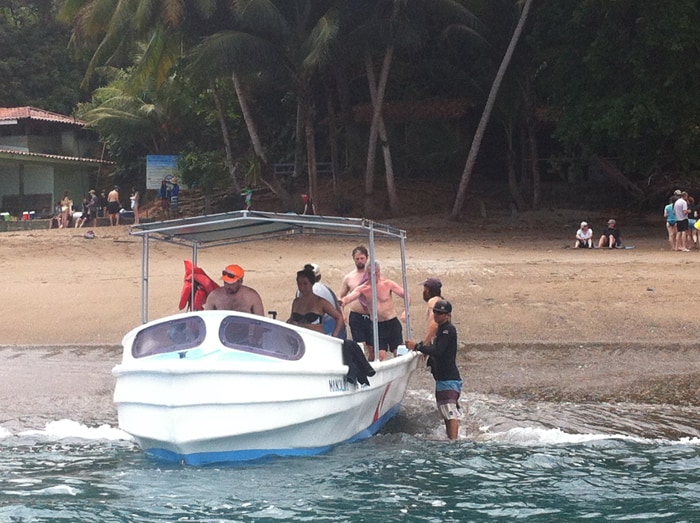 As I swam in a piscivore's paradise, I thought, "Where are all the predators?"
When we surfaced again in a group, Boa said he had spotted a whitetip shark, and I swam to him and looked down and sure enough, there was a smallish shark hovering near the bottom, next to some scuba divers. It might have measured a couple of feet.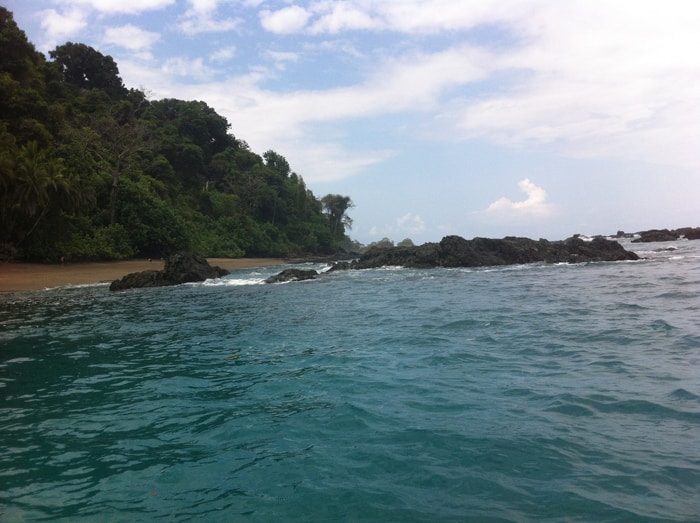 Back on the boat, we were offered slices of watermelon, which we gratefully accepted. And then the crew brought the boat ashore for a visit to the island.
Boa led us up a short trail to a mirador (lookout) with a nice ocean view. Along the way, he showed us a vaco tree, the "milk" of which was used for cures by the pre-Columbian shamans here.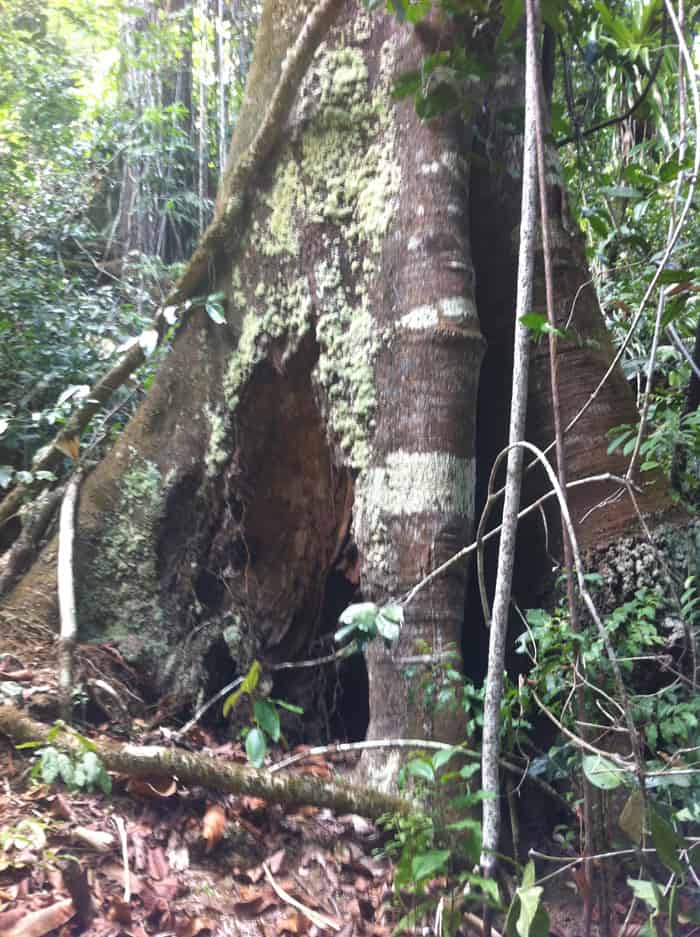 Boa said there were no real villages on this island, but it was inhabited by one or more shamans and caciques (chieftains). A sign said the island was used by indigenous groups between AD 200 and 1500 as a burial site.
On the way back down I chatted with Boa, who told me that he was qualified to lead scuba, snorkeling, mangrove, hiking and Corcovado tours, but he wanted to add sportfishing to his repertoire. He also said he wanted to go to Isla del Coco, the island 550km from here famous for scuba diving among hammerhead sharks.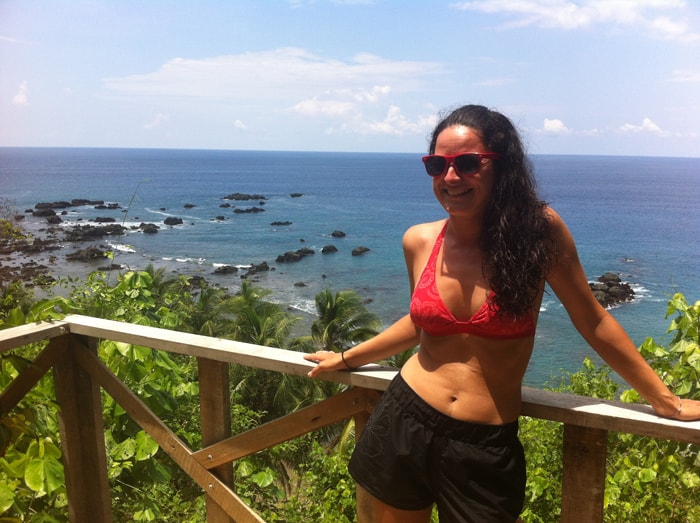 "My dream is to work with National Geographic," he said. "I need to be a divemaster. After that, I need to study marine biology, and after that I can work with them."
When I asked him how he already knew so much at the age of 20, he said he studied hard at the INA (Instituto Nacional de Aprendizaje, or National Training Institute), learning how to be a tour guide.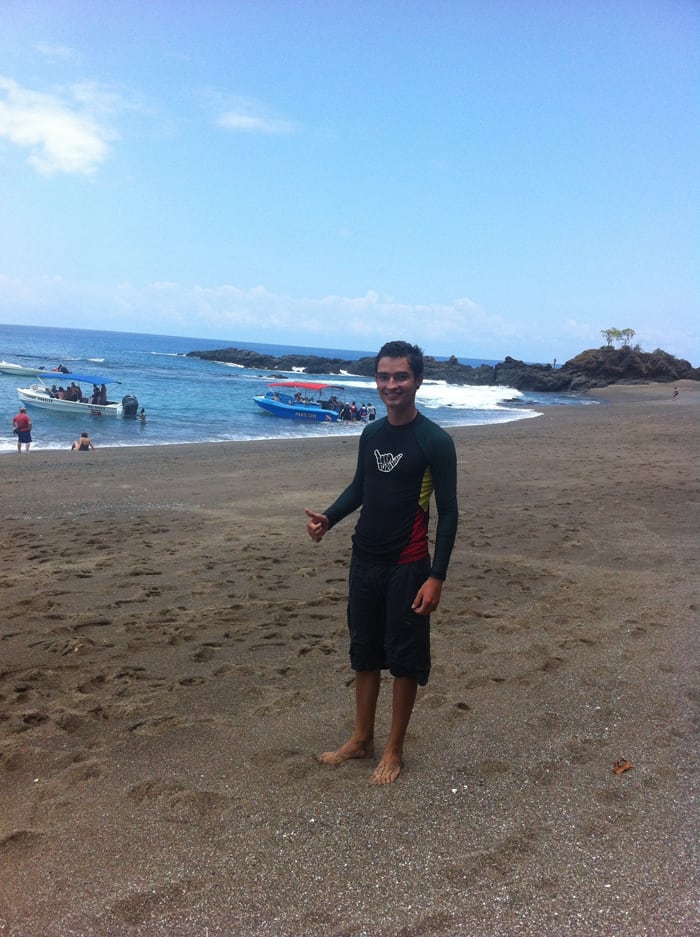 "At INA, I study a lot there, and they bring you all the books, and I read all the night," Boa said. "After working, after dinner, I was reading a lot."
After relaxing an hour or so on the island, we boarded the boat again for another round of snorkeling. To be honest, I think we could have skipped this second dive and nobody would have complained, as we were getting tired, hungry and (some of us) sunburned.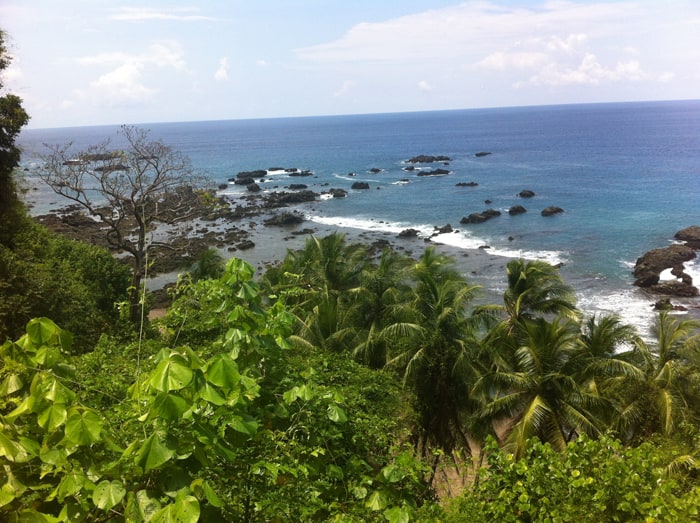 I suspect that tour operators have to offer two dives because all their competitors do. What they should do is offer two dives if desired, but take a vote before the second one to see if people want to jump in the water again or head for lunch (which is a 45-minute boat ride away).
"We're hungry," someone told Boa as we bobbed in the water holding onto life vests.
As we headed back to the mainland, someone spotted dolphins and the boat powered down. They started breaching all around us, and the visitors were electrified — exclaiming and pointing and taking photos and video.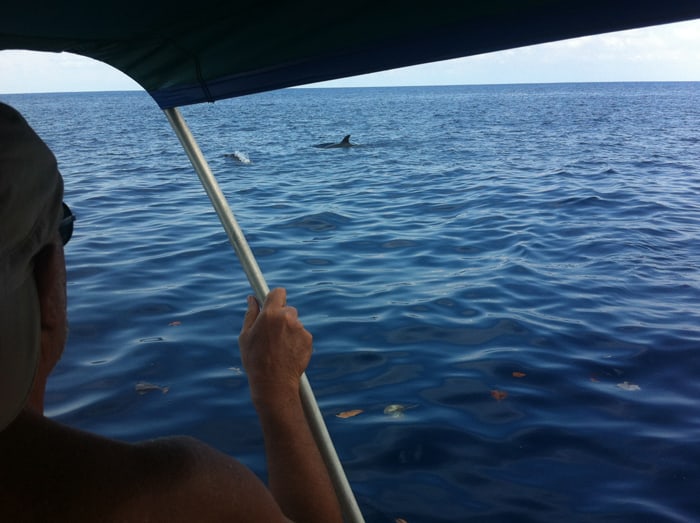 Boa at first mistook them for bottlenose dolphins, then corrected himself and said they were false killer whales.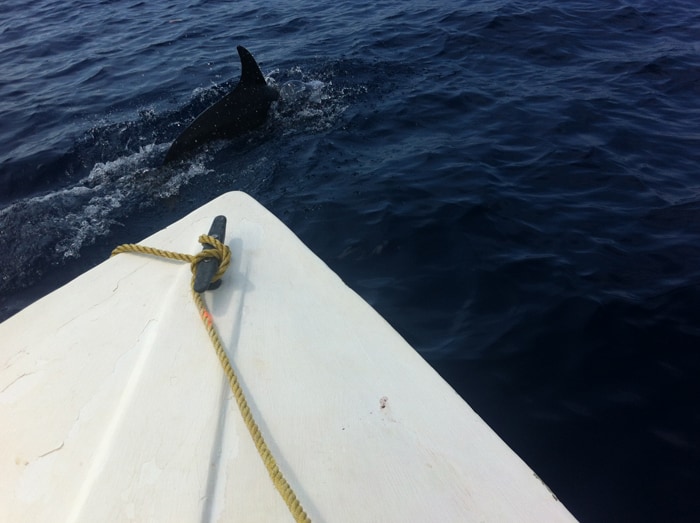 We landed at San Josecito Beach, one of the best swimming beaches in the Drake Bay area, and the guys prepared lunch: arroz con something, ham or tuna sandwiches with processed cheese, lettuce and tomato, pineapple slices and fruit drinks.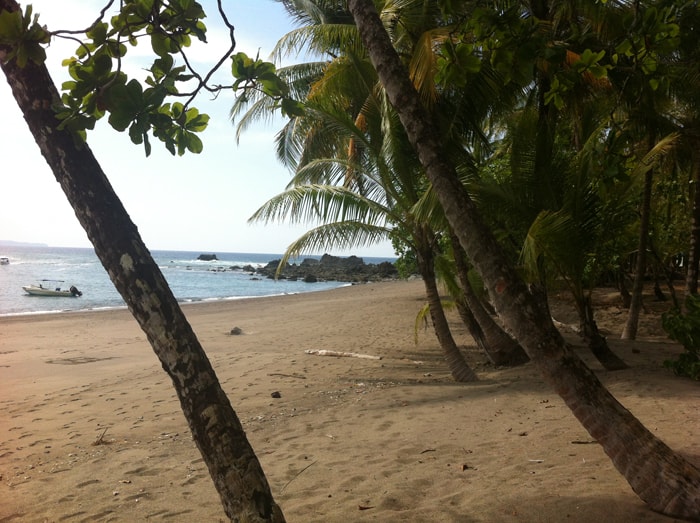 It was not exactly fine dining, but you wouldn't have known it by how the famished guests wolfed it down.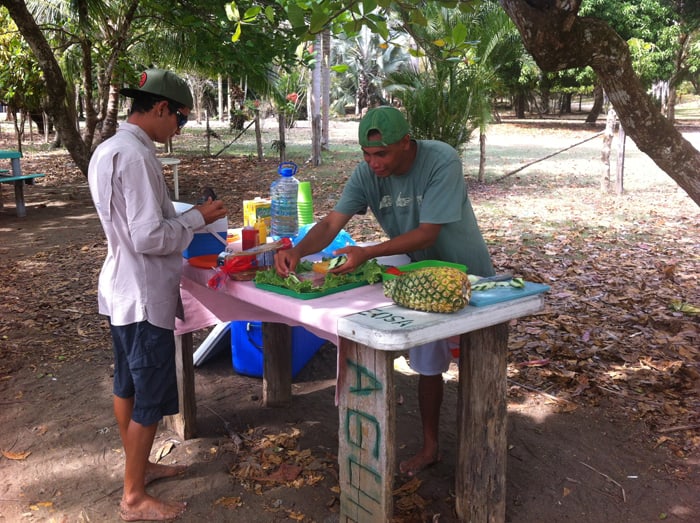 As our picnic was being packed up, I asked Boa about the mysterious, pre-Columbian stone spheres that abound in this area. You can see lots of them in the Palmar Sur park, one of them in the Sierpe park, and a great many of them in their original location between the towns at Finca 6 (which just might be Costa Rica's "Area 51").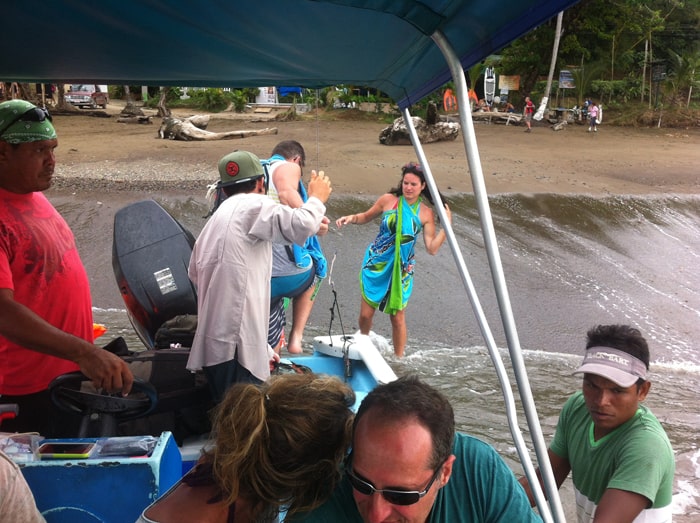 "They have the same spheres, made of the same material, on top of (Caño) island," Boa said. "Yet they don't know how … they transported those rocks to the place, because right now, in the boats we have, we can't take a rock that size.
"Some people think it was aliens," Boa said. "I don't believe in aliens. But there are some people who do believe that."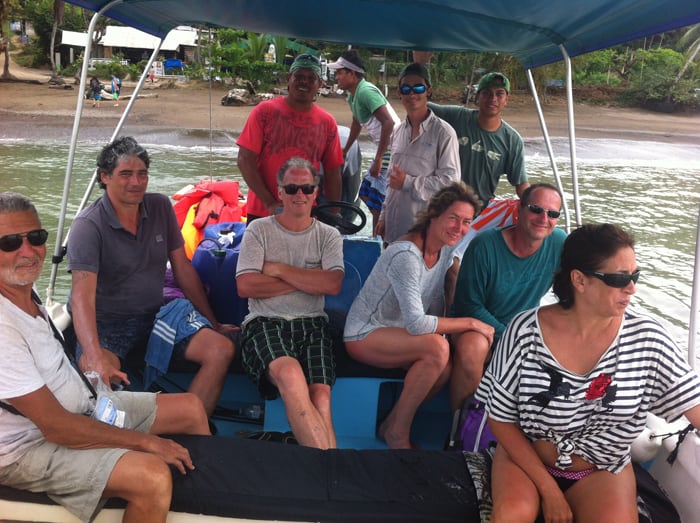 I had often read that nobody knows why the indigenous tribes of this region sculpted these stone spheres. But I think the answer is simple: Because they could! What better than a sphere to represent the sun, moon, or other celestial wonders, to invoke the power of the heavenly pantheon?
The exhibits I saw on the spheres did not portray them as a mystery but as a status symbol, identifying the most powerful caciques and the most powerful villages in the area.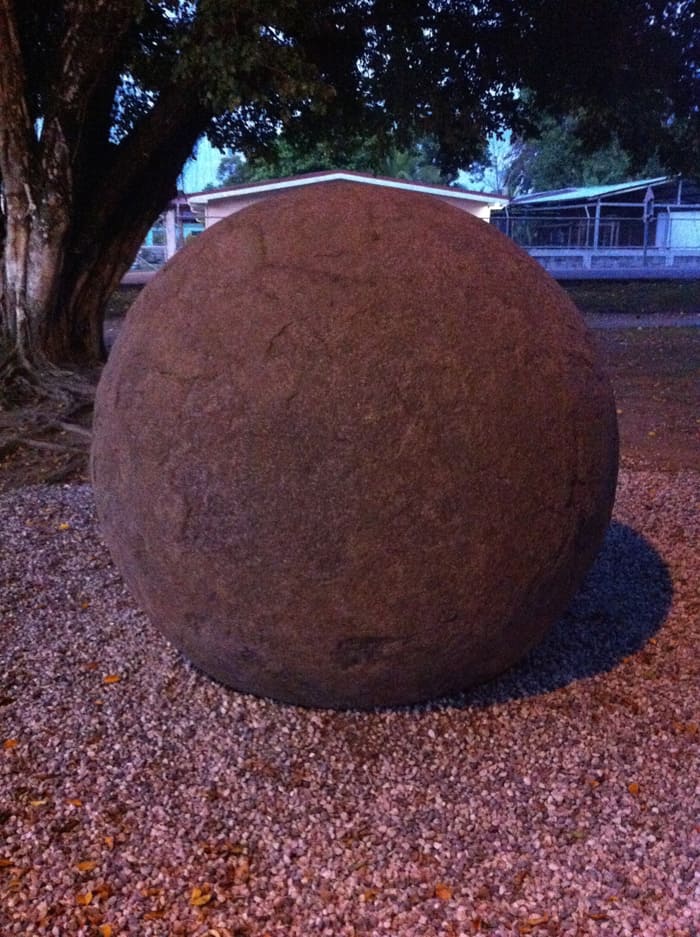 But when I asked Boa if anyone knew why these spheres were made, he said:
"No. Nor do they know why they built Stonehenge. But they say it's a calendar. But those are assumptions. We don't know who built them or why, nor how they moved them."
IF YOU GO
Getting there: If driving from the central Pacific coast on the Costanera Sur (Hwy. 34), turn right at Palmar Norte onto the Inter-American Highway (Hwy. 2), cross the bridge over the Río Grande Terraba, and take an immediate right after the bridge. Follow the paved road 17km to Sierpe, find the waterfront and look for La Perla del Sur, which is marked by a large sign saying "Donde Jorge."
Rates: The Isla del Caño tour costs about $100 per person but should be somewhat negotiable.
What to bring: Sunscreen (and don't forget to smear your back before snorkeling), a hat, a large bottle of water and a dry bag for your phone or camera. Flip-flops are the best footwear for hot beach sand and a rocky climb to a lookout.
For more info: http://laperladelsur.net
The Tico Times checked in anonymously and paid full price for lodging, meals and tour.
Contact Karl Kahler at kkahler@ticotimes.net.