WASHINGTON — Costa Rica's ambassador to the U.S. touted this week his country's success in keeping the mosquito-borne Zika virus in check, but warned of vulnerabilities and stressed the need for continued vigilance.
"It's not going to go away," Ambassador Román Macaya said at a panel this week in Washington on the spreading Zika epidemic and its health implications for the Western Hemisphere. "We have to deal with it. The idea is to buy time and minimize the consequences until we hopefully have a universally accessible vaccine."
Other speakers at the Tuesday event praised the U.S. Southern Command and criticized government policies on reproductive health and Zika in countries like El Salvador.
Macaya was joined on stage by Adm. Kurt W. Tidd, commander of the U.S. Southern Command, known as SOUTHCOM; Ana S. Ayala, chief of the Global Health Law Program at Georgetown University's O'Neill Institute; Kelly Saldana, deputy director of the Office of Health, Infectious Diseases and Nutrition at the U.S. Agency for International Development (USAID), and moderator Eric Farnsworth, vice-president of the Americas Society/Council of the Americas.
Recent research has shown a strong link between Zika and microcephaly, a deformation of the brain in newborns that affects about one of every 100 pregnant women who test positive for the virus. Zika has been detected in 31 countries and territories throughout the hemisphere, and is also associated with other serious birth defects and Guillain-Barré syndrome, an immune system disorder that can lead to a fatal form of paralysis.
"Colombia has nearly 50,000 suspected cases [of Zika] and Brazil has 70,000. In Venezuela, there are 15,000 cases, but with the collapse in the public health system, the potential there could be the worst of all," Farnsworth said.
The World Bank has estimated the total economic impact of Zika at $3.5 billion. "This was the last thing any country wants or needs, and there are political implications if the situation is not handled correctly," Farnsworth said.
Costa Rica, with only a dozen or so confirmed cases of Zika, "has implemented aggressive actions to control mosquito populations, and we're in our third week with zero new cases," Ambassador Macaya said, noting that prior to the current Zika outbreak, the country averaged 33 cases of microcephaly and 240 cases of Guillain-Barré annually.
"Our Ministry of Health has declared a state of emergency in the Nicoya Peninsula, and issued a second state of emergency in 31 municipalities considered to be at high risk of mosquito prevalence," he said.
The ambassador explained that Costa Rica's 1,100 primary-care clinics are at the core of efforts in vulnerable neighborhoods, passing out condoms — Zika can be transmitted sexually — and mosquito repellant, and putting screens on windows and doors.
Yet the fact that Costa Rica has only seen a dozen confirmed cases of Zika isn't totally a reflection of the country's health campaign, he admitted; it's also sheer luck.
"We're in a very severe drought which dries up [mosquito] breeding sites," Macaya said. "It's also a windy time of year, and not the best conditions for the Aedis egypti mosquito. All this will change in May, and we have to be prepared," the ambassador said.
The ambassador also noted with concern that many of the hundreds of thousands of Nicaraguans living in Costa Rica and visiting family back home during the Holy Week holiday will return once Easter break is over.
"When they come back, will they be carrying the Zika virus?" wondered Macaya. "We also have people from El Salvador requesting refugee status in Costa Rica. Likewise, we have migrants coming from the south, so this issue of immigration and infectious diseases is intertwined."
Because there is no treatment or vaccine for the virus, most efforts to combat Zika have focused on stopping the spread of mosquitos.
In mid-February, the ambassador accompanied a four-member team from George Mason University's Center for Biodefense and Infectious Diseases to Costa Rica, where they conducted research on vector-borne diseases in collaboration with local scientists.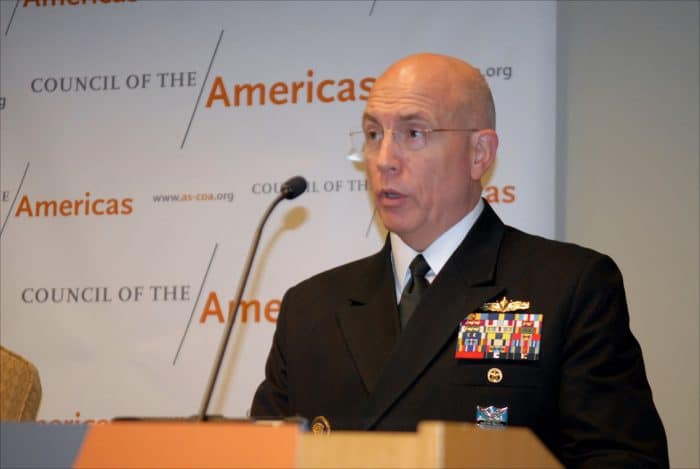 Fighting Zika requires money, policy shifts
Saldana, the USAID official, urged Congress to pass President Obama's request for $1.9 billion in assistance to deal with the Zika crisis — as well as additional funds to support the Pan American Health Organization (PAHO). She also called for freeing up aid money earmarked but never spent to fight Ebola in Liberia, Sierra Leone and Guinea.
"We're very cognizant of the fact that this is not West Africa," she said. "On the other hand, not every country's health system is as strong as Costa Rica's."
Meanwhile, Georgetown's Ayala lamented El Salvador's high rates of sexual abuse and teen pregnancy. Recently, that country's health officials urged women to avoid getting pregnant until 2018 — advice that Ayala said was unhelpful given realities on the ground.
"El Salvador has very restrictive contraceptive and abortion laws," Ayala pointed out. "Rural women don't have access to contraceptives or even running water, so there are buckets of water just sitting there. How are you going to prevent any infections? Contraceptives should be promoted across the region."
Admiral Tidd, who took over in January as Miami-based SOUTHCOM's 23rd commander, told his audience he'd use every tool in the Pentagon's arsenal to fight Zika.
"Many of you are probably wondering why a naval officer from the U.S. military is standing up here, instead of a physician or an entomologist," Tidd said. "I'll be the first to admit I don't know as much as most people in this room about disease vectors or mosquito eradication programs. But I do know a thing or two about risk interconnections: almost every day I deal with how the security of our nation ties directly to the security of our neighbors to the south, how what happens on the streets of San Salvador and Tegucigalpa ripples inexorably across the streets of Tucson and Chicago."
Tidd said SOUTHCOM is working very closely with the State Department, PAHO and the Atlanta-based Centers for Disease Control and Prevention on the Zika epidemic.
"Whether it's Zika or unaccompanied children fleeing violence and economic inequality, or the plight of Haitian and Cuban migrants who risk their lives to reach our shores, what seems local in Latin America is actually global," he said. "If it touches one part of the Americas, it touches us all."
Among other things, he said, Joint Task Force Bravo ­— headquartered in Soto Cano, Honduras — is using recurring medical readiness training exercises to emphasize vector control and personal protection throughout Central America.
"All of these engagements are part of SOUTHCOM's broader effort to build disease surveillance and response capabilities in support of the Global Health Security Agenda," Tidd said, referring to an interagency program led by the CDC.
"Coming together to prevent, detect and fight every kind of biological danger and working with our partners to improve access to health systems are inherent parts of the U.S. government's effort to promote a peaceful, prosperous, secure and resilient Western Hemisphere."