HAVANA, Cuba – "Sí se puede," U.S. President Barack Obama told the Cuban people Tuesday in a nationwide address that promised a new beginning and a bright future together. "Yes we can."
"It is time now for us to leave the past behind," he said, clearly speaking to those watching him on television across the island, as much as to the restricted audience inside an ornate, colonial-era theater here. "It won't be easy, and it will take time," but "we can make this journey as friends and as neighbors and as family."
The speech was like nothing Cubans here have heard in many years. He issued an emotional appeal for an end to decades of "painful and sometimes violent separation" between those who left for new lives in the United States – who were long officially reviled here as traitors – and those who remained behind. He called on the government to unleash the "full potential" of Cuban ingenuity and youth by opening its doors to free expression and communication.
Obama in Cuba also met at the U.S. Embassy here with 13 of the most prominent political dissidents on the island, including José Daniel Ferrer and Elizardo Sánchez, who favor normalization, and Antonio Rodiles and Berta Soler, who have said the United States has reached out to Cuba but gotten nothing in return.
"All of the individuals around this table have shown extraordinary courage," Obama said before the closed-door session began.
Before they sat at down, the dissidents were invited to dip their hands in red, white or blue paint and apply them to a work of art that formed the outline of both countries' flags. The interactive work was donated by Cuban artist Michel Morabal, who gave a similar one to the Cuban Embassy in Washington.
The newly-renovated theater where Obama gave his address, a relatively intimate setting ringed with gold-filigreed balconies, was crammed with influential Cubans invited by their government, as well as President Raúl Castro and other senior officials. The U.S. had issued invitations to members of Congress, business figures and Cuban Americans who came here with Obama.
At times the audience was a study in contrasts. "I believe citizens should be free to speak without fear," the president said, as the Americans clapped and the local Cubans sat in stony silence.
Obama began by expressing condolences to victims of the bombing in Brussels and a pledge to continue the fight against the Islamic State.
Recommended from our friends at Fusion: Cuban dissidents get beat up, arrested in street 1 hour after Obama's speech in Havana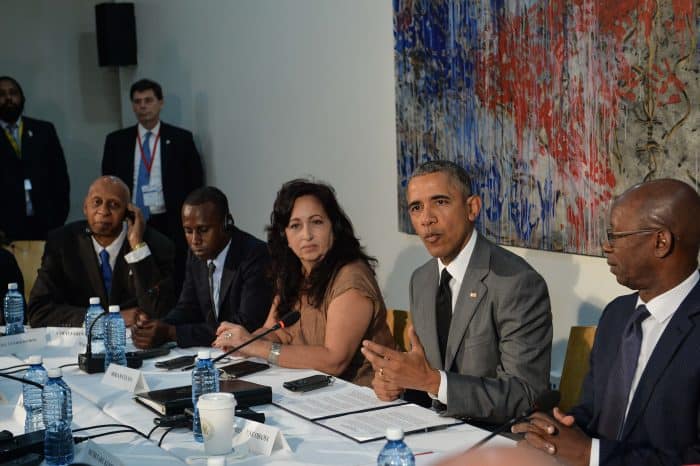 Much of the body of the speech, the keynote of his three-day visit here, was vintage Obama, quoting Martin Luther King Jr. and professing his own faith in human possibility. For this audience, he added pointed references to Cuban independence hero José Martí, who he said defined liberty as "the right of every man to be honest, to think and to speak without hypocrisy."
Cuba, he said, had nothing to fear from the north. "I've made clear that the United States has neither the capacity nor the intention to impose change on Cuba. What changes come will be dependent upon the Cuban people."
"But having removed the shadow of history from our relations, I must speak honestly about the things that I believe, the things that we as Americans believe."
Obama in Cuba: 'I believe citizens should be free to speak their minds without fear'
In addition to the universal health care and free education that he congratulated Cuba on providing its citizens, Obama said, "I believe citizens should be free to speak their minds without fear, to organize and to criticize their government and to protest peacefully" without being detained. "And yes, I believe citizens should be able to choose their own government in free and open elections."
"It's no secret that our governments disagree on many of these issues." In their conversations, he said, with a smile, Castro "has pointed out the flaws in the American system-economic inequality, the death penalty, racial discrimination, wars abroad. That's just a sample-he has a much longer list."
"There are still enormous problems in our society," Obama said. "But debate is how we solve them. … It isn't always pretty [but] it's the process of democracy."
"Here's what the Cuban people need to understand," Obama said. "I welcome this open debate and dialogue. … it's healthy."
Whether Cuba's Communist leaders agreed appeared doubtful. Castro and his heir apparent, Miguel Díaz-Canel, along with other officials, sat stoically through most of the speech, and were shown on television applauding politely at Obama's praise for their country's health, education and gender equality.
Addressing Castro directly, Obama said he was "confident you do not need to fear the different voices of the Cuban people."
Obama did not mention one of the most prominent irritants in the relationship, at least to Cuba-the continuing U.S. occupation of Guantanamo. In a news conference the two presidents held Monday, Castro said that relations would never truly be normal until the United States abandoned Guantanamo and lifted the U.S. trade embargo that only Congress can remove.
Obama called the embargo "an outdated burden on the Cuban people" and on "the Americans who want to work and invest in Cuba."
"But even if we lifted the embargo tomorrow," he said, "Cubans would not realize their potential without continued change here in Cuba."
"It's up to you. I can tell you as a friend that sustainable prosperity in the 21st century" depends on health care, a sustainable environment and education," Obama said. "But it also depends on the free and open exchange of ideas." Without it, he added, "you will not reach your full potential, and over time youth will lose hope."
Obama's remarks were met at home by quick criticism from the Republican National Committee, which called his Cuba trip "little more than another stop on the global apology tour he began shortly after taking office." By welcoming criticism from Castro, the RNC statement said, Obama showed "an embarrassing display of weakness and lack of moral clarity that have been hallmarks of the failed foreign policy of the last eight years."
Speaking both to his critics in the United States as well as citizens here, Obama acknowledged that when it comes to the thaw in relations between the two former enemies, many are asking, "Why now?"
"There is one simple answer: What the United States was doing was not working. … We have to have the courage to acknowledge that truth," he said. "We should not fear change, we should embrace it."
The president drew a few laughs from both sides when he noted that U.S. democracy was so vibrant that this year's presidential race featured two Cuban Americans on the Republican side who criticized a president who was "a black man" and the eventual winner of the GOP primary will face a general election opponent "who will either be a woman or a Democratic socialist."
"Who would have believed that back in 1959?" Obama asked. He spoke of the Bay of Pigs invasion in 1961, an event that has mythic status here because of the Cuban victory, and the shared fear of people in both nations during the 1962 Cuban Missile Crisis.
Despite Obama's optimistic tone, even the setting of the speech spoke to the ongoing challenge the United States faces when it comes to engaging in a public dialogue in Cuba.
U.S. officials had originally wanted the address to take place in an open-air location, which would have allowed more ordinary citizens to attend. As Obama's motorcade has passed through the city, large numbers of Cubans have lined the streets, hoping for a glimpse of him.
Obama also used the speech to highlight how his new approach to Cuba has already paid dividends in terms of U.S. partnership with Latin America, where the breach between the two countries had long been a symbol of U.S. imperialist history. And he highlighted how the United States and Cuba had already worked together on international health crises such as Ebola, and could expand their cooperation in myriad new directions.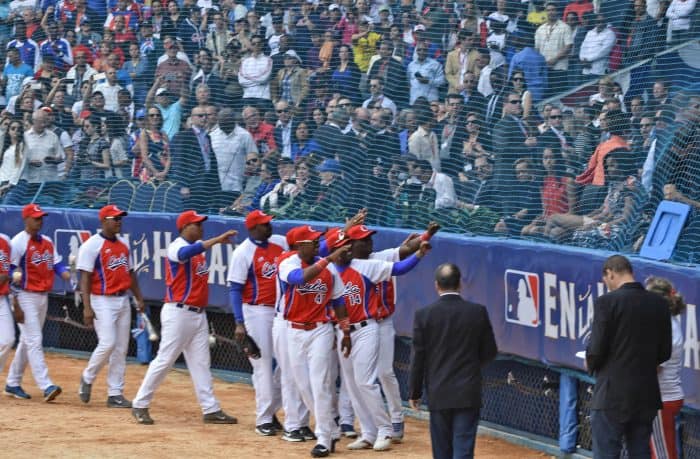 Following his meeting with the dissidents, Obama attended an exhibition baseball game between the Tampa Bay Rays and the Cuban national team, another effort on his part to connect with Cubans by emphasizing their shared cultural values.
Speaking to reporters Monday during a news conference with Castro, Obama said his Cuba policy "ultimately" comes down to the idea that "I have faith in people. I think if you meet Cubans here and Cubans meet Americans and they're meeting and talking and interacting and doing business together and going to school together and learning from each other, then they'll recognize people are people."
While the baseball game is primarily aimed at fostering goodwill between the two countries, there is also an economic element to it, since the Major League Baseball and Cuban government officials are in the midst of negotiating how to allow Cuban players to play for teams in the United States and Canada without having to defect.
But the president's decision to meet with dissidents highlighted a basic truth of the visit: The administration is encouraging new investment and closer ties with Cuba at a time when its government continues to detain and harass its critics.
Asked whether U.S. officials had anticipated that the government here would drag peaceful protesters from the Ladies in White organization off the streets Sunday, on the very day of Obama's arrival, White House deputy national security adviser Ben Rhodes answered, "Unfortunately, yes, because the sad truth is that this has been a pattern for a long time now." The women, and some of their supporters, were detained for about eight hours and then released, a repeated pattern during their regular Sunday morning marches.
"We certainly would like to see that cycle broken," he added, noting the two governments now have an ongoing dialogue on the issue.
In a sharp exchange with reporters Monday, Castro denied that the country has any long-term political prisoners, challenging reporters to "give me a name."
"There's rarely an engagement in which we're not raising either lists or individual cases" of prisoners, Rhodes said later. "This will certainly be the case going forward," he added, noting that Cuba "rejects the notion that those persons are political prisoners," and considers them common criminals who violated Cuban law.
According to human rights activists, Cuba is holding several dozen long-term prisoners.
Carlos Gutierrez, who served as commerce secretary under George W. Bush, told reporters that most Cubans are focused on obtaining the kind of economic freedoms Americans enjoy.
"The right to make a living is one of our most precious rights in the United States," said Gutierrez, who heads a Cuba business outreach program within the U.S. Chamber of Commerce, which brought a large group of U.S. business leaders here to accompany Obama and meet with Cuban private sector entrepreneurs. "And that's what's happening in Cuba."
Obama, who arrived here late Sunday, began his first full day in Cuba Monday with a wreath-laying at a statue of 18th century Cuban independence hero José Martí. After a lengthy private meeting with Castro and the press conference, he spoke at a business forum and was hosted by Castro at a state dinner.
© 2016, The Washington Post