Costa Rica is a top option for a healthy, comfortable retirement, according to two recent surveys. The country ranked fourth overall in International Living's 2016 list of Best Countries to Retire.
It also ranked fourth in the magazine's Healthy Lifestyle list, a newest category for the publication's annual Global Retirement Index.
Finding a healthy retirement abroad is a major factor for deciding where to relocate, according to a survey conducted by the magazine. Foreigners currently living in Costa Rica say they have a healthier lifestyle here thanks mostly to being more active and having an improved diet.
The publication said retirees in top ranked countries "will find not only a more relaxed and less-stressful lifestyle, but abundant fresh air, produce, and many opportunities for exercise and adventure."
For Costa Rica, results highlight the country's year-round warm weather that allows exercise outside almost any day of the year, as well as multiple options for outdoor activities. The publication noted that many Costa Rican towns have a weekly feria del agricultor, or farmers market, "where a couple can fill their fridge for about $30 every week."
The wide options for fresh produce prompt expats to lower their consumption of processed foods and focus on a diet of homemade food, which is healthier and less expensive, the publication noted.
"Many expats report losing 30 to 40 pounds in their first year in Costa Rica. It's a great perk of expat life," the magazine states.
Visiting farmers markets also adds health benefits of socializing with locals and other expats, which are often listed among the top lifestyle benefits of moving abroad, the report added.
Results came from questions in 10 categories posed to readers, correspondents, contributors and editors. Questions included: "Can you catch a movie in English?" "What is the average humidity?" "How much to rent?" "Can you get direct flights to and from the U.S.?" "How much does a doctor's visit cost?" and "Do they speak English?"
Panama took first place in International Living's 2016 list, followed by Ecuador and Mexico. In Panama, according to International Living, fresh fruit is more accessible than fast food, while fish and seafood are very affordable. For that reason many expats say their health improved after moving there.
Ecuador ranked second thanks mostly to its geographic location that gives it "an extraordinary climate and a year-round growing cycle for a huge variety of healthy fruits and vegetables." Climate also helps expats spend a lot of time outdoors enjoying beautiful scenery, the publication noted.
Nicaragua ranked eighth. The report noted that since few locals own cars, most Nicaraguan cities are a walker's paradise with efficient public bus systems, shuttles and taxi services.
Costa Rica's ranking by the publication this year represents an improvement over results from last year, when it ranked fifth, just below Malaysia.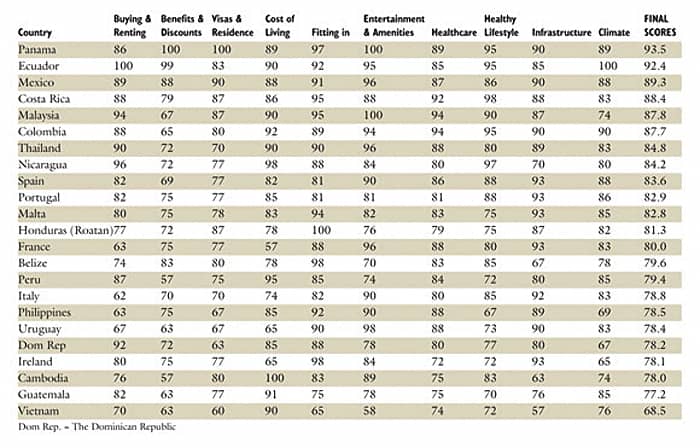 Comfortable retirement
International Living's results came soon after Costa Rica took the No. 1 spot on U.S. News & World Report's list of Best Countries for a Comfortable Retirement. The rankings were assigned based on feedback from wealthy, retirement age or soon-to-be retirement age individuals in seven areas: affordability, tax environment, friendliness, whether the country is a place where one would want to live, climate, respect for property rights and the country's public health system.
The publication noted Costa Rica's "comparatively progressive environmental policies," its "year-round tropical climate" and wide variety of lifestyle options. It also noted the country's pensionado benefits package for foreign retirees.
The model used to score and rank countries was developed by brand strategy firm BAV Consulting and The Wharton School of the University of Pennsylvania.
Surveyors asked more than 16,000 people from across the globe to associate countries with specific attributes.