WASHINGTON — The China Development Bank's $395 million loan to Costa Rica for expanding the highway that links San José to the Caribbean port of Limón is part of a dramatic surge in Chinese financing across Latin America.
Last year, despite sluggish economic growth in China that has made worldwide headlines, funding from the state-run China Development Bank (CDB) and the Export-Import Bank of China reached a near-record $29 billion — nearly triple the amount loaned in 2014. That amount is more than last year's funding from the World Bank and the Inter-American Development Bank (IDB) combined.
"While Western development banks have been on the retreat, Chinese banks have doubled down," said Kevin P. Gallagher, co-director of Boston University's Global Economic Governance Initiative (GEGI).
Gallagher, speaking at a Feb. 11 conference organized by the Washington-based Inter-American Dialogue, said that in 2015, World Bank lending to the region fell 5 percent to $8 billion, while IDB lending dropped by 14 percent to $11.5 billion.
"The U.S. Ex-Im Bank, which the region usually relies on for $2-3 billion a year, was dormant and controversial, and absent from the scene," said Gallagher, who runs GEGI with his Chinese colleague, Fei Yuan.
At the same time, Gallagher said, "2015 saw the establishment of $35 billion worth of multilateral financing platforms for Latin America, a $20 billion China-Latin America Industrial Investment Fund, $10 billion in special loans by the CDB for Latin American infrastructure, and $5 billion in new finance from the China-Latin America Cooperation Fund."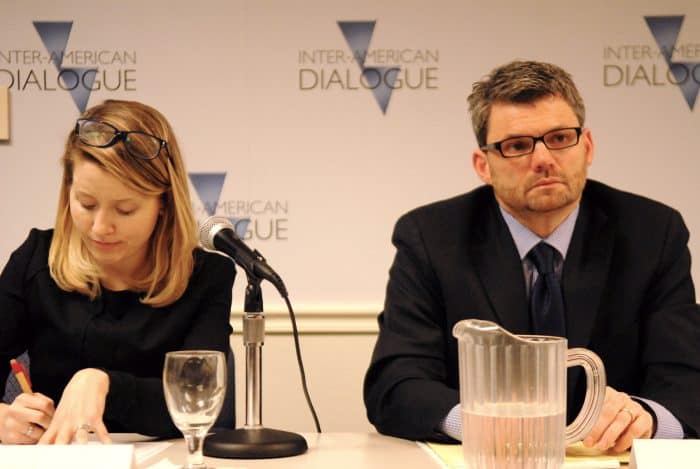 According to GEGI's latest estimates, CDB and the Export-Import Bank of China have loaned upwards of $125 billion to the region since 2005. Last year's total was topped only by lending in 2010, when the total exceeded $35 billion.
As in previous years, the bulk of loans in 2015 from Chinese government banks to the region went to four countries: Argentina, Brazil, Ecuador and Venezuela. Last year, those four countries accounted for 95 percent of total Chinese lending to Latin America, with 34 percent — or around $10 billion — going to economically troubled Venezuela, which like Ecuador has weaker access to global capital markets.
Yet last year also marked a first: Costa Rica and the Caribbean island of Barbados received financing from Chinese state banks for the first time. Barbados got a small commercial loan from China Eximbank to rehabilitate the historic Sam Lord's Castle Hotel — which will open in 2018 as a Wyndham Grand Resort — while financing to expand Costa Rica's Route 32 finally won approval after contentious debate by Costa Rican lawmakers.
"Absolutely this has a lot to do with the fact that Costa Rica is the only country in Central America that officially recognizes the PRC [People's Republic of China] over Taiwan," said Margaret Myers, director of Inter-American Dialogue's China and Latin America Program, in answer to a question from The Tico Times.
"Costa Rica has a free-trade agreement with China and has received some gifts from China, including construction of a stadium and offers of financing," she explained. "This roadway is one; there's also talk of financing a refinery, but there's been very little progress made on that at all. But the highway has marched forward."
The proposed $1.3 billion upgrade to the Moín refinery, located on Costa Rica's northern Caribbean coast, was to have received $900 million in Chinese financing. But that project has stalled amid political disputes, Boston University's Yuan said.
"It has not been approved because lawmakers protested [over] the environmental and social impact," she said. "Costa Rica has been very cautious about establishing deeper financial ties with Chinese companies and banks. For countries like this that have higher environmental standards, there's a long road ahead."
Even so, the Inter-American Dialogue's Myers explained, "countries that do not recognize the PRC, specifically Honduras and Guatemala, have received more money on the table than Costa Rica has. But Costa Rica is the only one where we see any examples of state-to-state financing."
Across Latin America, China's focus is on infrastructure projects — especially those that will benefit China, such as a proposed 3,300-mile, $10 billion railway to carry China-bound commodities from Rio de Janeiro to Peru's Pacific port of Arequipa.
Myers cited several reasons for Beijing's sudden interest in the region. First, the Chinese are developing increasingly stronger ties with Latin American governments. Second, CDB and Eximbank received injections of base capital in 2015 — "and this is in stark contrast to the World Bank and the U.S. Ex-Im Bank," she said.
"In addition, overseas opportunities look a lot more fruitful than opportunities at home," given China's domestic stagnation and financial instability, she said. "There are more possibilities abroad as exchange rates go down. A lot of companies and projects are put on the auction block."
Moreover, China has found itself overexposed, and the Washington-based international financial institutions are retreating, largely because rising U.S. interest rates have triggered considerable capital outflows and Chinese banks aren't as burdened by credit rating agencies as their counterparts in the United States.
"Western development banks are not providing much financing," she said, "so they're calling everyone they can, and the Chinese are answering the phone."