Don't get things twisted. I mean, wouldn't you get a monkey, too, if you were as rich as Justin Bieber?
That was the response the platinum pop singer gave GQ in a recent interview. But not everyone was impressed with his flippant answer. On Monday, the Rescue Center, a Costa Rica animal rescue and rehabilitation center based in Tilarán, Guanacaste, issued a snarky challenge to the Biebe: Come tour the animal rescue center and promise not to get another monkey.
In exchange, the center will name its rehab wing the "Justin Bieber Monkey Rehabilitation Center."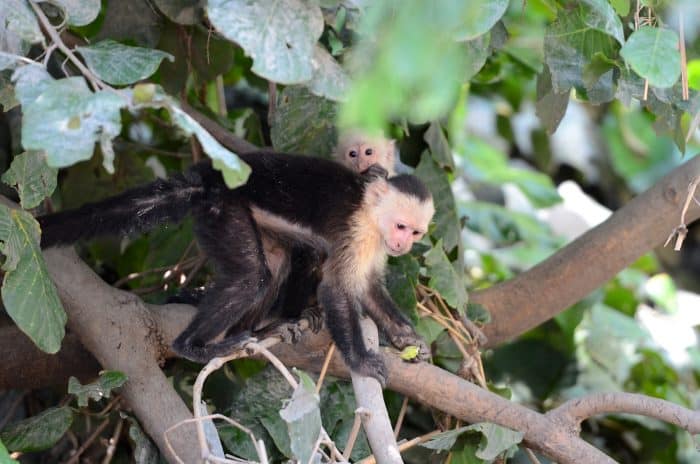 In the March edition of GQ Bieber said that he might get another monkey despite his checkered past with primates. In 2013, Bieber made headlines when German authorities confiscated his capuchin monkey, OG Mally, upon the singer's landing at a Munich airport.
In Germany, that monkey's endangered or something…but I had the papers. I even had it written out that he was a circus monkey and he could travel and all that s—t. I had all the right papers. Things get twisted.
Bieber never tried to reclaim the monkey and the German government demanded $8,000 in costs associated with OG Mally's relocation to a local zoo, according to the GQ article.
Pour one out for Mally, the original gangsta of abandoned, exotic pets.
In the GQ interview, the 21-year-old Bieber said "maybe" he'd visit Mally. And he said he wanted to get another monkey someday.
Yeah, one day. Just gotta make sure I got a house and it stays in the f—ing house. I'm not gonna bring him to Germany or travel with it anymore. People are always like, 'Why did you get a monkey?' If you could get a monkey, well, you would get a f—ing monkey, too! Monkeys are awesome.
YOLO, GQ.
The North American Primate Sanctuary Alliance (NAPSA), a group of eight primate sanctuaries, issued an open letter to Bieber on Feb. 17, asking him to reconsider his potential primate purchase because it could jeopardize the animal's wellbeing and set a poor example for his fans.
The group said that its animal sanctuaries are "full" of abandoned monkeys that outgrew their owners.
https://www.facebook.com/PrimateSanctuary/posts/978845002207763
"They can transfer disease and destroy your home," NAPSA warned. Not unlike a pop star.
The Rescue Center followed NAPSA's lead and issued its own challenge to Bieber. The group's CEO, Vanessa Lizano, extended an offer to treat Biebs and his entourage to an all-inclusive free trip to the rehab center to learn about the monkeys, and to dedicate the rehabilitation wing to the singer if he agrees not to get another monkey.
White-faced capuchin monkeys are common in Costa Rica, but it's illegal to keep them as pets.
Lizano said in a statement that she thought Bieber was an "amazing artist," but that with status comes a certain responsibility:
"A person of his stature needs to send the right messages to the world. Owning and keeping a monkey as a pet is not the right message. I hope that if Justin really thinks monkeys are awesome as much as we do here at the Rescue Center he will take us up on our offer and come learn first-hand how to care for them and why they should be released to their natural habitats."
Lizano told The Tico Times she thinks she can make the pop star a "Belieber" when it comes to animal welfare.
"If he does come I think he will leave with a sense of accomplishment and understand that it's way more cool to help save the monkeys than to own one and make the species suffer," she said.