PLAYA MATAPALO, Guanacaste — If you're "looking for adventure" (like Steppenwolf), you've come to the right place.
The new Diamante Eco Adventure Park, just southwest of Playa del Coco, is putting some new "zip" into ziplining, with the longest dual ocean-view cable in Central America. ("Dual" means two people can fly side-by-side.)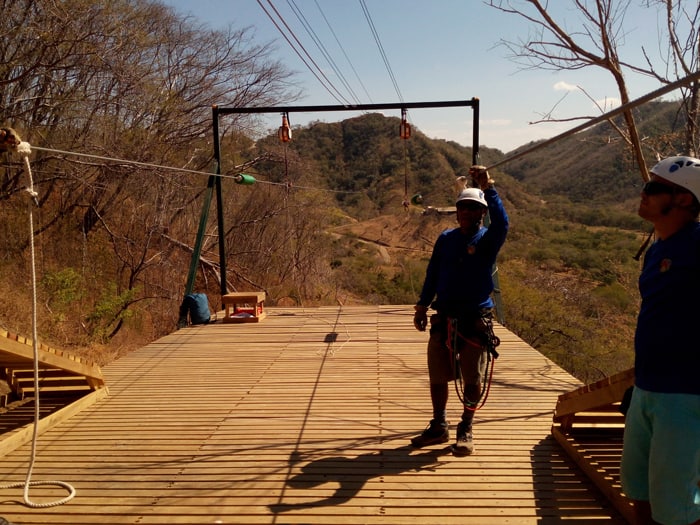 It's 1,368m long (0.85 miles), and it's a "Superman flight," meaning you do it face-down in 78 thrilling seconds.
As I was strapped into the giant padded bodysuit you wear to do it, I told the guys they should paint an "S" on the chest. They laughed, said "Listo!" and pushed me into the abyss.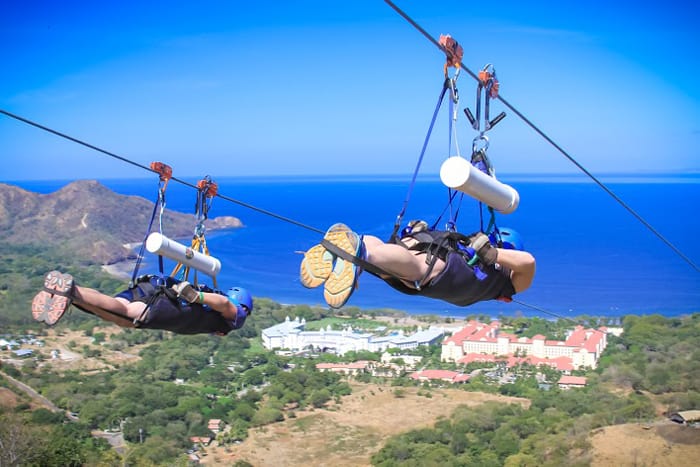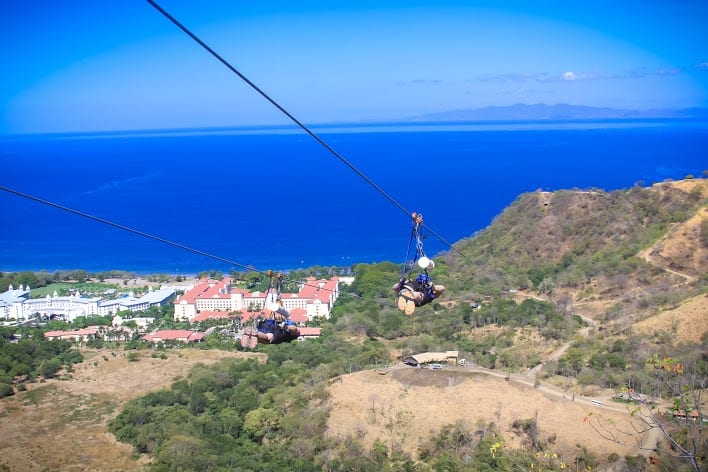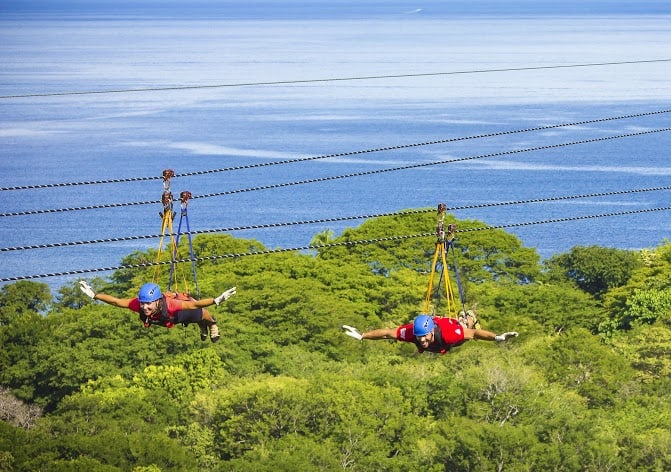 It was a spectacular ride. The view of Playa Matapalo and the Pacific Ocean was splendid, even if much of it was taken up by the sprawling RIU Guanacaste and RIU Palace resorts.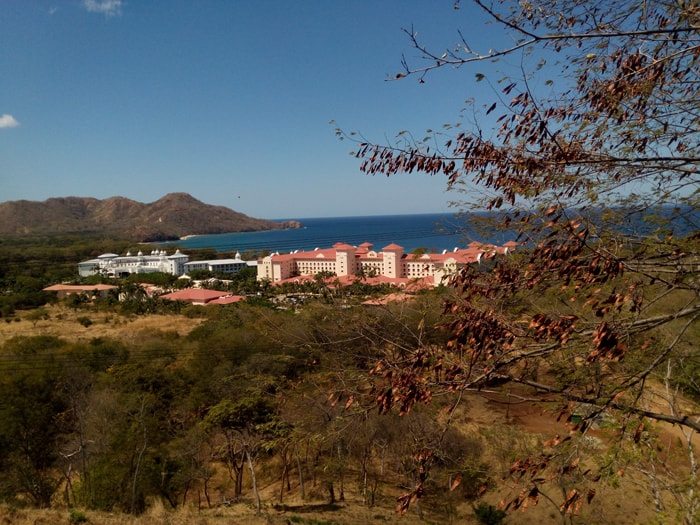 The bodysuit makes you feel a lot safer, I found, than the skimpier harness I used for an even longer Superman flight with 100% Aventura in Monteverde, though I would guess they are equally safe. I guess it all depends on how scared you want to be in a sport that's designed to be scary.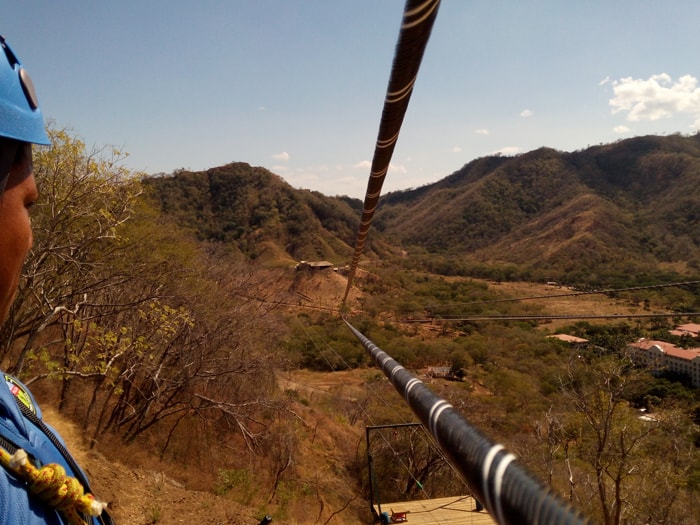 "It's one hell of a ride," said Luciana Smania, the activities manager at Diamante. "When you get into the Superman harness, and you're lying up there and you see the view, it's just breathtaking. There's nothing that compares to it."
Diamante uses a magnetic braking system called Zip Stops that do the stopping for you, even on the regular ziplines, so you don't have to pull down on the cable with your hand or crash into the arms of the guide on the platform. You just hold onto the handles, or on the Superman flight, you hold onto nothing at all.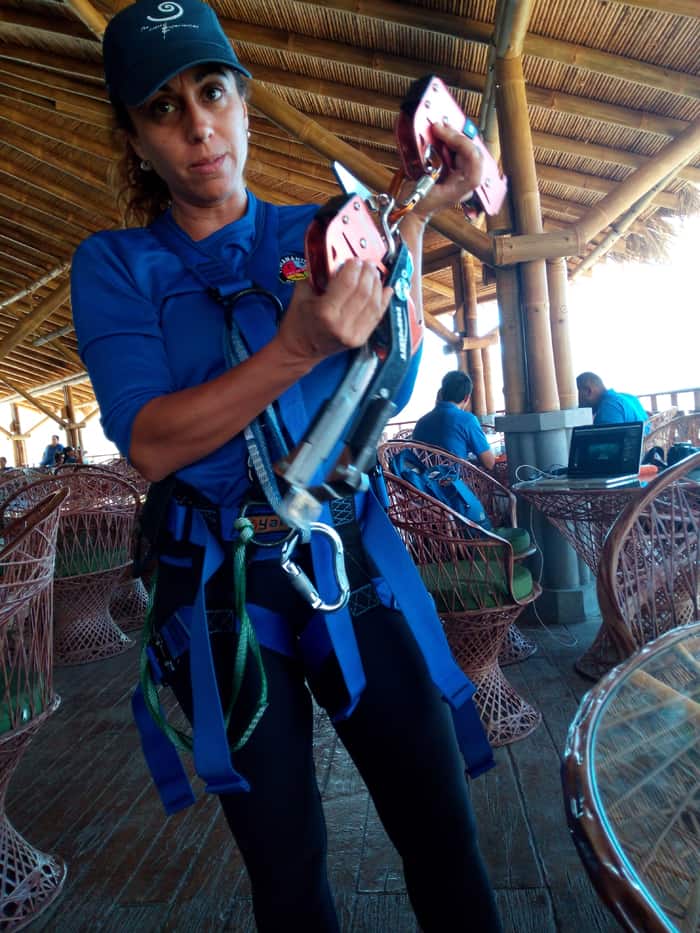 "The company that makes it is called Head Rush Technologies, and the reason we're using it is we want to be the best of the best," Smania said. All of our equipment is top of the line, from the helmets to the harnesses to the carabiners."
So you don't have to do anything but enjoy the ride. You could put your grandmother on this zipline.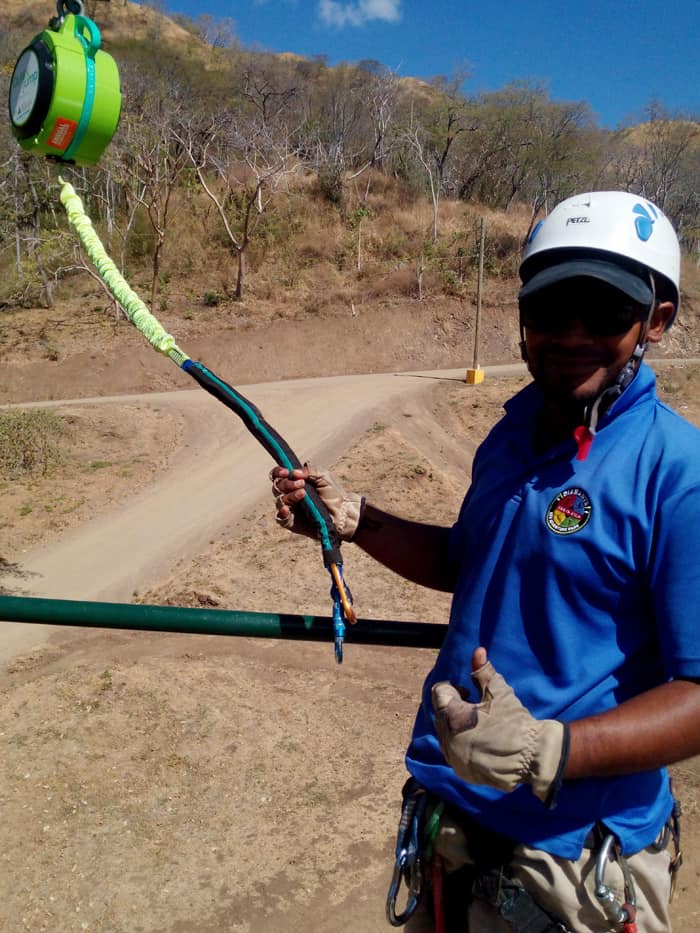 But Grandma might want to skip the 10-meter (33-foot) "quick jump" or the adjacent Tarzan swing. Here you take the stairs to the top of a jump tower, get hooked up, and then you have to step outside the rail, holding onto it from behind.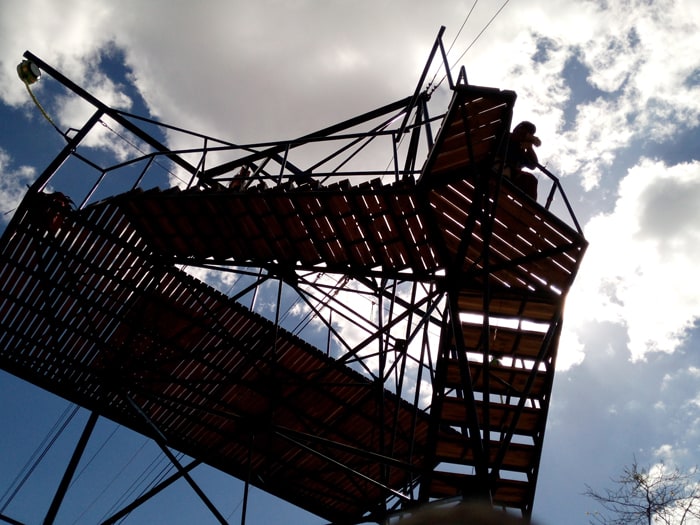 There's something ironic about clinging to a rail that was built to keep people from falling off, and yet this whole tower was built for people to fall off.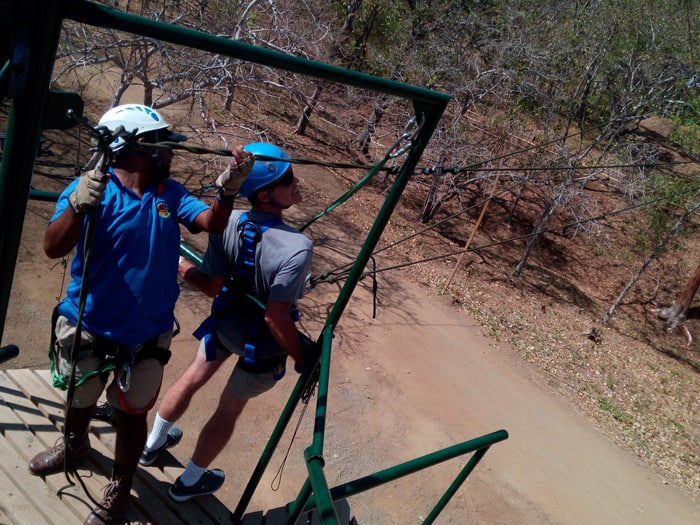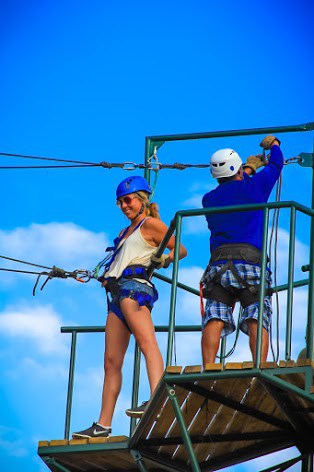 It feels kind of like jumping over the fence on a tiger enclosure at a zoo — the fence is there for a reason.
But the quick jump, after a free fall of a second or so, quickly slows down through its super-duper automatic technology, and you land on a padded mat.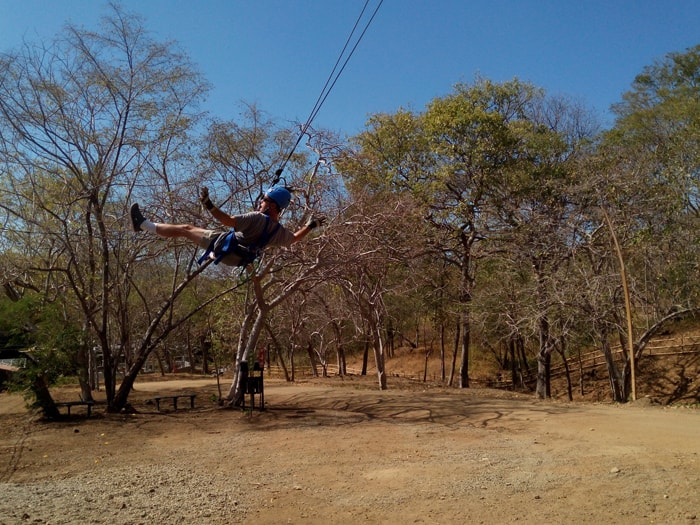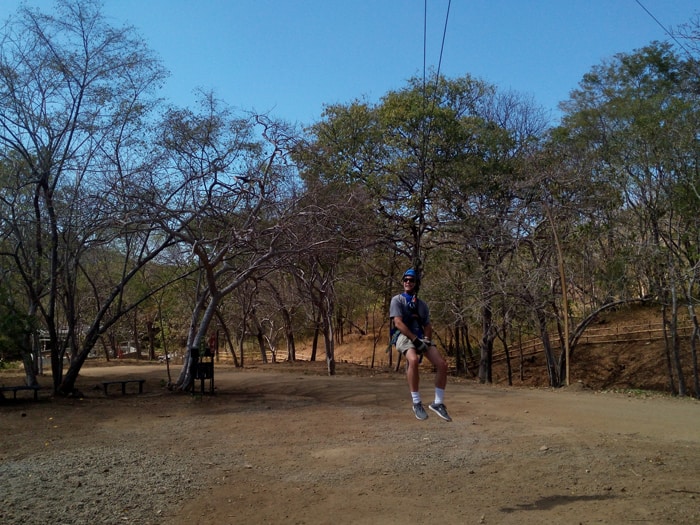 The Tarzan swing is similar: You have to step outside the rails and hold on. Then you have to let go while the guide holds you from behind. And then he lets go, and your stomach collides with your heart.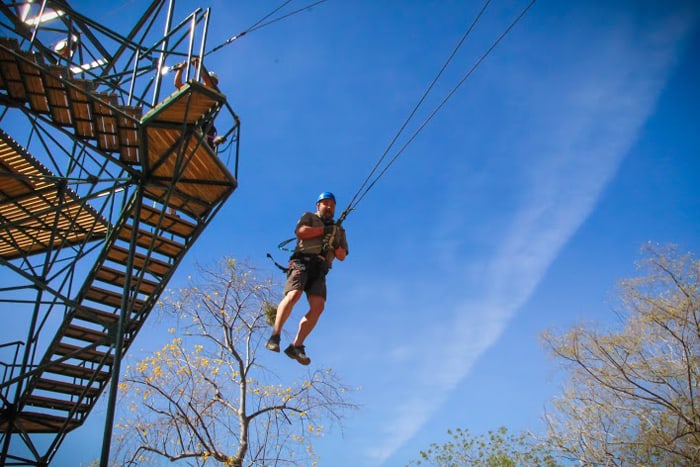 "The idea is to become the best eco-adventure park in all Central America," Smania said. "Everything in one place, where you can hang out and have a full day of adventure."
Diamante, which opened Dec. 7, is a work in progress, with lots of improvements on the way. Partnering with the famous La Paz Waterfall Gardens in the Central Valley, it plans to bring in an animal sanctuary with a jaguar, ocelot, puma, sloths, marmosets, crocodiles and snakes, plus a butterfly and hummingbird garden.
When fully operational, the center will offer ziplining, mountain biking, ATV tours, horseback riding, hiking trails and a range of aquatic activities, including scuba, snorkeling, kayaking, jet skiing, fishing and sunset cruises.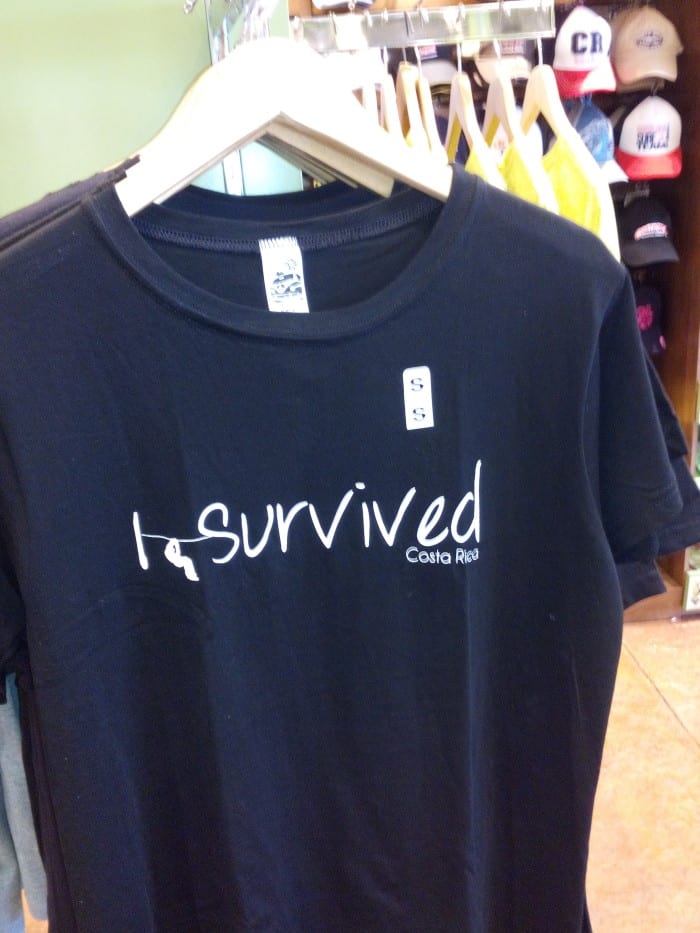 I toured a new botanical garden that was pretty sparse, given the dry season, but when the rains come it should be a lot more lush. However, I saw one thing here that took my breath away: two hummingbirds just a few days old in a tiny nest in a coffee plant.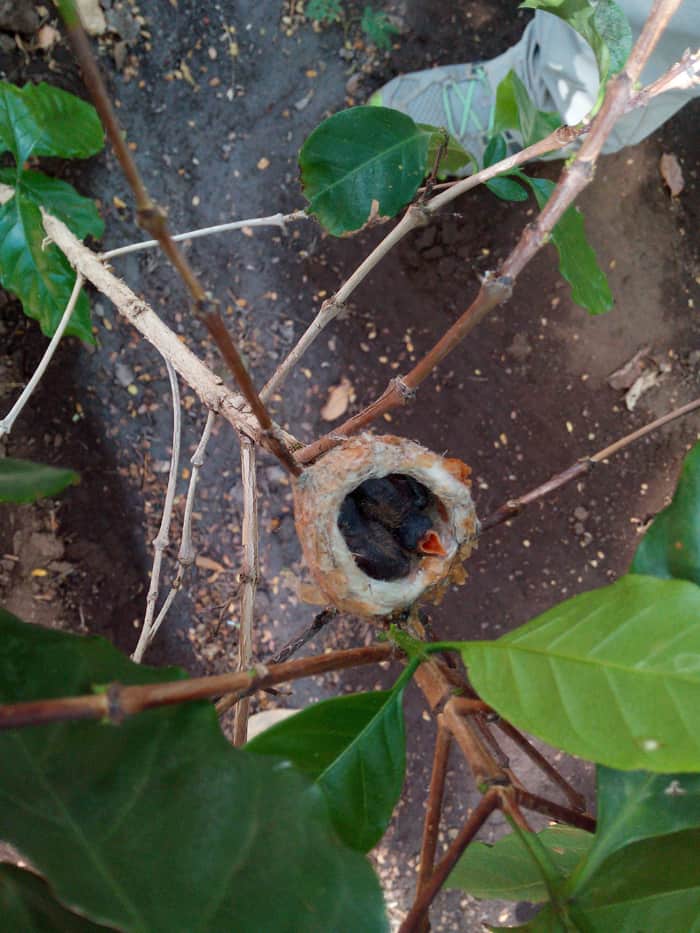 Sensing our presence, one of these avian infants opened its orange beak hoping for some regurgitated nectar.
Sorry, little guy, I could use a drink myself.
IF YOU GO
Getting there: The easiest way to find Diamante Eco Adventure Center is to follow the signs (or the Waze app) to the RIU Guanacaste/RIU Palace hotels on Playa Matapalo, southwest of Playa del Coco and west of Sardinal de Carrillo. Diamante is on the right just before the hotels.
Rates: $68 for the zipline only; $88 for the zipline combined with other activities; buffet lunch is $14.
What to bring: Shoes or sandals (no flip-flops).
For more info: http://diamanteecoadventurepark.com/en
Contact Karl Kahler at kkahler@ticotimes.net.