LONDON — A U.N. panel views WikiLeaks founder Julian Assange as being "arbitrarily detained" by fleeing to diplomatic sanctuary to escape arrest, a Swedish statement said Thursday before a potential confrontation in the long standoff in London.
Such as decision by the U.N. Working Group on Arbitrary Detention on Friday could set in motion a heightened duel between British authorities and Assange, who has been holded up in Ecuador's embassy in London since 2012.
British officials say Assange faces arrest and extradition to Sweden if he leaves the diplomatic compound regardless of the declarations from the U.N. group, which has no legal authority but whose decisions often carry weight in international disputes.
Assange, meanwhile, vowed Thursday to demand the return of his passport from British officials if backed by the U.N. panel.
In Sweden — which seeks to question Assange on alleged sex crimes — the country's Foreign Ministry said the upcoming report by the U.N. group will say Assange has been "arbitrarily detained" in violation of international pacts.
The statement said Swedish officials have reviewed the U.N. document, which is expected to be released Friday in Geneva.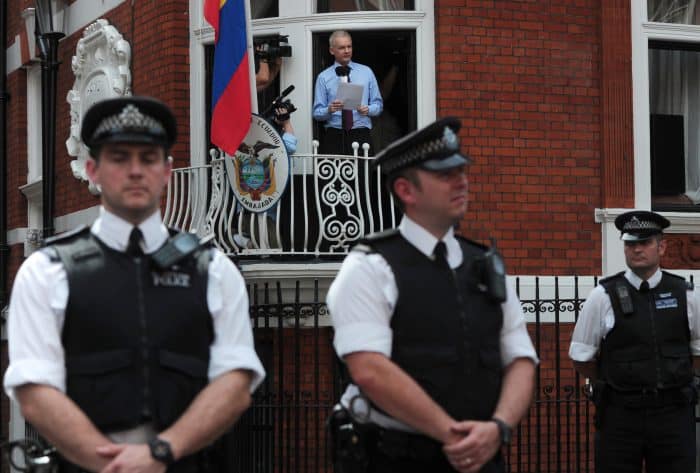 Assange claims he should be allowed to travel to Ecuador, which has offered him asylum amid fears he could eventually face U.S. charges over leaked documents, including classified State Department cables.
Assange took refuge in the embassy to avoid extradition to Sweden, where he is wanted for questioning over allegations that include rape — accusations he strenuously denies.
Assange says he fears that Sweden could extradite him to the United States for his involvement in releasing classified U.S. documents.
In 2014, Assange filed a complaint against Britain and Sweden with the U.N. group over what he said was his "arbitrary detention." Assange said he is blocked from traveling to Ecuador because he faces arrest if he steps out of the embassy.
But British authorities appear to be standing firm.
The British government said Assange avoided arrest by fleeing to the Ecuadoran Embassy and that it was obligated to extradite him to Sweden.
"We have been consistently clear that Mr. Assange has never been arbitrarily detained by the U.K. but is, in fact, voluntarily avoiding lawful arrest by choosing to remain in the Ecuadorean embassy," the Foreign Office said in a statement.
"An allegation of rape is still outstanding and a European Arrest Warrant in place, so the U.K. continues to have a legal obligation to extradite Mr. Assange to Sweden," it continued.
Murphy reported from Washington. Daniela Deane in London contributed to this report.
© 2016, The Washington Post