The popular navigation app Waze released a new option buried in its latest update that claims to help drivers avoid vehicle restrictions in congested San José.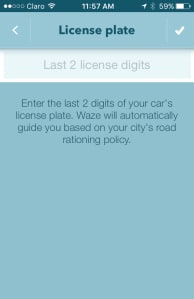 Waze announced last year it would partner with the Public Works and Transport Ministry to reduce traffic, but this latest update is designed to undercut a traffic law whose primary goal is to reduce congestion and pollution.
Costa Rica's notoriously bad traffic and labyrinthian city streets have made it one of the app's largest markets. A survey from the company found that Costa Rica was ranked among the worst countries to drive in the world.
Users willing to take their chances with the app's recommended route can find the option under Menu > Settings > Navigation > Road vehicle restriction. The app prompts users to enter the last two digits of their license plate number and sets the route "based on your city's road rationing policy."
Skirting traffic laws with the app isn't necessarily a first for the Google-owned company. Waze already has options for drivers to alert others to police checkpoints, for example.
The Tico Times reached out to the Traffic Police for comment but hadn't received a response by early Wednesday afternoon. Any response will be posted here.
Of course, Waze is known to make mistakes from time to time so drivers should beware that the option might end up being the fastest route to a ticket.