Updated at 4:45 p.m., Tuesday, Dec. 29
GUADALAJARA,
Mexico
 — A notorious Texas teenager has been detained in Mexico with his mother, weeks after holding a "going-away party" and fleeing probation imposed for a deadly drunk-driving crash, officials said Tuesday.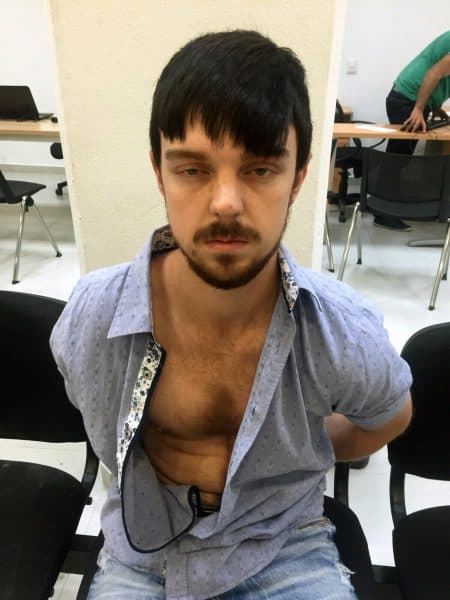 Ethan Couch, 18, and his mother Tonya were arrested at an intersection in the Pacific resort city of Puerto Vallarta on Monday night, the Jalisco state prosecutor's office said.
They were handed over to the National Migration Institute after they "could not prove their legal status in Mexico," the office said.
A migration official told AFP they will likely be sent back to Texas this week, but no date has been set.
A photo released by state prosecutors shows Couch with his hands behind his back and shirt open. His hair has apparently been dyed black and he sports facial hair.
In Texas, authorities said the mother and son team had "carefully planned" to get out of the country.
Tarrant County Sheriff Dee Anderson said investigators had learned that "what we suspected all along had happened, that they had planned to disappear, that they even had something almost akin to a going-away party before they left town."
"Our suspicion that his mother was assisting and helping him was proven true, we believe," Anderson told a news conference.
'Affluenza' defense
In 2013, the teen crashed his pickup into a group of pedestrians and another vehicle, leaving four dead and several seriously injured. Couch, who was 16 at the time, had a blood-alcohol level nearly three times the legal limit.
The son of millionaire parents made headlines during his trial when a psychologist testifying on his behalf claimed he suffered from "affluenza."
The term, coined from affluence and influenza, implied that financial privilege made him unable to understand the consequences of his actions.
Couch pleaded guilty to intoxication manslaughter. Prosecutors had sought a 20-year prison term, but the court handed him a surprise sentence of mental health treatment and a decade of probation.
The leniency shocked many Americans, especially because the teen expressed no remorse and did not spend a single night behind bars.
The hunt for Couch began a few weeks ago after he missed a mandatory meeting with his probation officer.
He seemed to have disappeared after the emergence of a video showing Couch at a party taking part in a drinking game, which violated the terms of his probation.
The FBI and U.S. Marshals Service joined the search after authorities put Couch on the country's most wanted list, offering a $5,000 reward for information leading to his arrest.
Sheriff wants prison
Sheriff Anderson said Couch will be placed in a juvenile detention facility once he returns to the United States and that an arrest warrant was issued for his mother.
Anderson said "intelligence information" indicated that Couch and his mother had driven across the border.
He said he hoped that Couch's case would now be transferred to an adult court.
"I would like for him to be held accountable as I've said all along. I don't think 10 years' probation was appropriate for killing four innocent people and driving at three times the limit of alcohol in his blood," the sheriff said.
Ricardo Vera Lira, a National Migration Institute official, said Couch and his mother were "calm" while in custody at a migration facility in Puerto Vallarta.
"They're very pleased. They have a television in the reception area and a library with books," Vera told AFP, adding that their departure date is unknown because flights are full because of the holidays.