Upon entering the bank, customers are ushered inside by a doorman in a gray suit and pink shirt. This greeter is the only man inside the Kristal bank in Plaza del Sol. The tellers, managers and other employees — also in gray suits and pink shirts — are all women. The walls are pink and white, and official business is carried out in cushioned swivel chairs at shiny white tables.
"Women aren't complicated," reads a sign along the outside walls. "It's just that before no one understood us."
The creators of "Banca" Kristal, which exclusively caters to female customers, believe they do understand what women want: free purses, diamond accents and lots and lots of pink.
"Pink is a color that has always been associated with women," Gisella Flores, a Kristal spokeswoman told The Tico Times. "We just needed something to differentiate ourselves. Something that said you can manage finances without losing your femininity."
In addition to its "feminine" decor, Banca Kristal offers its women customers special savings accounts for beauty supplies and fashion alongside the regular Banco de Costa Rica savings accounts for education and business. On the bank's website these special services are listed in bullets designed to look like pink diamonds. For women who open accounts, different branches have offered everything from complimentary clutch bags to free manicures.
Acabo de utilizar un cajero de Banca Kristal y el sistema parece que lo diseñó la gente de My Little Pony con los de Strawberry Shortcake.

— pulpi (@uncefalopodo) December 10, 2015
The decidedly gendered marketing campaign has received widespread criticism since the bank opened it doors in November.
"It's a bank for women that doesn't incentivize women financially," lawmaker Epsy Campbell wrote in an editorial for the newspaper El País. "Instead, it promotes the most traditional norms of society, those which the Banco de Costa Rica considers only belonging to women."
Campbell was joined by Vice President Ana Helena Chacón in her critique of the bank, but President Luis Guillermo Solís has refused to comment on the state bank's decision to open Kristal.
La Banca Kristal es un retroceso a los avances feministas y un insulto a la inteligencia.

— Melissa (@melibarrien) November 28, 2015
Though its pink ad campaign has captured most of the attention, bank officials say that Banca Kristal was launched to address problems women face at traditional banks.
"When a woman enters a traditional bank she encounters disadvantages just because she is a woman," Flores said. "Studies show that a woman who is the head of the household, without some kind of formal relationship, is automatically considered a higher financial risk."
Flores says bankers' fears are unfounded. Statistics show women, in Costa Rica and elsewhere, are actually more likely to save their money and less likely to accumulate debt. In order to combat these prejudices, Banca Kristal employs only women bankers. The banks have also done away with the traditional teller windows and replaced them with a lounge-type setting in an effort to remove barriers between women and their bankers.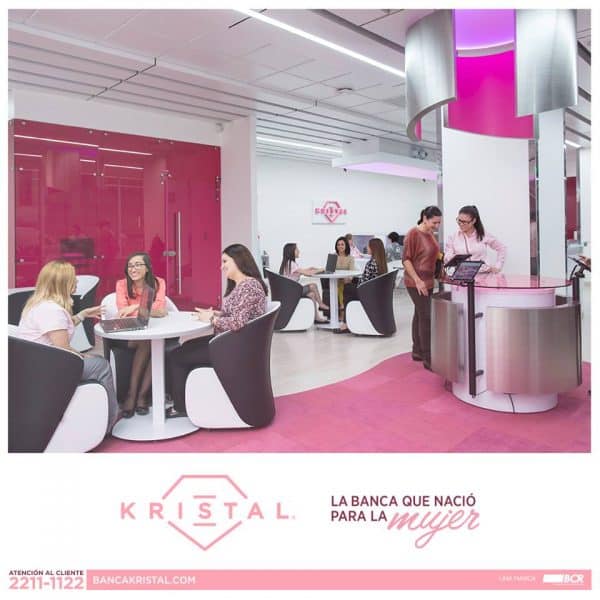 Despite its critics, Banco de Costa Rica has invested more than $8 million in the launch of the first five branches of Banca Kristal in the greater San José metropolitan area, and has announced plans to open at least 15 others. According to Flores, more than 1,200 women opened accounts with the bank on its opening day on Nov. 30, and other women continue to do so.
"Women are fighters and they often have more responsibilities, but men have so many financial advantages," Jasmina Alvarado told The Tico Times after exiting Banca Kristal in Plaza del Sol and opening an account. "In the past there have been groups just for men. Now it's our turn."