TAMARINDO, Guanacaste – I woke up oddly dreading my 10:30 surf lesson. I thought it would be blistering hot during the instructions on the beach, and then it would be strenuous paddling out, and then I would suck when I tried to catch a wave.
And I was right about most of those things. Except it wasn't very hot.
The place that arranged my lesson, Witch's Rock Surf Camp in Tamarindo, is probably the most successful surf camp in Costa Rica. Guests usually book one-week packages that come with lodging, breakfast, two surf lessons a day, a surfboard anytime and even a graduation ceremony.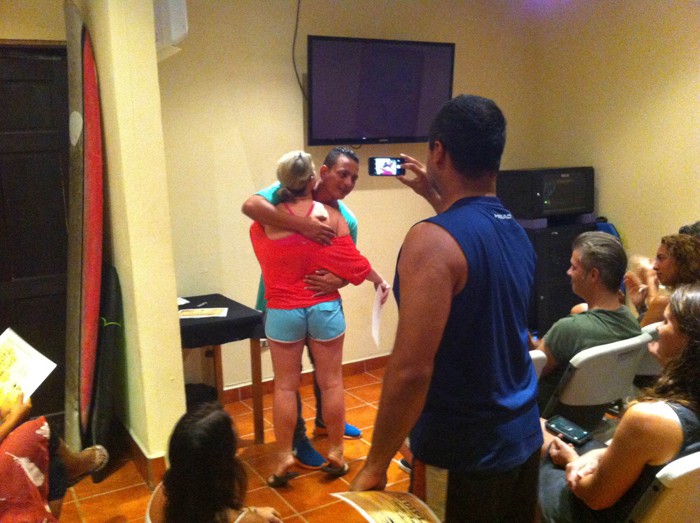 I was probably Witch's Rock's unlikeliest customer ever, a 52-year-old guy taking a surf lesson who, to tell the truth, didn't really want to learn how to surf. But I knew there was a story here, because so many people come to Costa Rica to do this very thing, and I had to try it once.
It eased my anxiety somewhat that my four fellow-students were all striking young women, and strangely enough all all five of us were from Northern California.
"This one's always been on my bucket list, to do a surf camp," said Anhchi Ly, 38, from the San Francisco Bay Area.
Her cousin, Van Ly, 37, said, "We want to be able to develop our skills so that we can take it anywhere that we travel."


"There's a very comfortable vibe here," Anhchi said, "and the instructors are very supportive."
Our fearless leader, Ricardo Calderón, 32, was a very chill Tico with dreadlocks who spoke good English. Our first instruction was to go jump in the water to get wet and cool off.
Then we learned about how to get the board out into the water (strong hand on the back of the board, the other hand in the middle), and then at a certain depth you climb on it and start paddling.
If big waves crashed onto us, we could turn over face up and hold onto the board as the wave passed. We would practice in the shallow water for a while, then if we were ready we would go out and find some bigger waves.


"When the white water hits your board," Ricardo said, "paddle three more times and then stand up."
I expected a long, detailed lesson from Ricardo on how to stand up on the board. But instead he asked Van to show us how to do it.
Van lay down on the surfboard (on the beach), paddled three times, gripped the sides of the board and in one fluid motion jumped to her feet, which were pointing to the side while she looked to the front, arms out like Wonder Woman prepared to grapple.
"¡Eso!" Ricardo said, indicating that her technique was virtually perfect.
Next went Anhchi, who also demonstrated a near-flawless pop-up.


Then it was the old guy's turn. Paddle, paddle, paddle, put hands on board and jump up!
I was showered with praise. (I suspected pity praise, but I'll take it.) As you can imagine, the instructors don't often say, "That was absolutely terrible, there's no hope for you and you should abandon surfing now."
Ricardo told us to be careful of colliding with other surfers in the water — there were lots — and explained that they were all bunched up together because the current was pushing them toward their left, our right, toward the mouth of the river, which can be a bit dangerous for beginners.
He said if you wipe out in turbulent water and you're coming up for air, you might want to put your hands over your head to avoid bonking it on your board.
There were very few instructions about how to, well, surf – presumably if you can get your board out into the water and stand up on a wave, you'll figure out the rest. The only advice on how to ride a wave was that if you're going too fast, stand back, and if you're going too slow, stand forward.
We picked up our boards and walked out into the surf, then pushed them through the water, and after negotiating a few breaking waves paddled a bit further. I kind of wished they hadn't given me such a long board, until I found out that short boards are much harder to surf on.


And it was time to try our luck. A couple of the ladies went first, and did great.
My turn. Ricardo spotted my wave and told me to start paddling. "Faster, faster!" I felt the wave catch me and he said, "Stand up!"
I was kind of hoping I would be a natural who would catch the first wave I attempted. Sadly, this was not to be. I stood up for about one second and then went flying off the board, which is pretty much how it went for me for the next hour. But at least I stood up.
The pop-up on the beach was easy – because the beach doesn't move. The motion of the waves added considerably to the degree of difficulty. It was like trying to ride a skateboard on top of a moving bus.
It reminded me of chaos theory, as popularized by "Jurassic Park" – between the waves and the board and the human trying to jump onto it, it was hard to predict what would happen.
My classmates all rode the waves like champs. We all cheered whenever someone stood up and rode a wave.
"It was awesome to have a small group that was really cheering each other on," said Jules Tarasi, 29, of Oakland, when we gathered afterward for cervezas. "I thought it was a really good vibe. I had a good time."
Her friend Katie Hodgson, 28, of South San Francisco, said, "It's our first day, and we're still kind of getting the feel of everything, but everything feels so smooth and everyone's so nice and very helpful, and the surfing was great."
"The group did really good, actually," said Ricardo. He recalled how the lesson went, and said, "I was not teaching surfing – I was giving you guys ideas and tips to create yourself an experience."
I asked him what's the biggest mistake new surfers make.
"To go surfing with no instructor," he said. "That's a big mistake. Because if a beginner goes with an instructor and makes a mistake, it's not the beginner's problem, it's the instructor's problem."
I asked him how often people get hurt surfing here.
"Really often," he said.
"What's the easiest way to get hurt?"
"Bad control of the surfboard."
"People hit each other with their boards?"
"Oh, yeah," he said. "Another thing is, people have their boards and they don't have a clue what they're doing. And they get super-hurt. Stitches. A lot. Big cut with the fins on the leg."
He said there are some "instructors" in town who don't even know how to surf, but because they speak English and they're cheap, people pay them for surf lessons.
"They make the people to get hurt, they grab the board and they go away," he said. "That's no bueno. … The cheapest thing can turn really expensive in the end."
I said something about how I just needed to learn the "pop-up."
"No, you don't need to learn it," he said. "You learned already. You need to make it better, and that you're not going to do in two hours."
Well, that was reassuring.
Van and Anhchi had nothing but praise for their teacher.
"Ricardo is an exceptional surf instructor," Van said. "He starts with the necessary foundational skills. Then he takes you out into the water to assess your abilities, and what makes him a world-class instructor is that he will build on your strengths and then push you even beyond your own expectations."
I sat down with Joe Walsh, 38, who opened Witch's Rock Surf Camp in 2001 and has raised two children here with his wife, Holly. It was Friday night, and Radio Dos D.J. Evan Luck was doing his weekly broadcast from Eat at Joe's, the restaurant at Witch's Rock.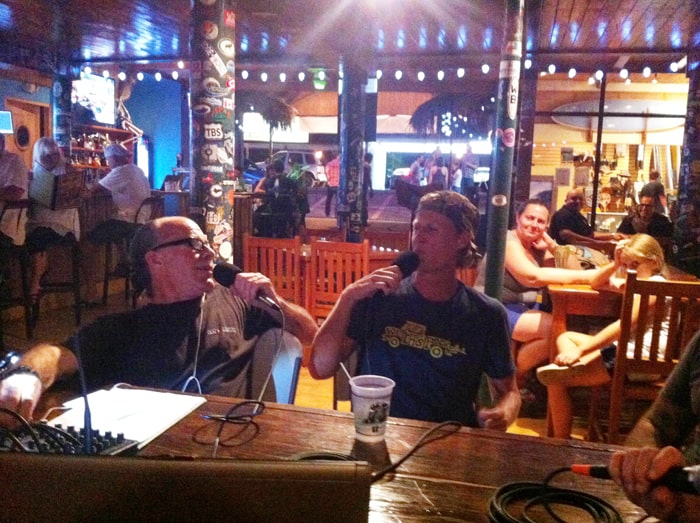 Joe, from San Diego, starting surfing when he was 16. He went to the University of California at San Diego primarily because of the great waves at Black's Beach.
"I was a math major but I didn't really know what I wanted to do, and I just loved surfing more than anything," he said. "I came down here when I was 20, halfway through school, for a month and a half, and that's when I started envisioning building a surf business. That was in '98."
He got in a car accident and received a settlement of around $20,000, which he put in the bank.
"I stayed in school, switched my major, became an art major, started using my left brain, and basically when I graduated I had no idea what I was going to do for a job, because I only wanted to surf," he said.
He went to a job interview but didn't get the job because his car broke down on the way, so he went to buy another car.
"I was going to buy a new car so I could get to work every day, and literally, I swear to God, I was test-driving this VW Passat wagon to get to work every day to a job that I didn't even want to do," he said. "And I was like, this is so not what I want to do. I don't want to spend this 20 grand that I'd had for a couple years on a car to get to work. I could do the surf camp that I dreamed about since two years ago."
He ended up buying a school bus and driving it down to Costa Rica with friends. He first set up in Playa del Coco, bought a boat for $9,000 and started ferrying surfers to the legendary surf break at Witch's Rock, farther north, sometimes twice a day.
"And it was really early on that I realized … I can't grow this business," he said. "I realized I was driving people from Coco to Tamarindo and teaching them how to surf out here in the front, and I was realizing, man, there's just a much bigger market teaching. There's waves right here, you don't have to go by boat.
"I was enjoying it more because the people learning were enjoying it more. I wasn't dealing with crusty, stuck-up, pro surfer types but people who are loving surfing for what it's really supposed to be all about."
Walsh relocated to Tamarindo and acquired a shack on the beach in 2001.
"All this was dirt," he said, pointing around the restaurant. "People were camping in tents. It was a swamp, there were fire ants, and the bus was just parked right here. No shop, no hotel, no nothing."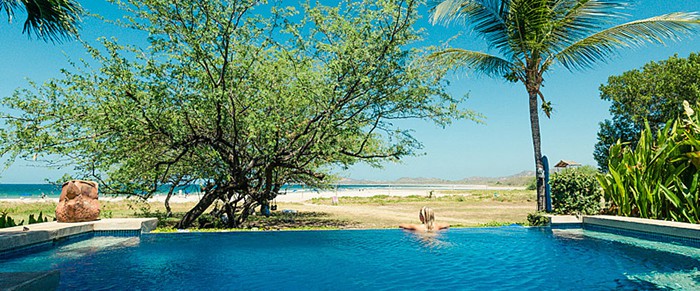 The rooms upstairs were first rented for $10 a night. After a couple of years Joe bought the house and the property next door, and then built some more rooms. He opened a small surf shop, and eventually two restaurant/bars, Eat at Joe's and El Vaquero next door, plus a brewery.



Business was booming, and with only 18 rooms at Witch's Rock, Joe was sending his overflow customers to other hotels, where he couldn't control what he calls the guest experience.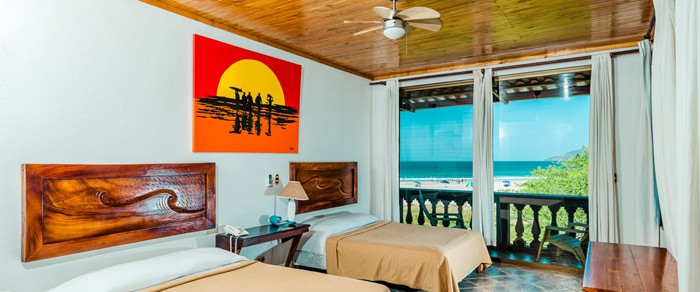 "And then when problems happened, we were having to fix them," he said. "They weren't handling them at the same level that we would handle a business. So the guest experience wasn't the same."
Just two months ago, Joe closed a deal to buy the 29-room Pueblo Dorado Hotel, an aging but comfortable two-story hotel a short walk away from Witch's Rock, with a nice swimming pool. That increased his capacity to accommodate guests by 61 percent.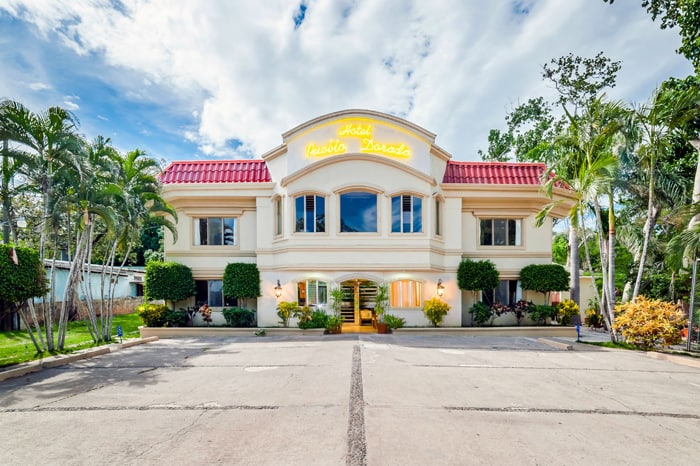 "I'm not trying to represent it as a $150-a-night place because it's not, and it's not a $30-a-night hostel," he said. "It's a good middle-of-the-road hotel that's got a great location, not beachfront but right across the street."
Patrick McNulty, 63, the chief operating officer of Witch's Rock, said the company's business model is "hospitality, hospitality, hospitality."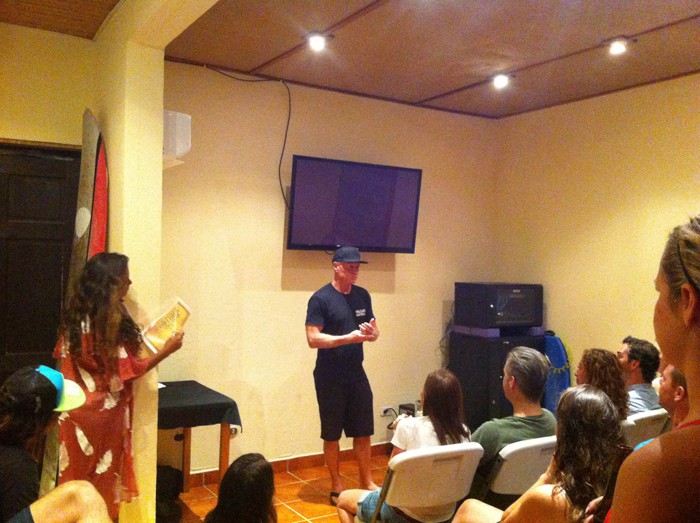 "We want to make sure that we give all the guests that come here a unique experience and an experience where they're going to go home after they learn how to surf and they're going to want to come back time and time again," he said.
"So we have retained a lot of customers," he said, "and we have whole families that come back year after year after year."
I asked him how much the surf camp costs.
"The basic package is around $1,050, including surf lessons, your lodging, and that's a shared room," Patrick said. "And then it goes up to $1,400, $1,600 for the week, for private or double occupancy, and that's usually a husband and a wife."
Patrick said Witch's Rock hosts an average of about 50 people a week, 52 weeks a year. He guessed that the mean age is probably mid-30s, counting "everything from a 70-year-old that will come here with his wife to learn how to surf to a 25-year-old."
I asked him if any surfers have ever died here.
"We pride ourselves on safety," he said. "People get injured. It's a contact sport, it's an extreme sport. … Experts get injured. Beginners get injured. It's very infrequent. Safety is first. All of our instructors are certified lifeguards, just like myself and just like Joe."
Despite the lively party around us, Patrick said, "And this is not a party camp. This is not a spring break place. This is a place where a family can come and have a safe, affordable, fun time."
Instructor Ricardo gets the next-to-last word, in imperfect English but heartfelt sentiments:
"When you know how to do something good, why not to make it better, for goodness. If you make people happy, mae, why not to make more people happy? And you will feel happy yourself."
Anhchi nodded and said, "Just vibe and love."