It's hard to spend any amount of time at Tamarindo Beach, on Costa Rica's northwestern Pacific coast, without taking part in its main attraction: its renowned surf scene.
During our stay, in early January, we decided to take a surfing lesson with Seafari Costa Rica, a local surf academy. Seafari's owner and primary instructor, Alejandro Aguilera, took us out for our first-ever beginners' surf lesson.
After a long session in Tamarindo's balmy waters, we gathered a couple of recommendations on what not to do during your first surfing lesson. Here's what happened.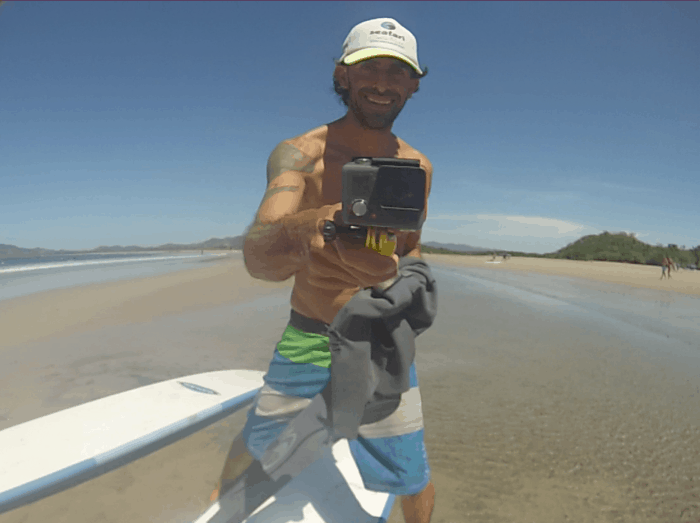 Don't step on the front of the board first
If you can avoid this common mistake, you'll be safer when standing on the surfboard. You should stand up fast, place your strong foot on the back part of the surfboard, then place your other foot in front. Balance your body to be stable, and smoothly ride the wave. If you're going to fall, you should always bend your knees and then drop to the water on your left side.
Don't let go of your surfboard
OK, that one might sound obvious. But if you let go of the surfboard, grab it the wrong way, or place the board on your right, chances are that a spontaneous gust of wind will blow the board towards your face or body. Avoid this at all costs because you can get hurt or smacked in your face.
Don't get distracted by what your classmate is doing
Another obvious observation. Since you're a beginner, distractions must be avoided because you'll lose your concentration and fall down; that's what happened to us.
Seriously, don't let go of your surfboard – especially in a crowd
When you're waiting for that perfect wave and people are near, keep your grip on your surfboard extra tight. First off, if a big wave comes you'll get dragged along by the surfboard, which is your goal. Secondly, someone near you can get injured by being smacked in the face with the board.
Finally, it wasn't all that bad. We did get a successful ride.
If you follow all of the previous instructions, have fun and do what your instructor tells you to do, you'll be fine in the water and ride down smoothly.
Seafari Costa Rica donated a beginner's surf lesson to The Tico Times at Tamarindo Beach. Seafari Costa Rica offers lessons on different aquatic sports and has certified instructors. For more information visit their Facebook page or call Alejandro Aguilar at (506) 8355 – 4246.