David Strecker, the 65-year-old U.S. man arrested in September under Costa Rica's little-known "Sex Tourism Law," will remain in preventive detention in a San José prison until at least Jan. 2, 2016, according to a court ruling handed down Monday in an appellate hearing.
Strecker, known widely by his nickname "Cuba Dave," is the first person in the country's history to be arrested under the 2013 law that calls for punishment of anyone who promotes or carries out programs that prop up Costa Rica as a destination for sexual tourism.
Tatiana Vargas, a spokeswoman for the Prosecutor's Office, told The Tico Times that Strecker's extended detention is a "preventive measure" to make sure he does not flee the country while the criminal investigation against him continues.
"The criminal case began after it was found that the suspect had made various Internet publications in which he apparently invited other North Americans to visit Costa Rica, indicating that the prostitution services are easy to acquire here," Vargas said via email on Wednesday.
Under the moniker "Cuba Dave," Strecker created a website that recounted his stories from his sex-fueled excursions in Costa Rica and other Latin American destinations, as well as pictures of women dressed in nothing more than bikinis who were apparently prostitutes, and videos in which Strecker would give advice to his followers on the best places to stay in San José.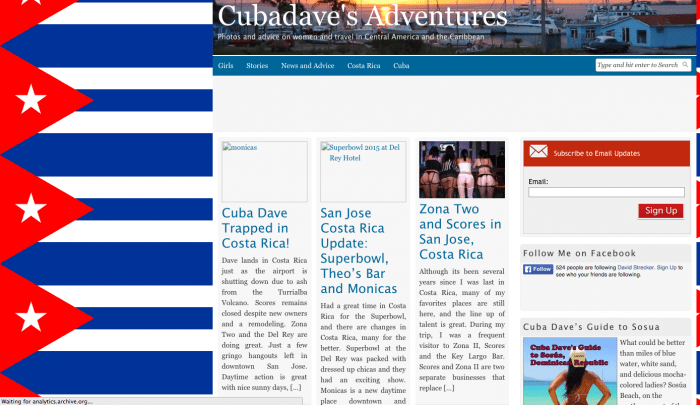 In a 2012 article archived on the website, Strecker tells the story of how a Colombian girl named "Judy" persuaded him into going to Campo Alegre Resort in Curacao, a Caribbean island north of Venezuela. Strecker details in the blog entry, titled "Campo Alegre an adventure to forget about," that his experience on the island was tainted by high hotel prices and women that didn't meet his physical standards.
"When Judy was working I would walk the grounds and chat with the available girls and found that they were willing to perform for much less than the standard price but of the 120 advertised girls I probably seen a total of 40 girls and very few that were even a 5 or 6," Strecker wrote.
On the first comment under the story, a commenter named Mavrick says, "Thanks for the heads up ill stay away from that one. I took your advice on CR and it was right so now im taking your advice on sosua. ill be down there the last week of this month. Hope to c you down there!"
Strecker is currently being held in San Sebastián prison, one of the country's most overcrowded detention centers located just south of San José. At the hearing on Monday, Strecker's attorney, Alfredo Núñez, told The Tico Times that he would not comment on the case.
In a possible criminal trial, Strecker could face four to eight years in jail, according to the previously untested law, which is filed under Article 162 bis of Costa Rica's Human Trafficking Law.