People in the Costa Rica surf world excitedly bandy the names Noé Mar McGonagle and Carlos Muñoz — and with good reason, they're amazing and represent their country well on the international circuit. Yet, it's another Tico surfer who seems to be shining brightly on his home waves and will soon get the chance to show the world what he's made of.
That's Jason Torres of Jacó, who is not only the Costa Rica national surf champion this year, but now the winner of this year's second Association of Latin American Professional Surfers (ALAS) contest in Costa Rica. The ALAS circuit includes competitions throughout Latin America.
With his win at the Billabong Fest in Jacó this past weekend, Torres is tied at No. 8 in the 2015 ALAS rankings. The Latin Pro circuit will continue on without Torres into its finals, the Puntas Rocas Super Prime Classic, which starts Nov. 30 in Perú. Instead, the two-time Central American surf champion will join Anthony Fillingim, David Herrera, Gilbert Brown, Leilani McGonagle and others in Nicaragua the first week in December as Costa Rica battles for its 10th Central American Games team title.
More good news for Torres: Thanks to his sponsor O'Neill noticing all his accomplishments in Costa Rica and allocating a nice budget, it looks like Torres will be joining Noé McGonagle and Muñoz next year In the World Surf League (WSL) Qualifying Series (QS), a step he's been itching to take these past few years.
In Jacó, however, this latest notch on Torres' surfing belt came as no big surprise to everyone but him. For the first two days of Billabong Fest, the German-born Costa Rica resident Leon Glatzer was touted as the score leader, and the one to watch for the win. Meanwhile, Torres was "doing his own thing," he said. "I wasn't in competition with anyone but myself."
Glatzer made it all the way to the semi-finals, but the finals ultimately pitted Torres against the ALAS No. 1-ranked Jonathan Chila of Ecuador.
"Chila started fast, but I did not get anything for like seven minutes," recalled Torres of the final that took place in 3-5-foot waves. "Then a good right came, I got three snaps and closed really good. The score was 7.33. My second wave was a left with a little snap and a nice little air for 6.83, beating his air, a little Superman maneuver. This put me in first place. The other guy had a little right 30 seconds before the end, but it wasn't enough," Torres recounted. Torres won.
"These are the kinds of situations I like to surf," he added. "These are situations with justice."
See also: Jason Torres: From bad boy to national surfing champ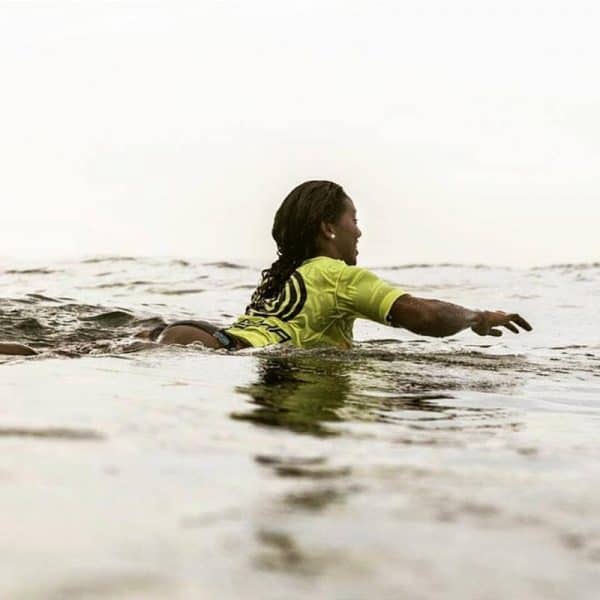 The winners list on Sunday was peppered with Ticos, as has become the norm when the ALAS comp comes to town.
Pavones' Leilani McGonagle, home from her own rookie QS jaunt this year, has only participated in one other ALAS competition in 2015, the Roca Loca event in nearby Hermosa, which she also won. At the Billabong Fest on Sunday, she found herself in a finals heat made up entirely of Tica chicas. McGonagle, the national Women's Junior champion and frequent international medalist, outmaneuvered 12-time national Women's champion Lisbeth Vindas (Jacó), who came in second. Emily Gussoni (Jacó) came in third, and Paula Duarte (Jacó) was fourth.
"This tournament had very good waves compared to previous years that I've done it and I was very happy about that," McGonagle said. "It's always fun to compete against all the girls here; we always go head to head. I am very happy to be back home after a month and a half away. Now, I have to study and train to be ready for the Central American Games and hopefully Costa Rica can bring another gold medal."
According to Diego Naranjo, one of the organizers of Billabong Fest (which was also the second date of the Costa Rica Pro Surfing Tour 2015), McGonagle is unstoppable because of all the effort she puts into her training for these contests. "Of course, there are girls that can challenge her, but Leilani is physically, mentally and technically prepared to compete. She works very, very hard for her achievements so far.  She's such a disciplined athlete, and such a smart girl."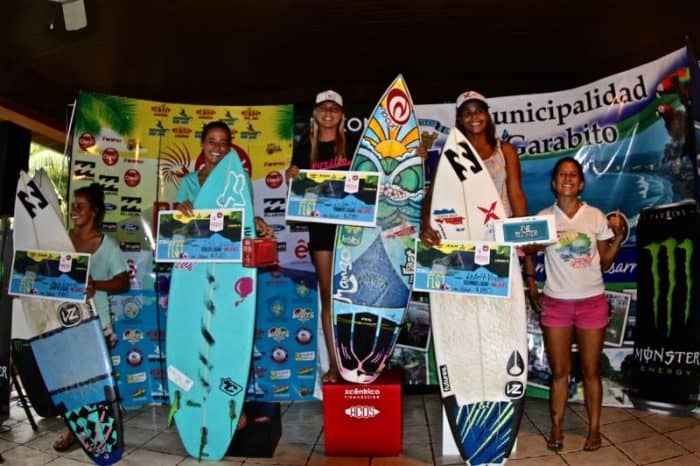 Rounding out the winners of the Billabong Fest were Aldito Chirinos of Playa Negra for Juniors, Joseph Méndez of Jacó for Boys, Kenet Peralta of Jacó for Grommets (under 14), and Anthony Flores of Jacó for Longboard.
With new, big name sponsors such as Ford, Naranjo hopes to bring ALAS to other beaches around Costa Rica such as Negra, Pavones or even Salsa Brava next year.
Final results for the ALAS Billabong Fest:
Open Men:
1- Jason Torres (Costa Rica)
2- Jonathan Chila (Ecuador)
3-Anthony Fillingim (Costa Rica)
3-Leon Glatzer (Costa Rica)
Women:
1- Leilani McGonagle (Costa Rica)
2- Lisbeth Vindas (Costa Rica)
3- Emily Gussoni (Costa Rica)
4- Paula Duarte (Costa Rica)
Juniors:
1- Aldo Chirinos (Costa Rica)
2- Joseph Méndez (Costa Rica)
3- Leon Glatzer (Costa Rica)
4- Lucca Mesinas (Perú)
Boys:
1- Joseph Méndez (Costa Rica)
2- Aldo Chirinos (Costa Rica)
3- Leilani McGonagle (Costa Rica)
4- Tiago Carrique (Costa Rica)

Grommets (Under 14):
1- Kenneth Peralta (Costa Rica)
2- Gabriel Córdoba (Costa Rica)
3- Axel Castro (Costa Rica)
4- Neo Escaler (Costa Rica)
Longboard:
1-Anthony Flores (Costa Rica)
2- Julian Schweizer (Uruguay)
3- Diego Naranjo (Costa Rica)
4- William Aguero (Costa Rica)