CÚCUTA, Colombia – As he walked along the aisles of the supermarket, 25-year-old Nestor Usa Torres pointed to items on the shelves: sunflower oil, powdered milk, shampoo. "Produced for the Venezuelan market," he read aloud, showing the labels.
He explained: "Subsidized groceries from Venezuela, smuggled into Colombia. You can still find them here, but before our city was completely flooded with Venezuelan products. Since the border is closed, everything has changed."
A smuggling economy
Neighboring Venezuela, ruled since April 2013 by Nicólas Maduro, saw its economy deteriorate quickly. Socialist measures include subsidized gasoline and alimentary products, with a complex distribution system for Venezuelan citizens. The last number of an ID-card is linked to a certain day, when Venezuelans are allowed to do their shopping.
Along the two countries' border an immense smuggling network began to grow. Buying groceries on the Venezuelan side and selling them in Colombia was a way to make a lot of money. Both Venezuelans and Colombians living in border towns profited.
To battle the inflation in his country, the late Venezuelan leader Hugo Chávez initiated an artificial currency exchange rate whereas the state offers a better bolivar-to-dollar rate than what people can get on the streets. Out of this, a complex money-changing scheme has evolved.
Venezuelans who wish to travel outside the country can apply for a traveler's card. As of this writing, cardholders can buy a dollar for 6.3 bolivars, rather than the 630 bolivars charged on the street. Give this card to someone in Colombia, who withdraws the money in dollars and changes it back into bolivars, and the money can be multiplied by a hundred. Venezuelan officials who approve the travels of a card owner often are bribed in order for the scheme to work, but still there is a lot to be gained from this kind of transaction.
According to Torres, "The first ones who started doing this years ago became millionaires. Later, it became more difficult, with added rules attached to a traveler's card."
Although smuggling and money changing has gone on for years here, Venezuela's Maduro now blames Colombians for the empty supermarkets on his side of the border. In addition, Maduro's government says many Colombians living in Venezuela belong to guerrilla or paramilitary groups. In August, Maduro began closing the border to reportedly fight the smuggling of goods.
Nestor Torres remembers that day well. He lived with his parents in Venezuela but worked in Colombia, and he knew it would be a problem.
"I had to pack my bags and leave the house the next day for Cúcuta," he said. "I have lived with my in-laws ever since, and haven't seen my parents in four months."
'T' is for tumbar
Torres is one of more than 20,000 Colombians who returned to their country voluntarily in recent months, in addition to the roughly 1,500 people who were deported. Their homes in Venezuela were marked with a "T" for tumbar, Spanish for "demolish. Many were forced from their homes in the middle of the night, said 45-year-old Carlos Julio Cardenas, who used to live in Valencia, Venezuela.
"We never expected anything bad to happen, as before Ecuadoreans and Peruvians in my neighborhood had their old houses exchanged for apartments. But one night, soldiers knocked on my door and told me I had to go with them. They loaded all 48 Colombians living in my neighborhood in vans and brought us to a prison. There we had to stay for two weeks, sleeping on the floor," Cardenas said.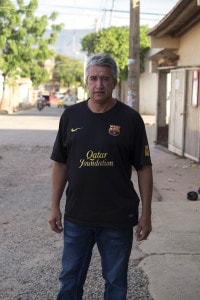 Cardenas was accused of belonging to a paramilitary group or otherwise having been involved in Colombia's civil war. In fact, he had fled the war as a refugee, as did many other Colombians who lived – until recently – in Venezuela.
"After my obligatory military service, I was told the guerrillas were looking for me," he told The Tico Times. "Once you have had your military training, they can make good use of you. I was 20 at the time, and my mother told me to leave for Venezuela because otherwise I would have to fight with the guerrillas."
The Colombian department of Norte de Santander, of which Cúcuta is the capital, is an important smuggling route for cocaine, drawing several groups that battle for power. There are guerrilla groups such as the National Liberation Army (ELN) and the Revolutionary Armed Forces of Colombia (FARC); the paramilitaries that formed in the late 1990s; and criminal gangs known as bandas criminales, or BACRIM. Cheap gasoline from Venezuela is imported for cocaine labs to process coca leaves into paste, which is then moved to Venezuela, and from there, shipped to the United States and Europe.
The cocaine business isn't affected by the closure of the border, however. Cocaine is produced in Colombia or Peru, and then is shipped out through Venezuela.
The recent arrest in Haiti and indictment in the U.S. of two family members of Venezuelan first lady Cilia Flores on drug trafficking charges appear to show that this network involves people at the highest level. Efrain Antonio Campo Flores, 29, and Franqui Francisco Flores de Freitas, 30, were arrested in Port-au-Prince, Haiti, on Nov. 10 and indicted in the U.S. on allegations that they attempted to smuggle 800 kilos of cocaine into the United States. Both men were carrying Venezuelan diplomatic passports and claimed to be the first lady's son and nephew, CNN reported.
Meanwhile, many Cucuteños have lost their livelihood making money by engaging in smuggling businesses, while prices of basic goods have tripled or quadrupled. Before the border closed, many would buy gasoline illegally on the side of the road, because filling up a car in Venezuela cost the equivalent of a dollar in bolivar, and selling it on Colombia's side could be quite lucrative.
Now, because the city is unprepared for real demand of gasoline, it is rationed, with an allowance of filling up a tank twice a week on certain days. As a result, queues form at gas stations, where people wait for several hours. That has prompted the resourceful residents to start a new business practice: Customers buy gasoline at a station and then resell it for a dollar more per gallon. It's not hard to find people willing to pay the higher price on days when they're not allowed to fill their tanks or don't have the time to wait in line.
Capital of the Bolivarian dream
Another consequence of recent events is a wave of unemployment in Cúcuta, which has worsened with the return of thousands of Colombians who are forced to start from scratch. With rising costs of living, life has become difficult in the city, which is located about 600 kilometers northeast of Bogotá.
Myriam Castrillón, who works as a lawyer on behalf of the Colombian returnees, is concerned about what will happen in Cúcuta in January. The Colombian government has offered aid for the deportees from Venezuela by paying three months rent for them, as well as compensating those who can't find jobs by "hiring" them for daily shifts of four hours each. But that help ends on the last day of December.
"Ironically, Norte de Santander is where the 'Bolivarian dream' was born,"Castrillón said.
And just a few miles outside of Cúcuta is the village of Villa Rosario – the capital of Gran Colombia, a no-longer existing country founded in 1819. General Francisco de Paula Santander, who encouraged the United States to recognize Gran Colombia, lived in a house turned into a museum, walking distance from the border that Maduro has now closed indefinitely.
"[Santander's] dream was combining Venezuela, Ecuador and parts of Brazil into one country called Gran Colombia, because basically we are the same people,"Castrillón said. "We dance to the same music. Chávez would still cherish that dream, but Maduro leans way more towards Cuba."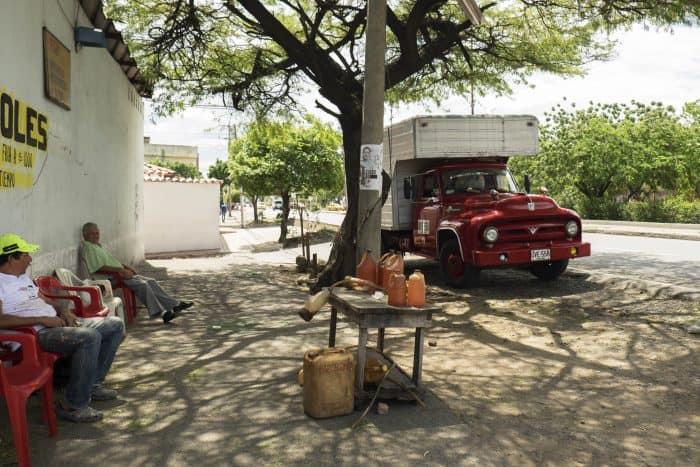 According to Maduro, crime rates in the Venezuelan border provinces have dropped significantly since his government's action, with up to 96 percent less terrorist attacks, murder and kidnapping. The story Venezuelans living in exile in Cúcuta tell is different: They still hear from family members back home that streets are unsafe, and supermarket queues persist.
For Colombian President Juan Manuel Santos, the closed border is a delicate subject with his country conducting peace talks with the guerrilla group FARC for the past three years in Havana. Venezuela is a Cuban ally, and Santos hopes to avoid further conflict with his neighbor at a politically sensitive moment.
Meanwhile, people like Torres and Cardenas are waiting to see what happens.
Said Torres: "It will be Christmas soon, and although I love my in-laws, it will be the first time in my life I celebrated Christmas without my parents."
Correction: An earlier version of this story reported the name of the lawyer who works on behalf of the Colombian returnees as Gina Lázaro. It is actually Myriam Castrillón. The text has been corrected. 
Recommended: Chávez's other disciple, Diosdado Cabello, rises as Venezuela unravels under Maduro