Updated at 5:40 p.m. on Wednesday
Authorities in Honduras have arrested five Syrians intending to make it to the United States with stolen Greek passports, triggering alarm Wednesday in the wake of the Paris attacks launched by Syria-linked jihadists.
"Five Syrian citizens have been detained and will be taken to our offices to be investigated, because it is suspected they are carrying false documents, passports stolen in Greece," a police spokesman, Anibal Baca, told reporters.
The Syrians were arrested on Tuesday as they flew into Toncontín International Airport in Honduras' capital, Tegucigalpa, and failed to make it past airport security checks, Baca said.
They had traveled by air from Syria to Lebanon, then to Turkey, Brazil, Argentina, Costa Rica and Honduras. From there they were to make their way to Honduras' second city of San Pedro Sula with the aim of going overland through Guatemala and Mexico, and on to the United States, Baca told AFP.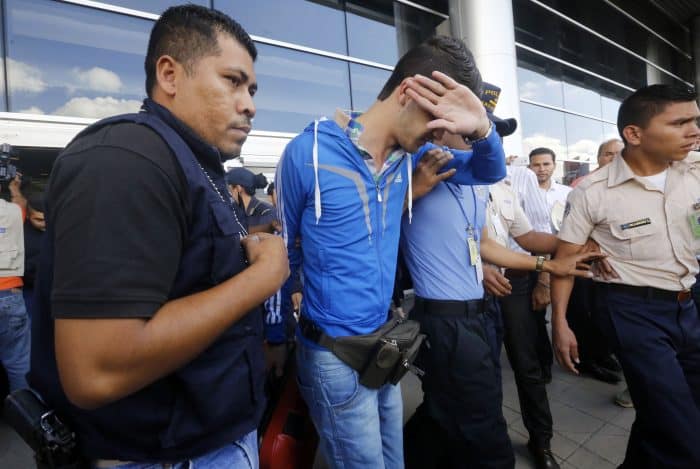 The reasons for the Syrians' trip was not immediately known, and Honduran police were considering the possibility that they are refugees fleeing the war in Syria.
"We are not saying they are terrorists," Baca said. "They are being investigated for using false passports. It could be they are fleeing war. That is being investigated."
Countries involved in the Syria conflict, including the United States, have been on alert for possible attacks since the killings in Paris last Friday, and the Oct. 31 bombing of a Russian passenger jet leaving Egypt.
Both attacks have been linked to the Islamic State group based in Iraq and Syria. One of the gunmen in the Paris attacks was carrying a Syrian passport used to transit through Greece, though authorities have not confirmed that he was the man in the document.
Honduras on Monday said it had reinforced security in its ports and airports following the French attacks.
A spokesman for the country's Inter-institutional Security Force, Lt. Col. Santos Nolasco, said that day that Honduras was part of a route to the United States often used by migrants without proper immigration documents.
This year, 12,600 foreigners were detected illegally entering Honduras, almost all of them with the aim of getting to the U.S., Nolasco said.
Those detained by authorities include nationals of Somalia, Iran, Ghana, Ethiopia, Senegal, Cameroon, Guinea, Sri Lanka, Eritrea, Togo, Bangladesh, Pakistan and Nepal, as well as of other Latin American countries.
The land route through Central America for emigrants headed to the United States has made other headlines in the past few days, with thousands of Cubans stranded in Costa Rica at the border with Nicaragua. Read those stories here.
Read more about Syrians in Costa Rica here.
This story is developing. Follow updates at wordpress-257819-2837440.cloudwaysapps.com