PARIS — France and Russia launched a punishing wave of attacks against Islamic State targets in Syria on Tuesday, as French leaders invoked an emergency pact to demand European allies join an intensifying military response to last week's terrorist carnage in Paris.
The Syrian strikes — which appeared to include Russian cruise missiles — took place as French police carried out dozens of additional raids, and investigations in France and Belgium revealed new details of the attackers' movements prior to the coordinated assaults on Friday.
French Interior Minister Bernard Cazeneuve said authorities carried out 128 anti-terrorism police sweeps on Monday and Tuesday. This brought the total to nearly 300 raids since Monday across France and neighboring Belgium, where the attacks appear to have been at least partially planned.
Cazeneuve told local radio that 115,000 gendarmes and soldiers have been mobilized to protect French citizens. Belgium, too, said it would boost the number of security forces on its streets.
French President Francois Hollande — who has called the Paris attacks an "act of war" — is pressing for changes to France's constitution that would make it easier to hunt down suspects in terrorism plots.
Meanwhile, further details emerged of the days before the bloodshed.
French media reported that Salah Abdeslam — a suspected planner who is now the subject of an international manhunt — had reserved two rooms at a hotel outside Paris in the days before the attacks.
Authorities say as many as 20 people may have been involved in the plot to attack Paris. Here's what we know about them so far, in 1 minute, 18 seconds. (Gillian Brockell/The Washington Post):
According to the French news magazine Le Point, investigators have searched the hotel rooms in Alfortville and located DNA traces of persons who stayed there. Police also confiscated the hard drive from the computer at the hotel reception, the publication's Web site reported.
Among the objects police discovered was a batch of syringes and a set of short needles and plastic tubes. It was not immediately clear whether the syringes were intended for explosives or drug-related use.
More than two months ago, Abdeslam — a French citizen — was stopped in a routine traffic check while entering Austria from Germany, according to a French official familiar with the investigation.
He told Austrian police on Sept. 9 that he was going on vacation in Vienna. There were two other people in the car with him, according to a spokesman for the Austrian Interior Ministry. His movements have raised questions about whether he was seeking contact with migrants — many of them asylum seekers from Syria and Iraq — along the pathways from Greece to Central Europe.
Seven attackers — several of them French nationals — died in the assaults that killed at least 129 people and wounded more than 350 others.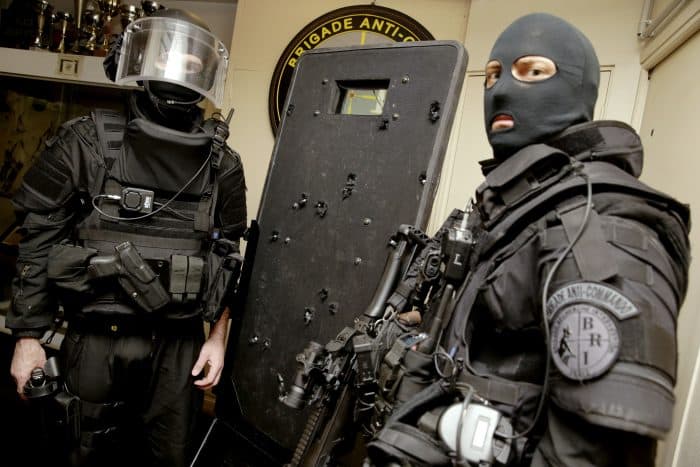 On Tuesday, a French official said one of the other attackers appeared to have used a fake Syrian passport, raising fresh doubts about the man's true identity and more questions about the extent to which migrant trails used by asylum seekers were also exploited by militants.
The name on the passport was Ahmad Almohammad, a 25-year-old born in Idlib. Officials have not been able to verify his true identity, but fingerprints taken from the body of one of the suicide bombers match those of a man who arrived on the Greek island of Leros along with 198 migrants on Oct. 3.
The same man was later processed in the Serbian border town of Presevo after crossing from Macedonia on Oct. 15.
In Aachen, Germany, police said Tuesday that five people were arrested in connection with the Paris attacks, but details about their alleged connections were not immediately made public.
As investigators followed various strands across Europe, it also appeared clearer that many of the trails could lead back to Syria and the country's ongoing civil war — which has opened room for the Islamic State to hold territory.
France has quickly called on its allies and others to step up the fight, suggesting that more than a year of airstrikes by a U.S.-led coalition will not be enough.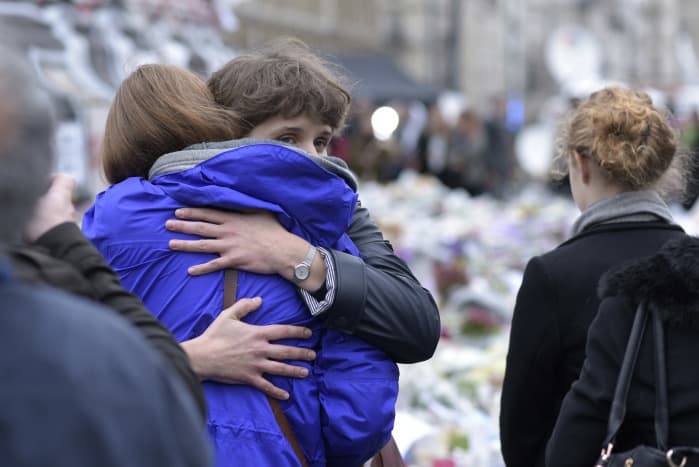 Manuel Valls, the French prime minister, said the Paris attack was "organized, conceived and planned" from Syria. The French president said Syria has become "the biggest factory of terrorism the world has ever known, and the international community is still too divided and too incoherent."
In Brussels, French Defense Minister Yves LeDrian invoked for the first time a European Union mutual aid pact, known as Article 42-7 of the Lisbon Treaty, which calls for members of the bloc to assist other member states if they are attacked.
"Today France requests the aid and assistance for all Europe," EU foreign policy chief Federica Mogherini told reporters. "And today, all of Europe, united, responds yes."
In a news conference with Mogherini, LeDrian said officials would now discuss the details of what such support would entail. It was not immediately clear to what extent European countries, constrained by budget pressures and by political divisions over military action, would agree to a significant increase in military action against the Islamic State.
"This is September 11 for Europe," said Greek Defense Minister Panagiotis Kammenos.
LeDrian spoke hours after France launched a second wave of airstrikes against the Islamic State. The French Defense Ministry said 10 Mirage and Rafale fighter jets hit a training and a command center in Raqqa, the group's de facto capital in north-central Syria.
Also Tuesday, Russia conducted a "significant" number of strikes on Raqqa, possibly using sea-launched cruise missiles and long-range bombers, a U.S. defense official said, speaking on condition of anonymity to discuss the Russian operation.
He said Russia, in keeping with a recent agreement to avoid accidents in the crowded skies above Syria, informed the U.S. military about the strikes in advance.
Those strikes follow the Russian government's assessment that explosives brought down an airliner full of Russian tourists over Egypt last month. The Islamic State also claimed responsibility for that attack.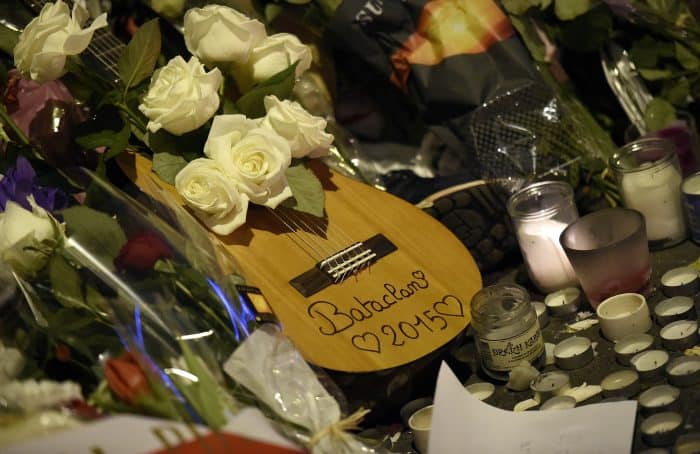 Hollande is expected to meet with Russian President Vladimir Putin and President Barack Obama next week to discuss the campaign against the Islamic State and urge the formation of a "grand coalition" against the group.
In Paris, however, Secretary of State John Kerry gave a cooler assessment of moves toward closer Western-led military coordination with Moscow. First, Kerry insisted, a cease-fire in Syria's more than four-year civil war must take root and various sides must find some common ground.
Russia is a close ally of embattled Syrian President Bashar Assad. The West and its allies say Assad must eventually step down.
Kerry said Washington believes gains are being made against the Islamic State even with the separate campaigns by Russia and the American-led coalition.
"The level of cooperation could not be higher," Kerry said Tuesday. "We agreed to exchange more information, and I'm convinced that over the course of the next weeks, Daesh will feel greater pressure. They are feeling it today. They felt it yesterday. They felt it in the past weeks. We gained more territory. Daesh has less territory," Kerry said, using the Arabic name for the Islamic State.
Murphy reported from Washington. Daniela Deane in London, Steven Mufson in Brussels, Anthony Faiola, Souad Mekhennet, Cléophée Demoustier, Virgile Demoustier, Karla Adam, Karen DeYoung, Monique El-Faizy and Karen DeYoung in Paris contributed to this report.
© 2015, The Washington Post