ESTERILLOS OESTE, Puntarenas – David Herrera almost didn't make it on time to a tournament he ended up winning. The first-place finisher of the inaugural i20 Surf Championship in Esterillos Oeste said Saturday after his victory that he was close to being too late to confirm his registration for the event by Friday's deadline.
"I was going crazy, I didn't think I was going to make it on time and that I was going to be eliminated," he said. "I had to ask my friend Marco if I could borrow his car."
On his way, Herrera called Carlos Brenes, the event organizer for the Costa Rican Surf Federation, and told him not to close the registration without him. When he finally got to Esterillos Oeste from his hometown of Quepos, about 50 km down Costa Rica's Pacific coast, on Friday night, the waves coming into the beach looked to be alarmingly small. But on Saturday, the swell picked up and allowed the surfer to pull an upset victory over some of the sport's big names nationally like Latin American champion Anthony Fillingim and current national champ Jason Torres.
"I asked God to let me have fun and bring out some good waves, and I'll take care of the rest," Herrera said.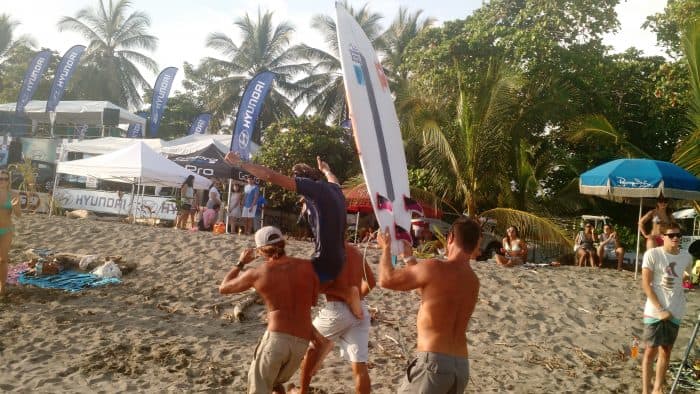 Herrera defeated former Costa Rican champion Zach Vega in the final with a cumulative score of 16.33. On his first wave, he earned a contest-high ride of 8.83 after landing a "Superman" aerial where he put his board out vertically to be parallel with his body.
Herrera won a cash prize of $2,500 for his victory in the Hyundai-sponsored tournament at the Hotel Rancho Coral.
In the women's final, Limón's Nataly Bernold took the title over 14-year-old Zulay Martínez. Much like Herrera's upset win on the men's side, the 22-year-old women's champion was able to win over current Costa Rican women's titleholder and national team member Lisbeth Vindas. Bernold took home $1,500 with the championship.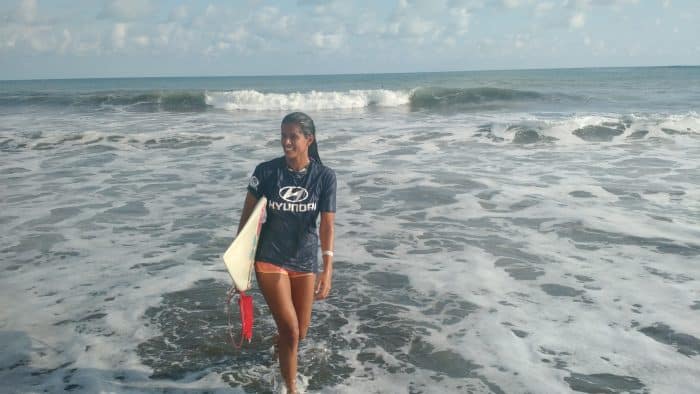 A smiling Bernold came out of the water after her winning run and said the latest championship was just like any other for the one-time junior champion.
"I feel really happy right now," Bernold said. "The waves were good all day. It was tough riding but worth it."
The tournament field, which consisted of 16 male riders and eight female riders, was decided by a fan vote. More than 200,000 votes were taken, according to numbers from the surf federation.