PASO CANOAS, Puntarenas – Doña Rosa Taboada talks to one of her sons who arrived in the United States a few days ago. She's desperate, telling him that she's been stranded in Costa Rica for seven days, and police here won't let her travel to Nicaragua.
In a week, Doña Rosa, who left Ecuador 22 days ago after arriving on a flight from Cuba, has spent $300 on a hotel room and food, money she needed further north along the route to join her sons in the U.S.
As we reported yesterday, thousands of Cubans are fleeing the island via a long and arduous land route to the U.S. that begins in Ecuador and winds through Colombia, Panama, Costa Rica, Nicaragua, El Salvador, Guatemala and Mexico. Their journey in search of the "American dream," or simply to be reunited with family in the U.S., spans thousands of miles to a destination just 90 miles from the shores of Cuba.
Two days ago, Costa Rican authorities dismantled a migrant smuggling ring that charged Cubans thousands of dollars each to travel north. Police arrested 13 suspects and raided several locations in San José and the northwestern province of Guanacaste.
Authorities in recent hours also changed immigration requirements for Cubans, now requiring them to have a visa to enter – and travel through – Costa Rica. Those two actions have created a small crisis along Costa Rica's border with Panama.
By Thursday morning, more than a thousand Cuban migrants had been rounded up in Paso Canoas after crossing the border from Panama, the AFP reported. Another 100 milled about outside Costa Rica's Immigration Administration north of the capital, hoping for papers authorizing them to continue on to Nicaragua.
Immigration Administration Director Kathya Rodríguez said the undocumented Cuban migrants in Paso Canoas likely would be returned to Panama, the AFP reported, leaving them in a conundrum. Going back to Cuba is not one of the options, several members of the group in Paso Canoas told The Tico Times on Thursday.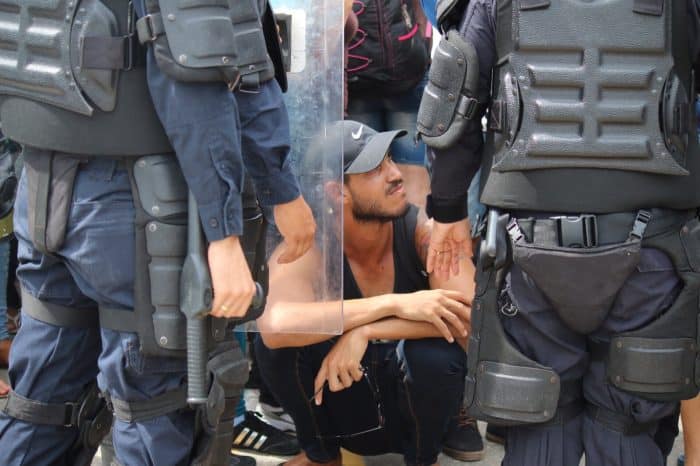 A long trip paid for in cash
After arriving in Ecuador, the Cuban migrants take public transportation to the Caribbean coast of Colombia. In the port of Turbo, they pay up to $400 each to a boat captain for a dangerous journey by sea to Panama.
From there, they arrive in taxis or buses to Paso Canoas, the border between Panama and Costa Rica. At the border, hotels charge $15 per person per night for a small room.
Two days ago, Doña Rosa's group actually had made it safely to the Nicaraguan border, thanks to documents issued by Costa Rican immigration authorities ordering them to appointments in San José. But the rules apparently have now changed.
"There are pregnant women, small children and senior citizens here who want to reach their destination, to see their families," said Roberto Lisboa, who has spent the past seven days in Paso Canoas. "We only want them [immigration officials] to let us travel through the country. We don't want to do any harm to Costa Rica."
Once in Nicaragua, the route continues by land to Mexico. From there, Cuban migrants have two options: Try to cross the U.S. border on foot as "mojados" or in small aircraft.
The route is full of peril: Some of them are robbed, assaulted or swindled along the way. In Costa Rica, for example, the smuggling operation that was targeted this week by police already had charged members of Doña Rosa's group $400 each for fake letters of "safe passage."
In limbo: More than a thousand migrants from Cuba and other countries await their fate at Costa Rica's border with Panama.