Alejandra Fournier is an artistic multitasker: she is an expert on engraving techniques, but also loves to draw and, in order to create her art, take pictures. She also teaches engraving and is a children's art teacher at Art Flow Gallery. She has been working as an artist for five years and now has her own workshop at her home in Escazú, where she lives with her husband and beautiful baby Liam. The artist, 36, says she is inspired by everything: the human body, nature, her baby, her cat. She sees art in little details of daily life.
Fournier invited The Tico Times to her workshop to see her process first-hand, and to talk about her approach to art and how it keeps her grounded. Excerpts follow.
How did you become an artist?
[Seven years ago] I had a really good job, but then I left it and started looking for another one. I had many failures with the jobs I found, and after three failed tries, I said "No! This is awful!" By that time, I found an engraving group led by Jorge Crespo, and I started to practice there, and to accumulate more and more artwork. Two years passed by and my husband asked me, "Are you ever going to sell them? It's not art if it stays locked in a room." He urged me to make my art into my career. He told me, "Take the opportunity, because I won't offer it again." So I said, "OK! I will start working full-time with my art."
I had studied art at La Casa del Artista, starting when I was 19 years old, and also at Universidad de las Ciencias y el Arte, but now those are paused. For seven years I've been studying with Jorge Crespo.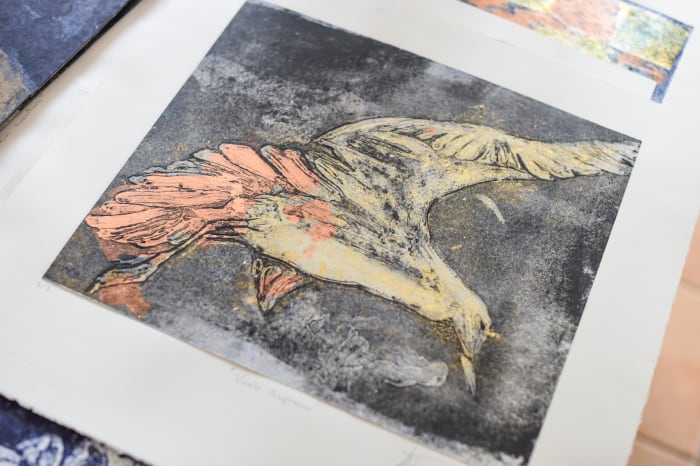 Why did you choose engraving, and how does it work?
Art has been within me since I was a child, but I had no technique. I wanted one, and I found it in the engraving. I feel secure with it. I like drawing and working with crayons, and I'm starting to work with acrylics and other techniques, but no one has seen them, not until they pass my own quality standards.
Engraving is worked on a template: you design on it and then ink it, and finally the printing is done with a manual printing press, or with the spoon technique [using an actual spoon in the printing]. There are many techniques derived from engraving: I like to work monotype, colography, drypoint, yield aquatint, Meso-ink, and xylography. I like to combine the techniques. For example now I'm working on a piece with xylography and yield aquatint.
The process starts with the idea of what I'm going to do. It starts by dreaming. Sometimes it happens at night when I'm already in bed ready to sleep: the idea comes to my mind and I think "Oh! This is what I'm going to do!" Sometimes I need a photo, so I look for picture so I can create images to back it up. Then I draw it, and once the drawing is ready I start thinking of the techniques I wanna use on that work, what is the best for this piece. Then, I started doing the template, then I ink it, and the surprise happens when when you take it out of the pressure washer. It does take a long time.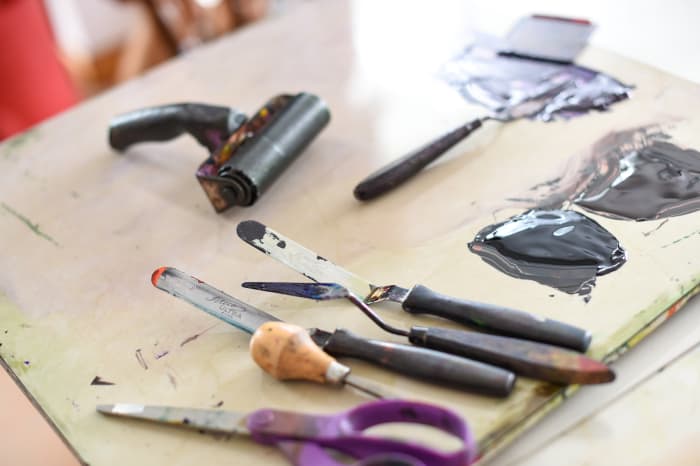 What defines good artwork, and what's the key to success?
What defines good artwork is the feeling behind it, what the person sees in it. Sometimes the way you read your own artwork is really different from the way another person reads it. I really enjoy listening how people read my works. Sometimes what another person sees is a more wonderful world than mine, and the artwork acquires a kind of magic. 
The key to success is to believe it. Believe you are an artist. And take it seriously, because it is an actual work. Look for ways to show your work, to teach others, to sell your art. I always think about leaving a legacy to Liam, but I don't mean only leaving my artwork to him so he can sell it. No, I mean that he can know that I did something good that has been maintained through the years, and that I taught him that through my art, I was happy. So, he will be a complete and happy person in the future. That's what inspires me.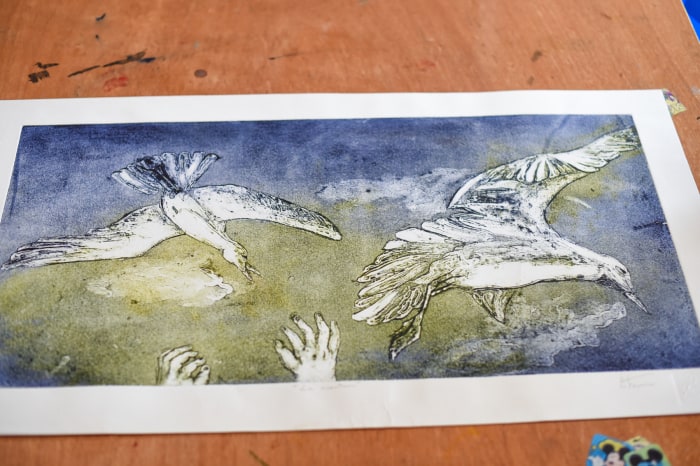 What do you enjoy the most about creating art?
I love it because is my way of expression. For my last exhibit, which was in Nicaragua at La Casa de los Tres Mundos, I was inspired by the fact that I'm a mother. I wanted to transmit the idea of what I want to teach my son and the freedom I want him to have, but also the danger around it. The freedom, I expressed it with gulls. There's the image of a kid recurrent in some pictures, because I have him present all the time. Then, there are jellyfish, which is a beautiful animal but really dangerous. Those represent the part where you have no control, the mother's panic surrounding that danger.
And, well, now it is my life. It's like my vanishing point, where I take out my frustrations, my anger, and my nice stuff too. That's what makes me put my feet on the earth. It reminds me I'm a person who established a whole world [in my art], and then when I'm with my child I enjoy it more. Art helps me to clear my mind.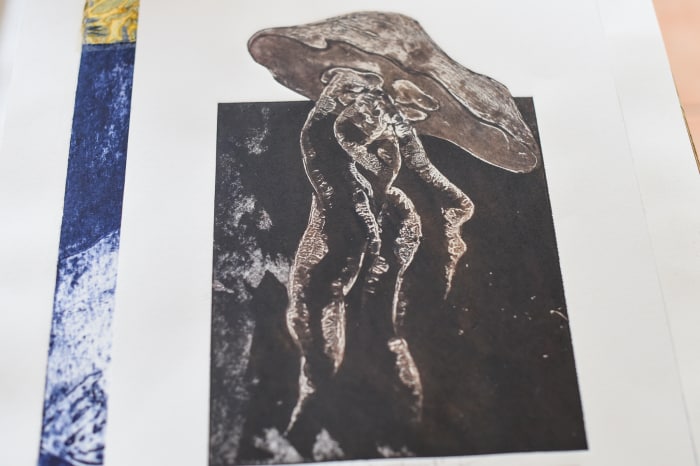 Do you remember the first time you felt the need to express yourself through art?
I started by expressing sad feelings. The day my grandma died I drew something, or I would draw during complex days in my adolescence. I expressed a lot of nostalgia in my works, and that because I'm a really nostalgic person, I dream a lot about the future, but I have to look after the present [laughs]. No, I mean it. I have to do it, and that's something I didn't understand before.
I love all my works. I would say there's one I like the most: it is a piece about my baby. That one is really absolutely mine. I love it. Also, there's the drawing I did when my grandma died. I have a real affection toward it. I have even thought about selling it, but then I decided to keep it. When I decided to work as an artist I managed to stop that attachment to my works. I learned to enjoy the fact that if someone buys one my pieces, it is because that person likes it, and will enjoy it, and will say "Oh, it's so pretty," every time he or she sees it. I learned to let them go, but each one carries a part of me with it.
Alejandra is planning to open a summer workshop for December and January; for more information about the workshop or her artwork in general, visit her Facebook page or Website.