CARTAGO — Margo Ackerman can recite a litany of woes that she experienced while buying and selling property in Costa Rica and remodeling her fabulous home in the hills between Cartago and Paraíso.
There were real estate agents who asked her to work for them, but didn't want to pay her, attorneys who took her money and did nothing for her, builders who overcharged her, and prices for permits that inexplicably doubled.
Yet Margo, who has a background in retail and financial planning, was sitting in a dream home as she told these stories. Perched on a hillside with a stunning view of the Orosi Valley, it's a two-story, 3,500-square-foot, sumptuously decorated house sitting on seven acres of lush gardens.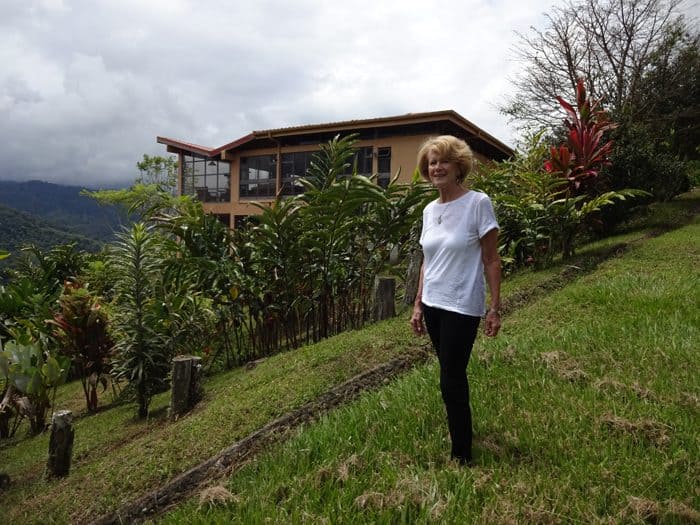 So despite the reversals suffered by Margo and husband Jeff over the past seven years, it seems undeniable that this venture, with all its reversals, has been a success.
A transcript of an interview with Margo follows, edited for length and clarity.
TT: Where are you from?
We last lived in Houston, Texas. I'm originally from Cincinnati.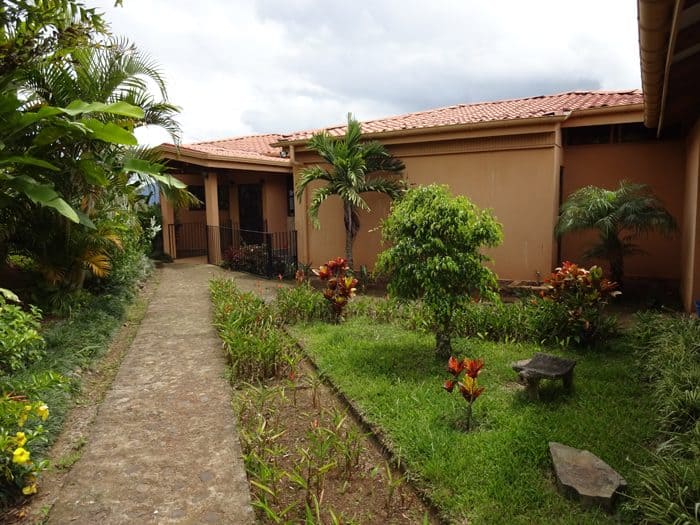 When did you first come to Costa Rica?
We came here a long time ago for just a vacation, and then we came about eight years ago, and we were up in Arenal, and my husband fell in love with it and wanted to come here to retire.
We moved to Grecia and we bought a lot there. … I was going to build. I was working with an architect that I liked a lot, and we had house plans, but it just didn't click with us, the place.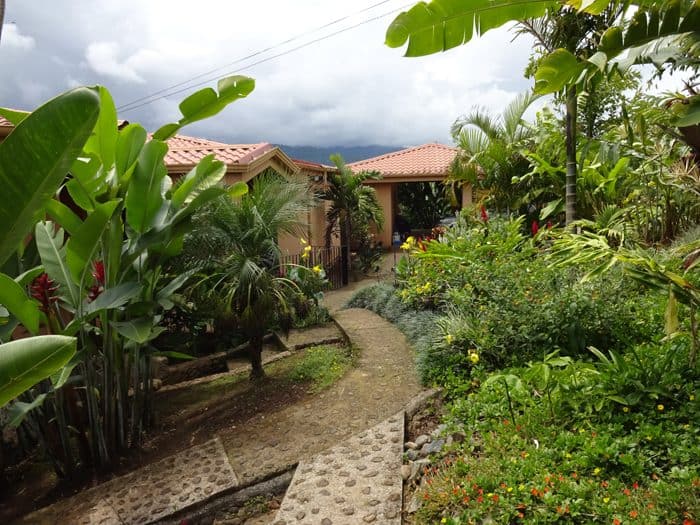 How did you start looking here in this area?
Jeff liked the weather, as the temperature range is 59 to 79. I found it cold, but he wanted to move. So I said OK, I wasn't that happy in Grecia. It's interesting, because there've been a lot of articles lately about why people leave Costa Rica, and it has to do with making friends.
We weren't finding friends in Costa Rica, up in Grecia, so I thought, OK, I've lived in 15 to 20 cities, and in every city that we've moved to I've always worked and been able to make friends. So I figure, let's try this and see what happens.
So we came here and we looked at the house. One thing that I always tell people when they're coming here to buy is that the first thing you have to do is decide where in Costa Rica you want to live and that takes looking around.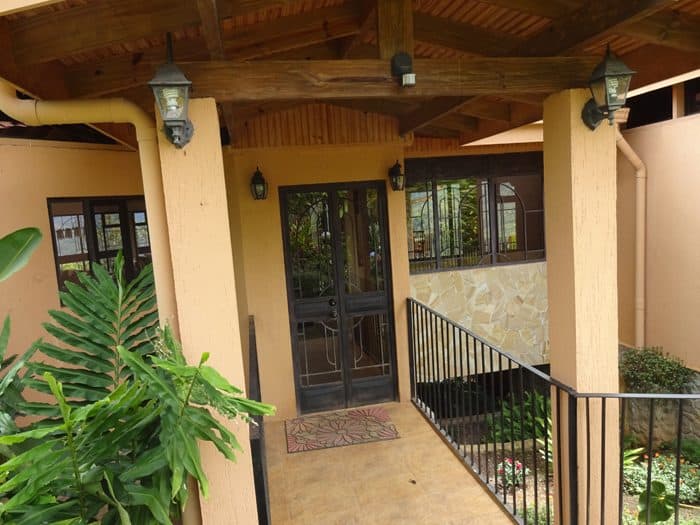 So how do you suggest that people make that decision?
Well, the main question first of all is temperature. Do you want to live at the beach; do you want to live in the mountains? What's important to you? Hospital, shopping, churches, synagogues, plays, symphony? What are you expecting in a lifestyle?
Then you decide that this is the community I want to live in. And I used to do this when I moved into a city in the States, what suburb did I want to live in? And what I would do is select the suburb that I wanted to live in, and then from there, I would look at every house that was available that fit my criteria. And that's exactly what you do here.
So my husband decided that he liked it here. And we were in the mindset, at that point in time, that you should build, because there weren't a lot of American-style homes for sale.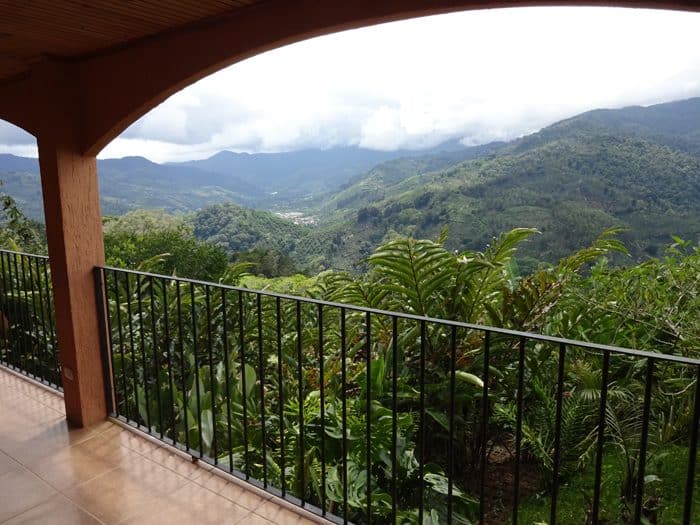 Then it's a question of OK, I want to build, I want to live in this development. How do I decide what lot I want? And that's very easy. What view do you like? What view do you want to look at every single day?
So what I ended up doing was buying this house, very small as it was — the downstairs was small too — and figuring that I could make this work, but the view was gorgeous. And I like the location. I like the fact that it looks like it's in the middle of nowhere, however I'm 10 minutes from the Walmart [in Cartago].
Can I walk you through the house and what it looked like when I bought it?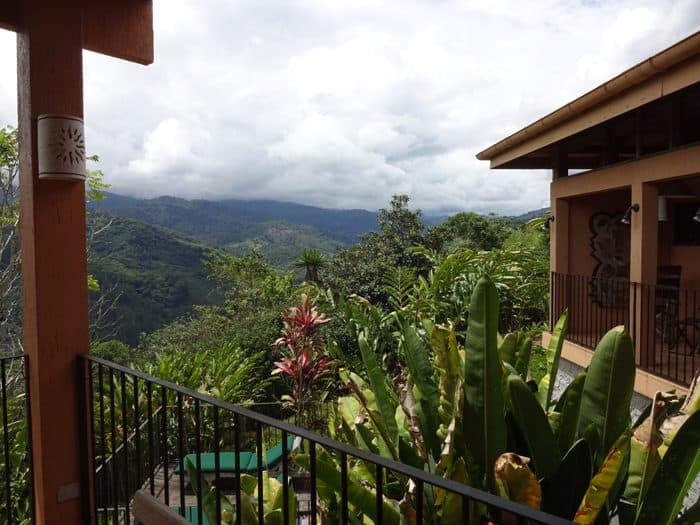 Sure, absolutely.
It was a gray house. In other words, the kitchen was not in, there weren't any plumbing or lighting fixtures and the house ended here [at about two-thirds of its current width] and went over to here.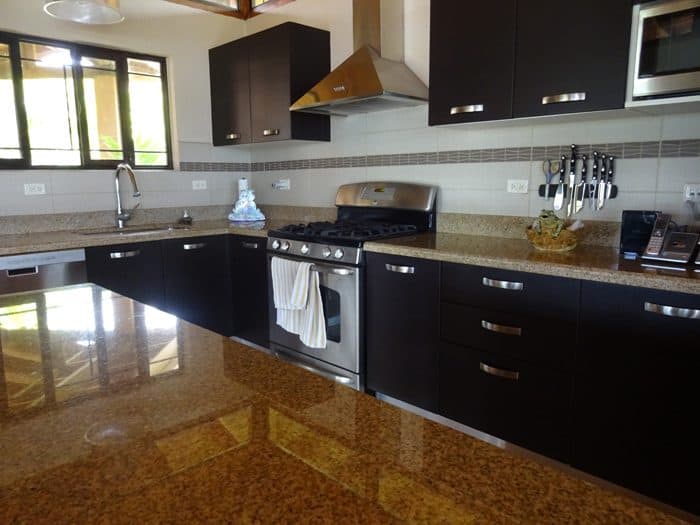 Here in the bathroom what [the builder] intended was that space there [indicating the sink] was going to be my washer and dryer [laughs].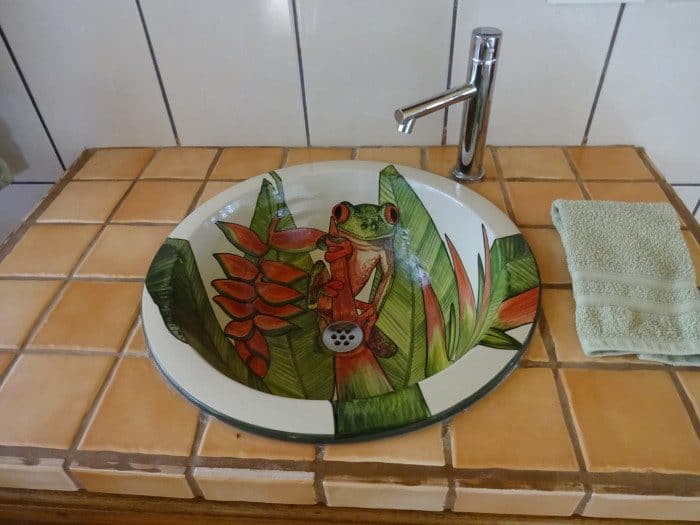 You had grander plans for it.
I didn't think I was going to go this big at the time. But this patio was here [outside the bedroom], and obviously that had a much smaller patio on the other side [outside the living room].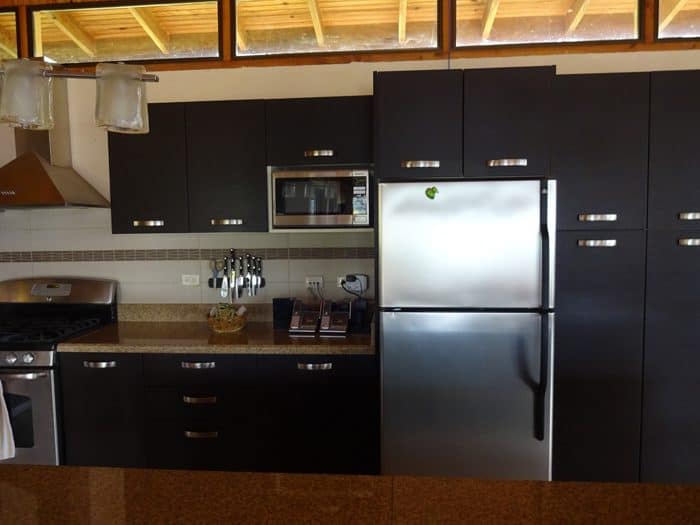 So the first thing I wanted to do was put in this [cover for the exterior stairwell from first floor to second] — because this did not exist. All this was open. And I couldn't see my friends coming up from the downstairs and getting all wet. There was no roof here.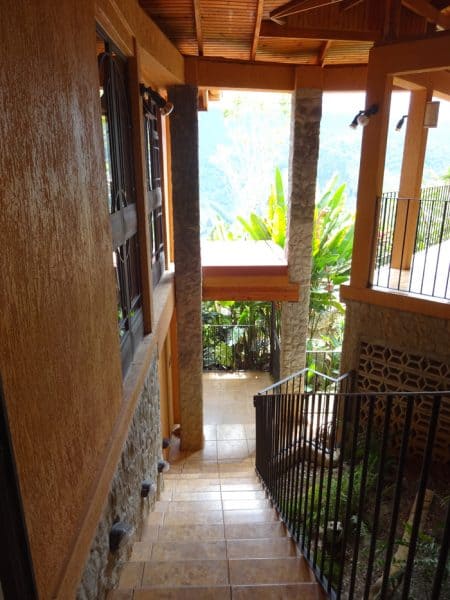 We added the bodega and we added the carport.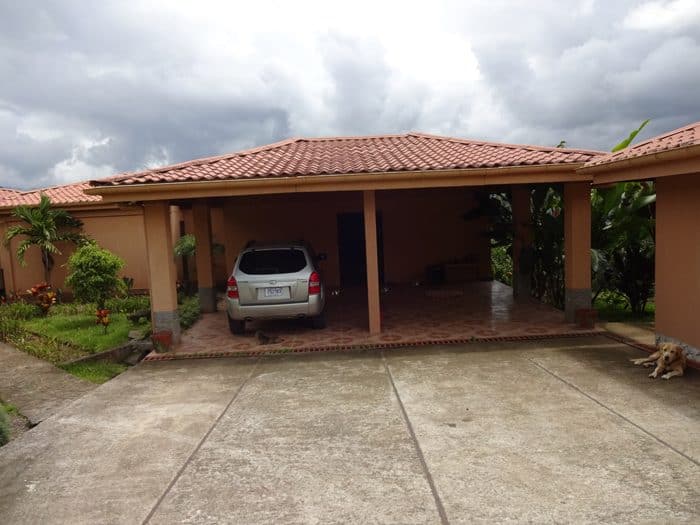 Is there any way you can tell me how much you paid for this property?
I paid about $250,000 before I put a dime into it. Which in retrospect was high, but it did come with 7+ acres.
How much money did you put into the remodeling?
About $300,000.
Wow. So you've got a big investment in this place.
I have a big investment. And I have to sell it.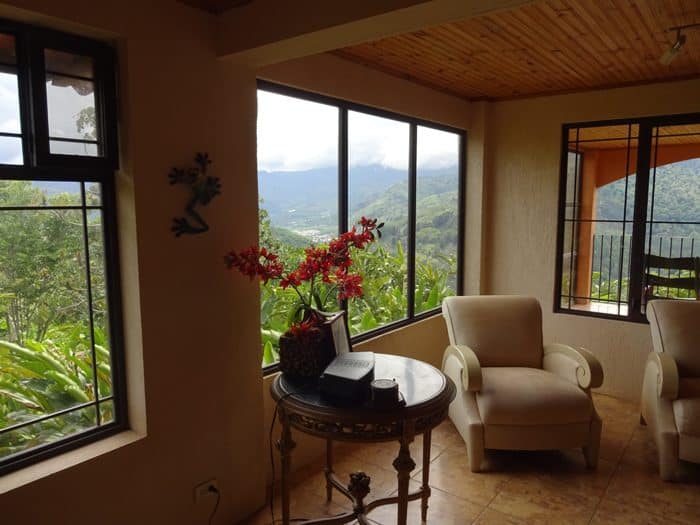 Why do you have to sell it?
Well, another investment I made was a property in Puntarenas. I have 30 acres overlooking the Gulf of Nicoya. It's a beautiful piece of property. I can do 14 lots, and I have to develop it.
So we're now in the process of the last thing that needs to be done, the permits, and we were told we needed $9,000 to do this. We've already paid for most of the permits. This is just a little bit that has to be done, an add-on, and now they want $18,000 to do it because the guy who was doing it is now working full-time for someone.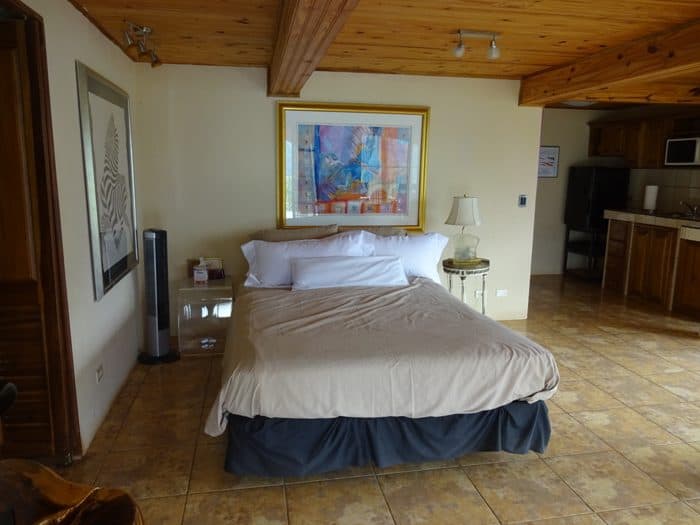 It went from $9,000 to $18,000?
Yes. Our attorney is handling this and is trying to find somebody else that's less money. Well, forgive me. OK, if it was $9,000, and they say Margo, it's $12,000, OK, all right, you know, it's up a little bit.
And this money is for what?
Permits.  And the frustrating part is that we had all the permits we needed until they passed a retroactive law that has required us to get some additional permits.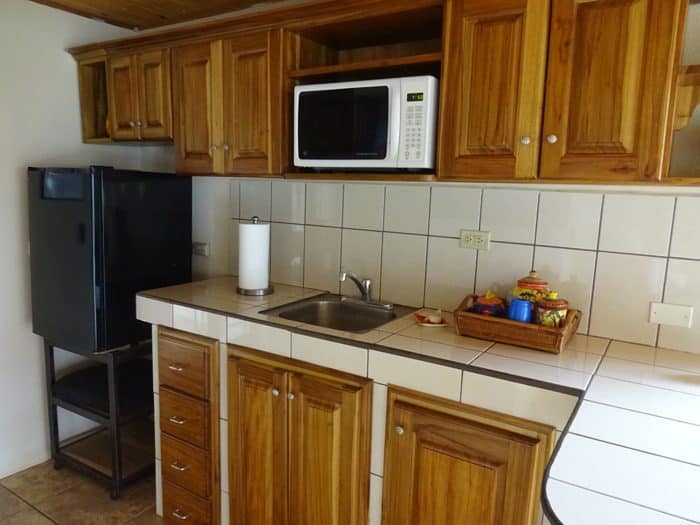 Permits for what?
For construction, for putting the road in and to identify all sources of water on the property, as there are restrictions about building in proximity to water that is used by the community. This piece of property is right off the main road. I have electricity to the property, I have water on the property, and I have a drawing by a surveyor that shows what's not being used. The plan is one road going through the property.
So why do you have to sell this house?
Because I need to put in the road and run the utilities, and I need the money out of my home to do this. Because once I pay $18,000 or however much they're going to charge me for the last permits, I need to put the road in and it is going to be over $100,000.
Ow.
And that doesn't include what I'm afraid I'm going to be charged by people to run the electricity and water to all of the lots.
So tell me more about the renovation of this place.
[She explains that she found out she was being overcharged for her work crew, and she switched to another builder named Edwin Valerin Valladres.]
He is the most amazing Costa Rican I have ever met. The two of us together built this house. And I built it in stages. I had 10 people working. He cut the workers to five. They were standing around as we were building the garage. The only reason they hired so many was because I said, "You guys aren't doing anything." So the way they thought to do it was to hire more workers instead of having them work…. So eventually we went from 10 workers to five, and we got it done.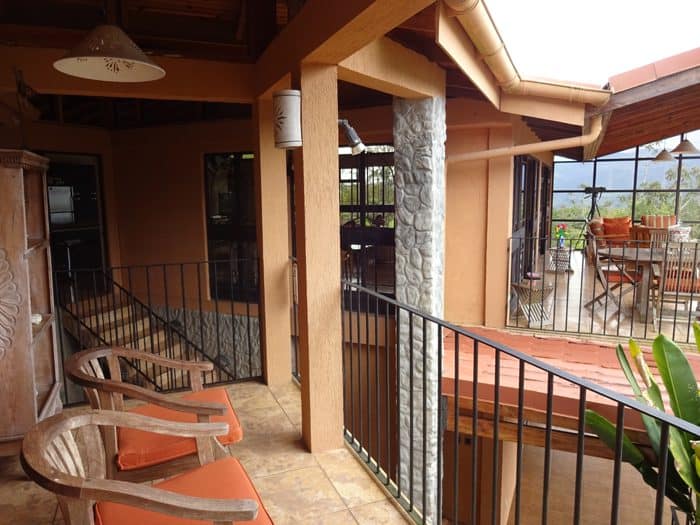 As I was doing this [the patio], I came to the conclusion that I could put in a bathroom there, which would be perfect, because then people wouldn't be using my bathroom, and I said let's make it bigger.
Then after a while I came to the conclusion that I should just enlarge the whole thing, including the guest room — that's why it's so large. And then we completed this part, and it's just perfect.
I went out of the country, and I went back to the States. I came back … and this house was done. The furniture was back in place. I walked in and I was flabbergasted. It looked great.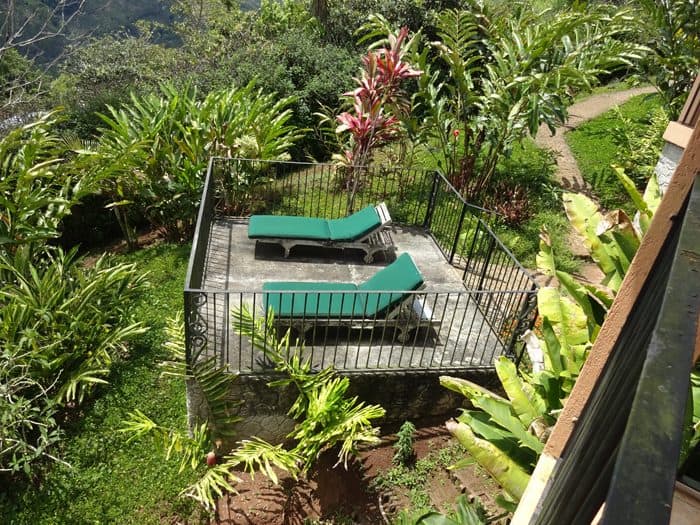 And the two of us created this, and we would laugh, because he'd say to me, "¿Arquitecto?" "Sí, arquitecto, nosotros." And he'd come up with some ideas, and they were great, and I'd come up with some ideas, and between the two of us, we made this place work.
Really. How long did all this renovation take?
Off and on, a couple of years. It's been like this probably for about four years. It probably took me a year and a half to do the construction.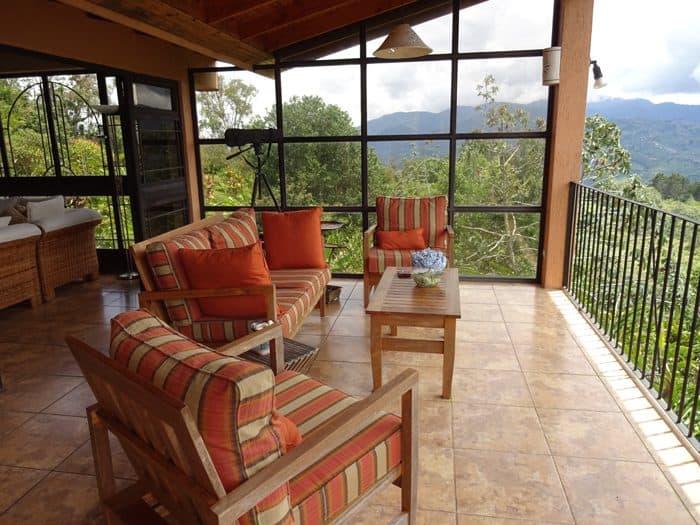 How many square feet is the house?
The whole thing is about 3,500 square feet.
And the total acreage of the property?
Seven acres.
How much are you asking for the place?
Four hundred fifty thousand, which is way under what I have into it. I probably have close to $550,000 in here.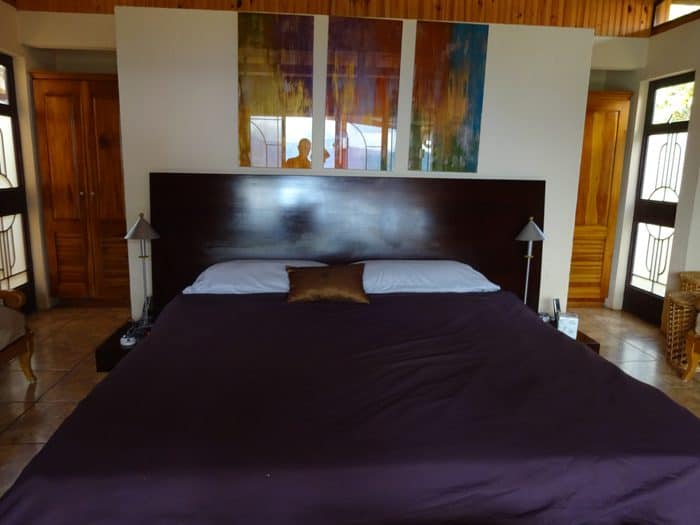 So how's it going, have you gotten any interest?
It's been very slow. You don't see people coming down here….
So if and when you sell this place, where will you live?
I will have to go up to Puntarenas.
All in all, are you happy you built here?
This spot? Yeah. It's a beautiful spot. The grounds are beautiful and the house is perfect. It's turned out and as I said, it's perfect for two, its perfect for a group. I like the idea that when you have company or the family comes, you put them downstairs.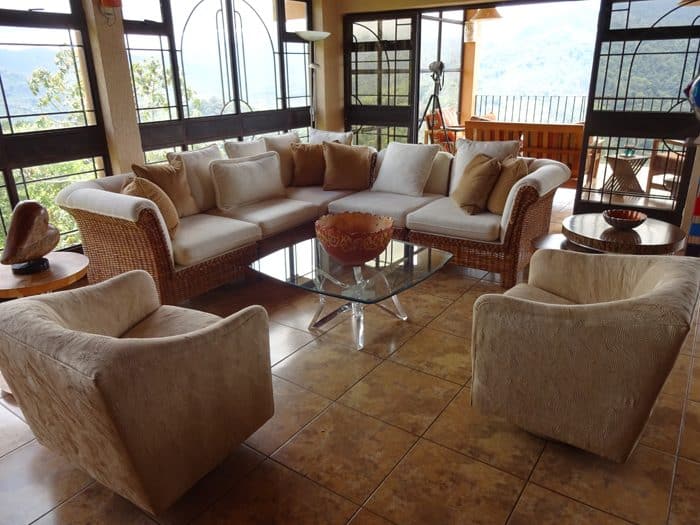 So if you had this whole thing to do over, what would you do differently?
I don't like the floor tile. That would be the one thing I would change.
What would you change it for?
Another color…. But there's nothing wrong with this house. My kitchen is perfect; it works well for a group, I can entertain, I can cook. I have my gas range that I like, downstairs there is my laundry room, I've got the bodega, I've got a nice house for my caretaker/gardener to live in, and the office is perfect. The two of us can sit in there and work and it's away from the house.
This is a perfect house for anyone.
For more info: See http://www.ackermanrealtyinternational.com. Margo's home is featured at http://www.ackermanrealtyinternational.com/dt_properties/casa-de-vista/.
Contact: Margo Ackerman can be reached at margo@ackermanrealtyinternational.com.
Contact Karl Kahler at kkahler@ticotimes.net.