Days after Costa Rican authorities arrested seven suspects in connection to an Italian cocaine-smuggling ring, Interpol says that mafia groups like the 'ndrangheta are looking to enter the crowded field of drug traffickers in Central America.
Stefano Saioni of the Rome Interpol office said during a news conference in San José on Friday morning that this is the first time the 'ndrangheta crime syndicate has been seen in Latin America. The 'ndrangheta is based in the southern Italian region of Calabria and is known for drug and arms trafficking in Europe.
"This investigation proved an interest in drug trafficking from this kind of mafia in Central America," Saioni said.
Saioni said he could only speak to the 'ndrangheta syndicate's drug connections in Costa Rica, but that Italian organized crime is involved in a wide range of illicit activities, from human trafficking to drugs and weapons.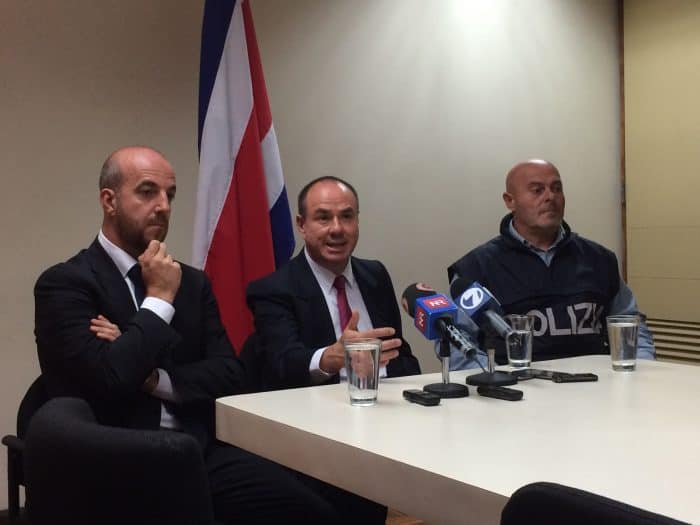 Walter Espinoza, Costa Rican assistant prosecutor against organized crime, said the six Costa Ricans and one Cuban arrested in this week's raids were given six months of preventive detention as prosecutors build a case.
The raids by multiple law enforcement agencies on Wednesday in northern Costa Rica were the result of an investigation that started initially with the FBI in November 2014. Espinoza said it was the first time Costa Rican authorities had worked with Italian police in a coordinated criminal investigation.
The 'ndrangheta syndicate trafficked cocaine through Costa Rican ports hidden in shipments of cassava and pineapples. Prosecutors earlier this week did not say where the cocaine originated, but the narcotics passed through Costa Rican ports before reaching distribution centers in New York run by the Gigliotti family, who ran their drug operation out of a family-owned pizzeria in Queens. A 3.5-metric-ton shipment of cocaine discovered in a shipment of Costa Rican cassava in December 2014 was linked to the crime ring shut down this week.
In addition to that, Costa Rica has seen a rash of killings recently, prompting a police crack down and calls for greater coordination between the country's law enforcement agencies, investigators and prosecutors. Along with the 'ndrangheta, Costa Rica's Chief Prosecutor Jorge Chavarría mentioned the Mexican Sinaloa cartel as another prominent criminal organization operating in Costa Rica.